Three years is a lifetime in golf. But, then, so are three weeks. Or three seconds. It's golf, the game in which time stands still, turns a man inside out, and then demands he perform with his raw nerves exposed to the world.
Three years ago Jason Day stood on the 16th tee at Augusta National Golf Club, fresh off three straight birdies, with the outright lead in the Masters. But in three seconds it all became undone as his hands over-rotated on his 8-iron into the par 3. His tee shot sailed long and left, a nearly impossible position from which to play. He bogeyed. And then he bogeyed again at 17. He finished third, as his compatriot, Adam Scott, defeated Angel Cabrera in a playoff to become the first Australian to win a green jacket.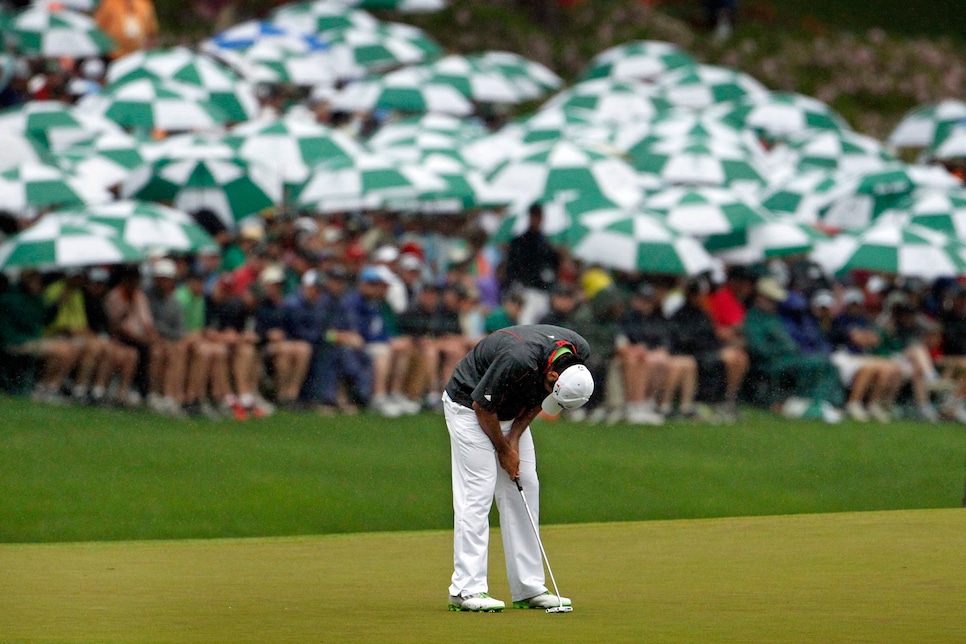 "I think the pressure got to me a little bit," Day said that afternoon in 2013. "I haven't had the lead too many times in majors. If you can have a shot in most majors, sooner or later you're going to get one."
Day was right, and it was sooner. His record 20-under-par performance last August at Whistling Straits enabled him to capture the PGA Championship. The victory was part of a stretch when he would win four of six starts and briefly climb to No. 1 in the world.
At 28, he is a different player now than the youngster who gave away that Masters and who two years before that in 2011, finished T-2 to Charl Schwartzel after being one of eight players who, at one point on the final day, held the lead.
At the moment, Day is in the midst of three weeks that could further transform his life. He arrived in Augusta late last week for some early recon as the game's hottest player, having just reclaimed the No. 1 ranking after his consecutive victories at the Arnold Palmer Invitational and the WGC-Dell Match Play Championship. But can he sustain the run? Only two players have captured the Masters after winning their previous two starts. One was Tiger Woods. The other was Jack Nicklaus.
"I'm looking forward to it," Day said, sounding relaxed. "It's been good momentum for me, confidence-wise, over the last two weeks. I can't get comfortable with how I'm playing right now, I can't get lazy, because I've got to understand that what I'm doing is working. But it is going to be a tough one. It's something I'm definitely going to be embracing."
"I think it's a great position to be in," said two-time U.S. Open champion Curtis Strange. "You wonder how long it will last. He's not thinking like that. He's doing everything he can possibly do to keep this going through next week, and I'd much rather be in a position where people are saying, 'Can it last?' versus trying to find something."
Because of his length, short game and evermore reliable putting, Day might be the most fully equipped player in next week's small field to navigate Augusta National. As defending Masters champion Jordan Spieth said, "Even when Jason is off, he's still on."
Added three-time Masters winner Nick Faldo said, "You'd have to give him high 9s [out of 10] in every part of the game."
That would include the strength of his mind. Only his body is somewhat of a question mark. As fit as Day looks, his rise to No. 1 has not been without physical stumbles. His serious bid in last year's U.S. Open was scuttled by the vertigo-like problems he encountered at Chambers Bay. After falling to the turf as he completed his second round, Day put on an inspired effort to grab a share of the 54-hole lead, but eventually finishing T-9.
More recently, Day tweaked his back in the first round of the WGC-Match Play in Austin, but shrugged it off and went on to beat all comers, including World No. 3 Rory McIlroy in a battle of elite bombers. Day swings harder than any modern player this side of Woods, who happens to have serious back issues. Luckily, Woods, who has four green jackets, has been mentoring Day of late, which could put another arrow in the Aussie's quiver.
Day undoubtedly will have plenty of chances to win the Masters, but this appears to be his time. Of course, time is relative in golf. As Jason Day well knows.