News
How I learned to stop worrying and love...well, enjoy...this PGA Championship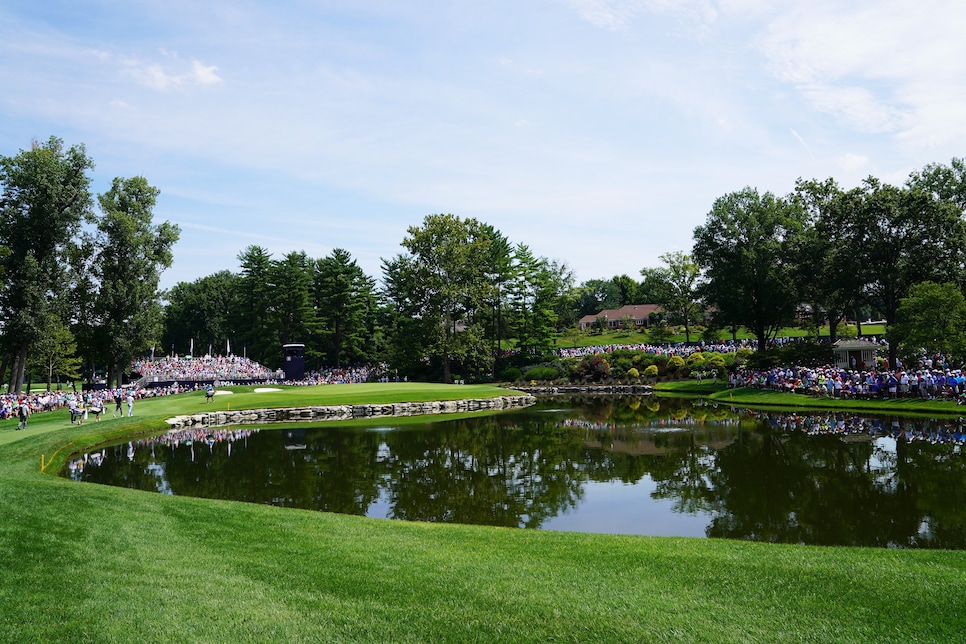 ST. LOUIS—There's a scene in "Hoosiers"—which is an odd conduit into a golf article, but bear with us—where Coach Norman Dale, played by the incomparable Gene Hackman, introduces his ragtag high-school basketball team to the town. Only, instead of acknowledging the group before them, the locals chant the name of an absent star, the cries crescendoing into a full-blown chorus. Hackman, in a look and tone that can only be described as righteous indignation, responds:
"I would hope you would support who we are. Not who we are not."
Which sounds like a fantastic slogan for the PGA Championship.
Debating the PGA's relevance has become an unfortunate tradition for the tournament, although it's not so much a debate as a drive-by. Unlike its American major brethren, which are hallowed and revered and aristocratic, the PGA has the air of a carnival. You're caught off guard when it arrives, its close proximity to the Open Championship failing to establish a cadence or rhythm in build-up. The attractions—Shorts! Long Drive! Valhalla!—seem second-rate. Case in point: The PGA's Champions Dinner, which boasts a third of the attendance of its Masters' counterpart and zero percent of the prestige.
One of the PGA's calling cards has been, um, it's the last major of the year. And it's a tournament so desperate to enforce its status that it once rolled out "This Is MAJOR" as a tagline. Which not surprisingly backfired, for the moment you argue why you matter is the moment you prove the opposite.
Even against such a backdrop, this year's PGA Championship seems particularly short on pizzazz. Bellerive's lack of history doesn't help, nor does following Shinnecock Hills and Carnoustie in the major rotation. The stresses felt by the greens brought on by a heat wave caused it shares of head shakes. Telling that one of the talking points this week revolves next year's PGA, when the championship heads to May. In a way, it's further indictment, because you'll see Jim Nantz streak across Amen Corner before the other three majors contemplate changing dates. The move has generated its share of derision, with worries centered on weather concerns. Most of which is desultory; it's hard to be agitated at something you don't care about.
Perhaps this is best summed up by a sight outside of Bellerive at a local church. On its front lawn a brick marquee reads, "All are welcome." Next to it, a temporary sign, announcing "NO PGA PARKING." Even God is struggling to get up for the Wanamaker.
Spirituality aside, there is merit to the above. It's also not at odds with the following: this PGA should be appreciated, and more importantly, enjoyed.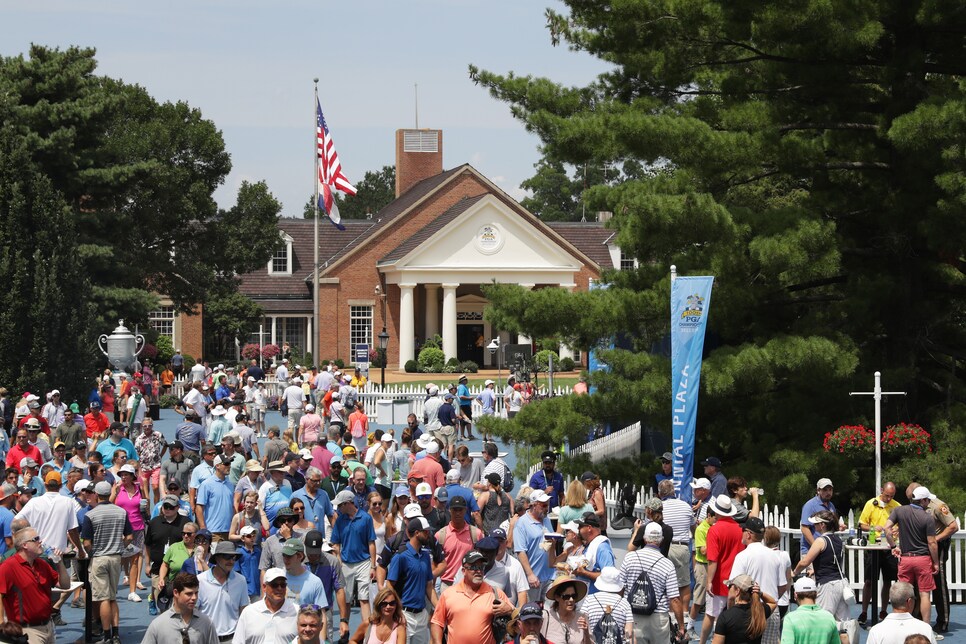 Streeter Lecka/PGA of America
If this sounds preachy, know this was not always self-evident. But, echoing the the words of Coach Dale, once you start admiring this championship for what it is, you realize there's something, well, major afoot.
Calling St. Louis a 'great sports town' is platitude (and great drinking game when watching the PGA telecast), something tossed arbitrarily by afternoon radio talk shows. It's also true. The PGA of America broke attendance records on Monday and Wednesday, and many braved the Noah's Ark-like conditions on Tuesday despite numerous delays. On Thursday they were out in force again, and not just with the supergroups. Because the Bellerive confines are relatively compact—Erin Hills this is not—each hole is framed by a human amphitheater. No matter where you're at on the course, you felt like you were at a big-time sporting event.
Better yet, on the whole, the Missouri galleries know they're stuff. They are boisterous and excited yet deferential, and recognized more than just Tiger and Rory and Rickie. (I swear on my wife this is true: a trio of college-aged fans off the 14th exclaimed, "I'm a little worried how Paul Dunne is trending.") They are here to watch golf.
"It was pretty wild out there for a Thursday," said Justin Thomas. "There was a lot of people. Very respectful. It was a fun day."
If plugging fandom appears eccentric, it's praise that can't be asserted at other tournaments, where some fans come to be seen or party but are not necessarily concerned with the proceedings inside the ropes. Majors included.
"This is the first time we have really played near St. Louis," Rickie Fowler said. "It's great to be here and feel the love. It's been great. It's definitely been a fun ride so far."
Then there's the course that's hosting this rodeo. The PGA of America admitted the set-up will facilitate its share of fireworks, and so far it has. Bellerive also isn't handing out birdies like one of Oprah's favorite things, its rough keeping scores honest.
Not to say anyone will ever confuse Bellerive with Oakmont. And that's fine. Save the integrity-of-par stuff for the U.S. Open. Besides, if every course was Oakmont, or Augusta or Merion, those courses aren't Oakmont or Augusta or Merion. Rory McIlroy said Bellerive reminded him of Valhalla, a course often used as a pejorative. Valhalla, for all its perceived shortcomings, has also facilitated two of the most memorable finishes in tournament history. Sometimes goofy can be good.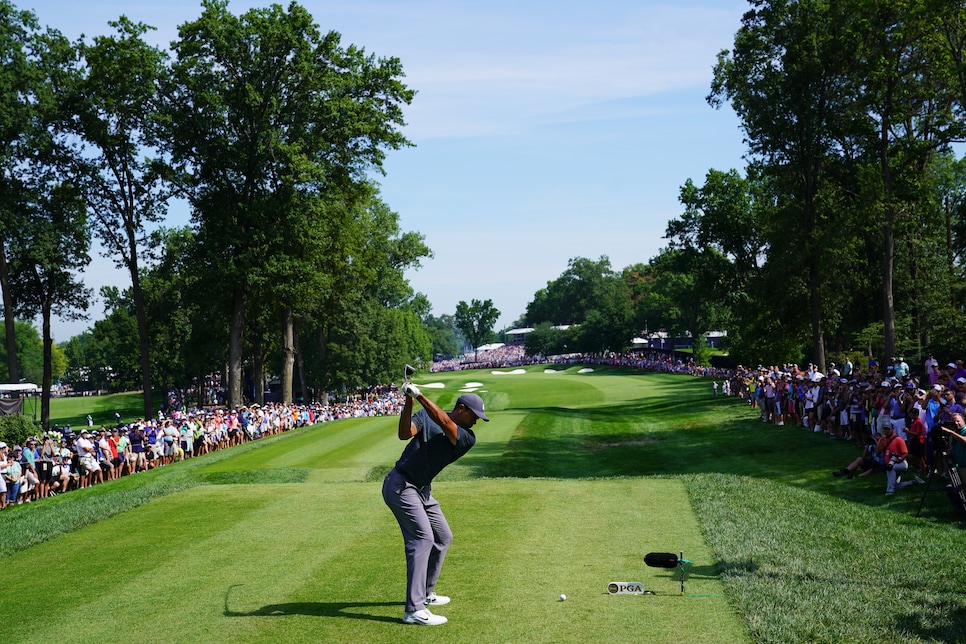 It's not as if goofy compromised the tournament. Far from it, revealing a egalitarian leader board on Day 1. Stars are rubbing shoulders with rank-and-file names. Young and old, bombers and pea-shooters, American and International, the composed and emotional. Bellerive doesn't cater to a singular demographic; isn't that the mark of a "proper" track?
"It's a good golf course," Jordan Spieth said earlier in the week. "The course itself has a great mix of longer and shorter holes that dogleg both directions. You got to hit different clubs off the tee, different shots into the greens, and I don't think it necessarily favors any one kind of player."
But we haven't touched the most vital facet of all, and this deserves to be underlined, highlighted, bolded. The PGA Championship, no pun intended, is a major. Golf, for better or worse, has conditioned the sport to raise four tournaments above the rest. They are career makers, and breakers, and what other tournaments aspire to be. The PGA might be the Ringo of this bunch...but it's still pretty damn good to be Ringo.
"Obviously, it's a wonderful event," said Justin Rose. "I mean, you win any of the four major championships, and you're a happy man."
Did we mention the world's best, all of them, are here, most in early contention? Obviously fans and social media can be hyperbolic and hypocritical; it's nevertheless bananas that the same people who praise decently-stacked fields at the Genesis Open or Travelers Championship rip this PGA. Not to knock those respective events. The point is, congregating the game's top 100 players—arguably the deepest arsenal of talent the sport has ever seen—at any venue or competition qualifies as appointment viewing.
Yes, better days might be ahead. The PGA could realize its full potential next May, with room to breathe, at a renowned course, in the country's biggest market. It will undoubtedly look, feel different. And when that time comes, we'll toast to it.
In the present, let's enjoy what's in front of us. For what it is, and what it is not.