The Loop
How He Hit That: Jonas Blixt's cross-handed putting
*Editor's Note: Every Monday Kevin Hinton, Director of Instruction at Piping Rock Club in Locust Valley, N.Y. and one of Golf Digest's Best Young Teachers, tells you how a tour player hits a key shot. This week, Kevin looks at the putting style of Frys.com Open champion Jonas Blixt.
__With his win at the Frys.com Open, Jonas Blixt became the third rookie to win on the PGA Tour this year. Jonas' superb putting made up for an average week of ball-striking, where he finished only T-59th in greens in regulation. Blixt led the field in total putts, with 25 putts in the final round and only 105 for the week. He also completed the event without a three-putt. Remarkably, this was Blixt's third consecutive event without three-putting. His last was 243 holes ago, during the third round of the Barclays on August 25th. Blixt currently leads the PGA Tour in the statistical putting category of stroke gained, which is considered to identify the tour's best putter.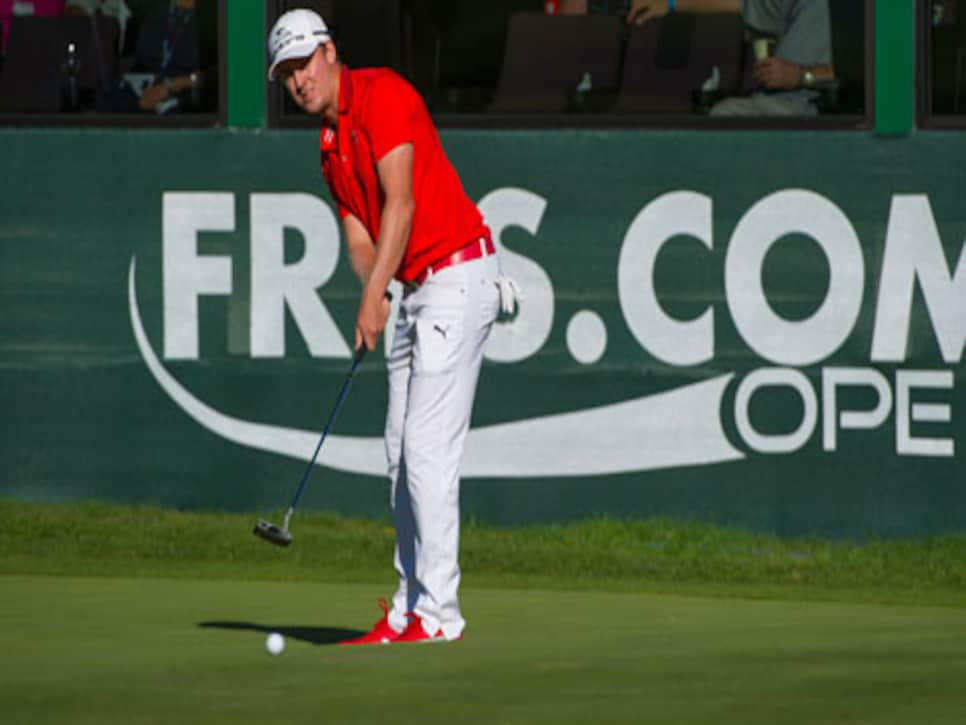 Below we look at Blixt's cross-handed putting style, and whether it's something that might benefit your game.
Benefits to Cross-Handed Putting
By putting "left-hand low," it becomes much easier to level your shoulders at address than with conventional putting. This will also help to level out your eyeline. Many people struggle with their putting simply because they have too much tilt at address.
Similar to the variations of the "claw" grip, putting cross-handed can help eliminate the right hand from taking over at impact. The grip can definitely reduce a players' potential for yipping. The belly and long putters also attempt to counter any unwanted electricity at impact, but cross-handed often offers a much shorter learning curve than these other methods.
If you are struggling with your putting, the simplest fix can be just to change. Change your putter, change your grip, change your routine. . . change anything! Putting is so mental, and in theory should be so simple, sometimes all we need is a different perspective or a fresh loo. Switching to cross-handed just may provide that.