News
How great would it be to win the U.S. Amateur at Pebble Beach this week? David Gossett can fill you in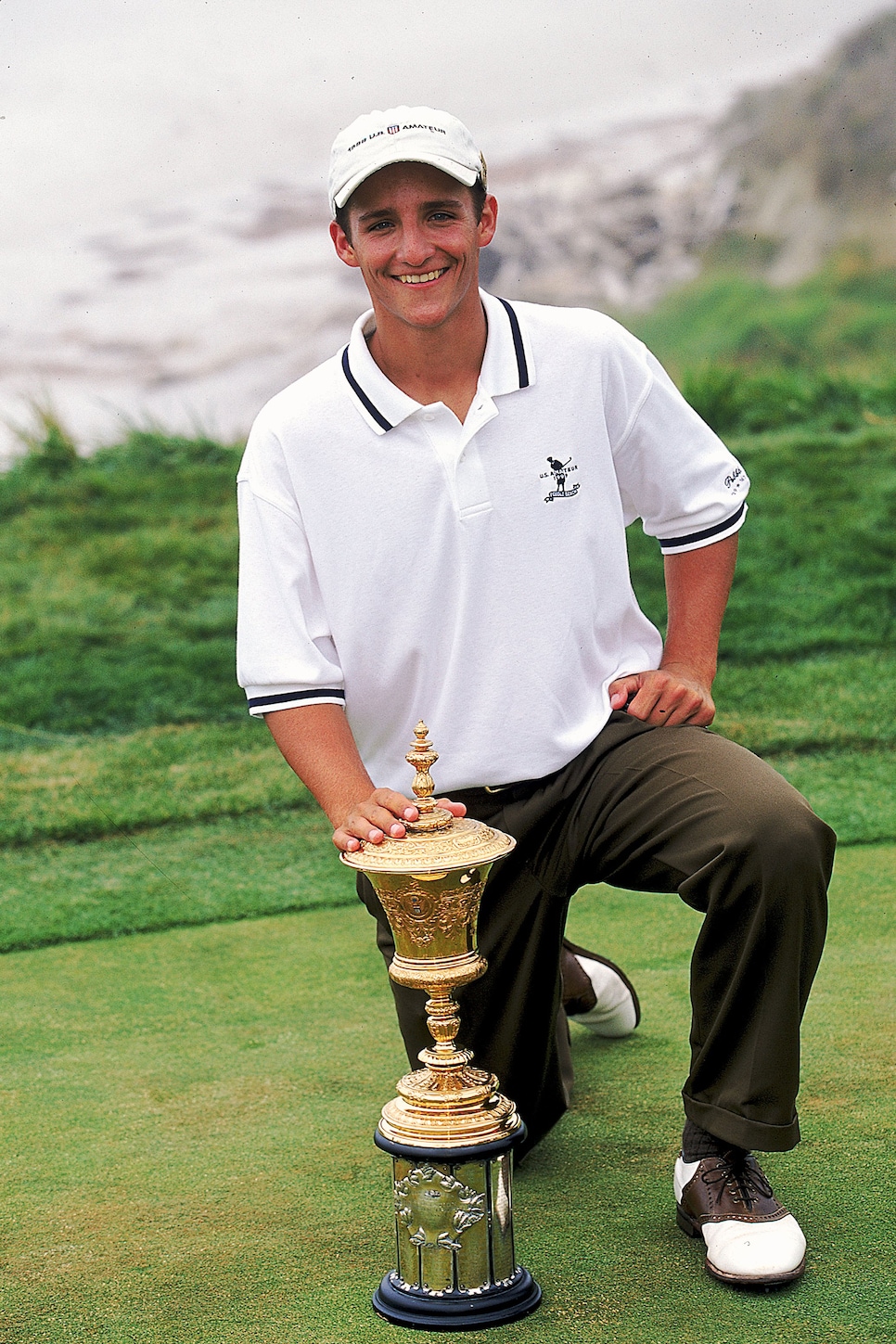 There's a special place in David Gossett's heart for Pebble Beach Golf Links, site of what he calls the biggest victory of his golf career, the 1999 U.S. Amateur. Little do most people know, there's a special place at Pebble Beach for Gossett as well.
In a small room off the pro shop overlooking Pebble's first tee, there are a handful of lockers for resort guests, 13 of which have metal plates with people's names on them. Among them are Jack Nicklaus and Tom Watson, Bobby Jones, Lanny Wadkins, Tom Kite … and David Gossett.
"Probably five times a year I get somebody texting me a picture of the locker, saying they saw it," Gossett says. "Kind of cool."
The 39-year-old Tennessee native remains as proud of his locker—an honor given to those who have won USGA and major champions, along with a few other seminal figures at Pebble—as he did when first earned it 19 years ago.
With the U.S. Amateur returning this week to the Pebble Beach for the first time since his triumph (and the fifth time overall) Gossett recently checked up on his locker when he attended a USGA pre-tournament outing on the Monterey Peninsula and played the famed course as it was being prepped for this year's championship. The event allowed him to reminisce about the week.
"It's something I'm always fond of," Gossett said. "It was such a blessing to have won, and just kind of the way everything worked out … especially at Pebble Beach, it's such an iconic venue. It's the top amateur event in the world, so that's a great club to be a part of."
Gossett had never been to Pebble prior to August 1999, and when he arrived with his father, Larry, he was uncertain what to expect from his game. He had built off his accomplished junior career by winning four individual titles during his freshman season at the University of Texas, fulfilling expectations and creating new ones. But that spring, Gossett ruptured his ear drum, an injury that threw off his equilibrium and made for a summer of struggles on the course.
It looked like it was more of the same on the Monterey Peninsula after Gossett shot a disappointing 80 at Pebble Beach during the first day of stroke-play qualifying. But a heart-to-heart talk that night with his father re-energized Gossett, and a 71 at Spyglass Hill, the companion stroke-play course that week and again this year, let him sneak into match play by one stroke.
From there, Gossett survived one more scare, turning around a 3-down deficit after three holes against Chad Collins in the first round, before emerging as the player to beat.
"I started driving the ball extremely well and putting extremely well," Gossett recalled, his stats confirming his memories. In his last four matches, Gossett hit 54 of 59 fairways. "That was kind of the differentiator I think that week. My putting was very consistently good once I got into match play. And my driving was really strong, which was important because the rough was so brutal."
His confidence bolstered—and with the benefit of having veteran tour caddie and Californian Andy Martinez on his bag that week—Gossett knocked off future PGA Tour pros James Driscoll and Ben Curtis in the quarterfinals and semifinals, then trounced South Korean teenager Sung Yoon Kim in the 36-hole championship match, winning 9 and 8.
The victory was the fulfillment of a dream; Gossett had focused much of his attention the previous year on claiming the Havemeyer Trophy, leaving a brochure about the championship in his room to provide a constant reminder. While practicing at school that spring, Gossett had put in extra time working on 2-iron fades, the shot he'd need off the first tee at Pebble.
"I don't know why I was so focused on that," Gossett said, but "there was some heart in there, dreaming about it."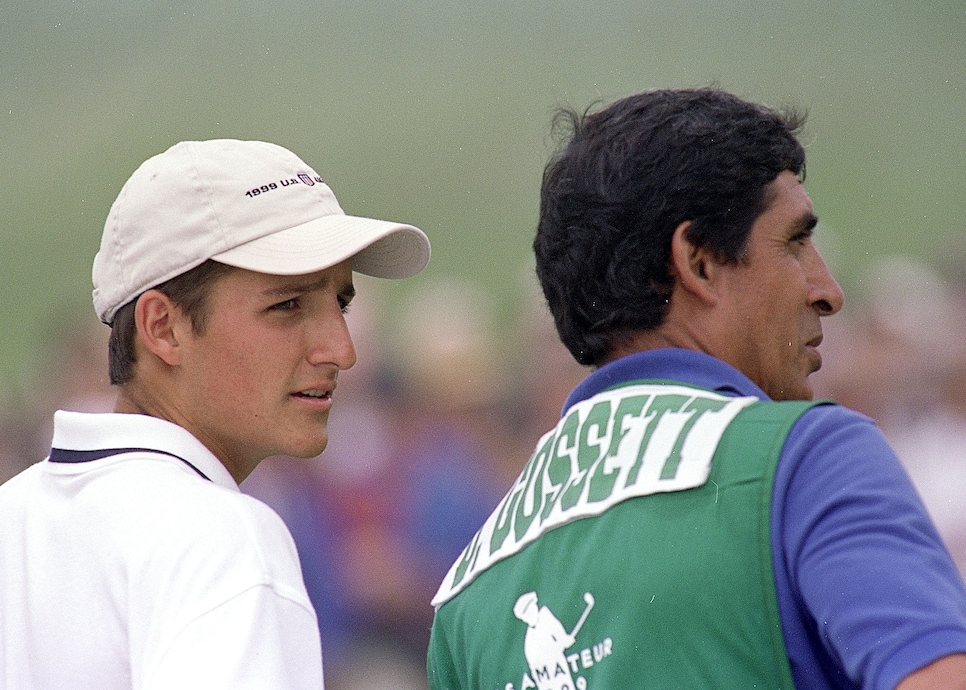 When Gossett came back to the Austin campus that fall, he returned a celebrity of sorts. His victory was celebrated during a ceremony at a UT football game. It was a moment where Gossett became more recognizable than he realized.
"I drove through a stop sign the next weekend coming back from golf near the state capital," Gossett said. "I was just thinking about getting to class, and nobody was around. I didn't see it. Totally rolled through it, and got pulled over and the cop stops me and says 'Hey, I saw you on the jumbotron last weekend.' He goes, 'Hey man you can go. There is a stop sign there so be careful.' That was kind of cool."
After enjoying the spoils of his victory—playing in the Masters (where he made the cut and was low amateur), the U.S. Open back at Pebble Beach and Open Championship at St. Andrews the following year—Gossett decided to try to fulfill his next set of dreams by turning pro in the summer of 2000. His amateur success seemed to be carrying over, as within a year Gossett had won on the PGA Tour, taking the 2001 John Deere Classic title.
Yet that would be Gossett's lone victory on tour, his professional career never quite materializing as he hoped. He'd lose his full tour playing privileges in 2004 and bounced between the PGA Tour and the Web.com Tour for several years after that. In the meantime, he met his wife, Jenny, at a wedding in 2009, got married later that year and started a family.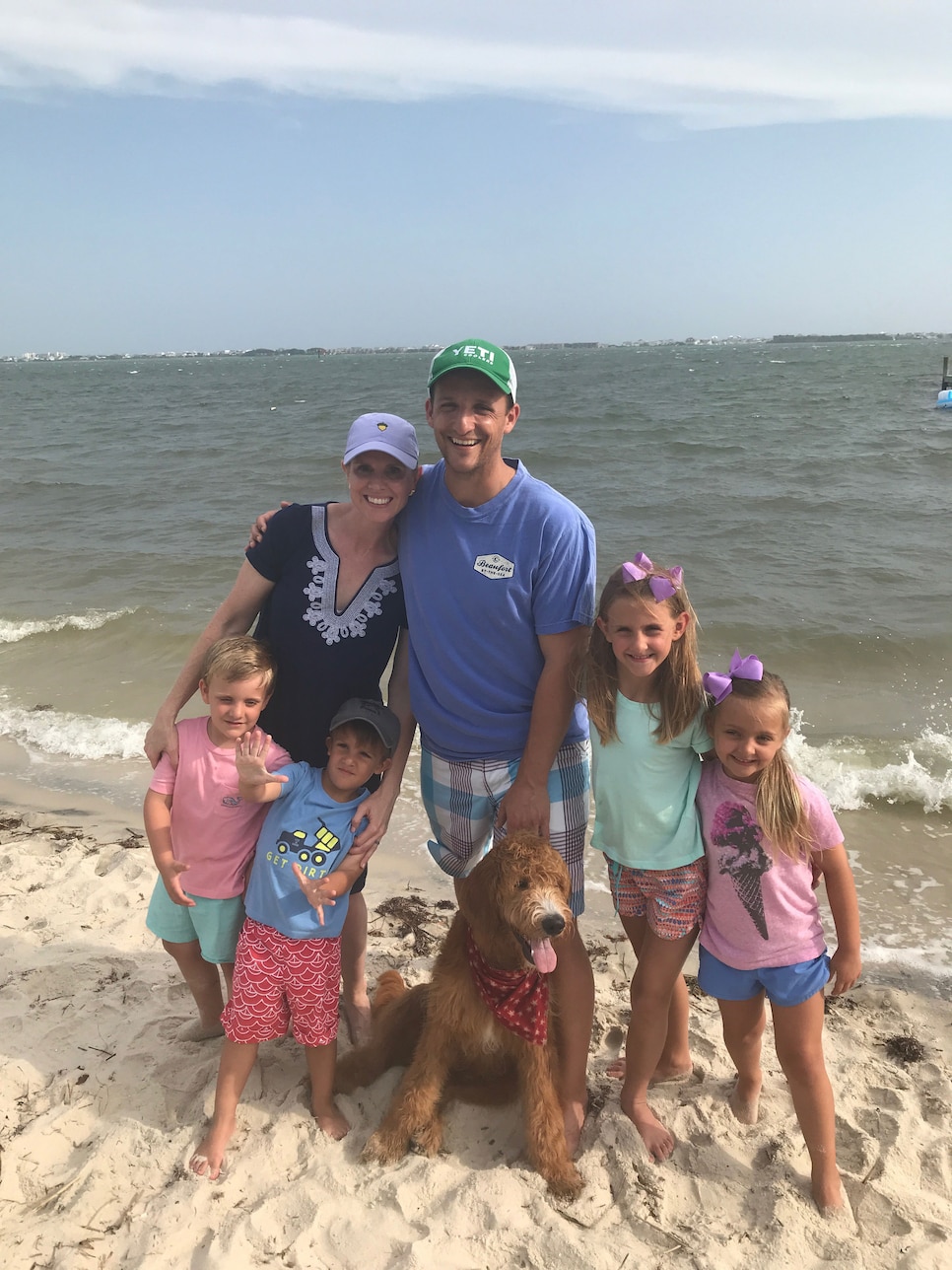 Courtesy of David Gossett
In 2015, after failing to advance to the finals of the Web.com Tour Qualifying School, Gossett decided it was time for a change. He did some due diligence about potential future careers, and on the advice of some trusted friends got involved in commercial real estate, taking a job at CBRE Group, Inc. His works with clients in Austin and Nashville, where he and his family move earlier this summer, requires far less time on the road and more time to spend with his wife and their four children, daughters Grace, 7, and Caroline, 5, and sons Hawkins, 4, and Noble, 3.
"I'm enjoying it," Gossett said. "I'm glad I got out of the domain of golf if I wasn't playing professionally. It's something fresh, something different."
Gossett is at peace with his golf career, too. He still tries to play once a week, and tried qualifying for the U.S. Open this past summer. He says he'll watch this week's coverage of the Amateur, sure that it will bring back memories from his victory there. But he has an ulterior motive, too. He's curious who'll be the next golfer to grab a locker beside him at Pebble Beach.