The Loop
How golf saved Tim Lang, military veteran
Ret. Lance Corporal Tim Lang will stand on the first tee in the Patriot Cup today in Oklahoma and recognize Memorial Day by looking down at his right leg and the two names he wears on a wristband. Lang was riding in the turret of an armored Humvee in Fallujah, Iraq, when an IED detonated under his vehicle, killing Sgt. Brock Babb and Cpl. Josh Hines and taking the lower half of Lang's right leg. "I don't know to this day how I survived," Lang said when we spoke last week from his home in Ann Arbor, Mich.
I met Lang during a fundraiser for the TA 4 Life Foundation at Sea Island GC. By his gait, you would never know the Purple Heart recipient walks with a prosthesis. By his attitude, and the way he compresses the golf ball, you would never know he lives with a disability. As he said of his game, "Distance is not one of my issues." Warming up for the Patriot Cup, he shot 74 in temperatures not above 60 degrees at Eagle Crest GC in Ypsilanti, Mich. Within the last month he posted two 69s and two 70s. His goal is to win the National Amputee Championship someday.
Memories of the blast are vivid. Lang was propelled into the air, landing 45 feet from his vehicle. Time slowed down. Every second felt like a minute and every minute like an hour. The date was Oct. 15, 2006, nearly one year to the day after his enlistment. He was 21.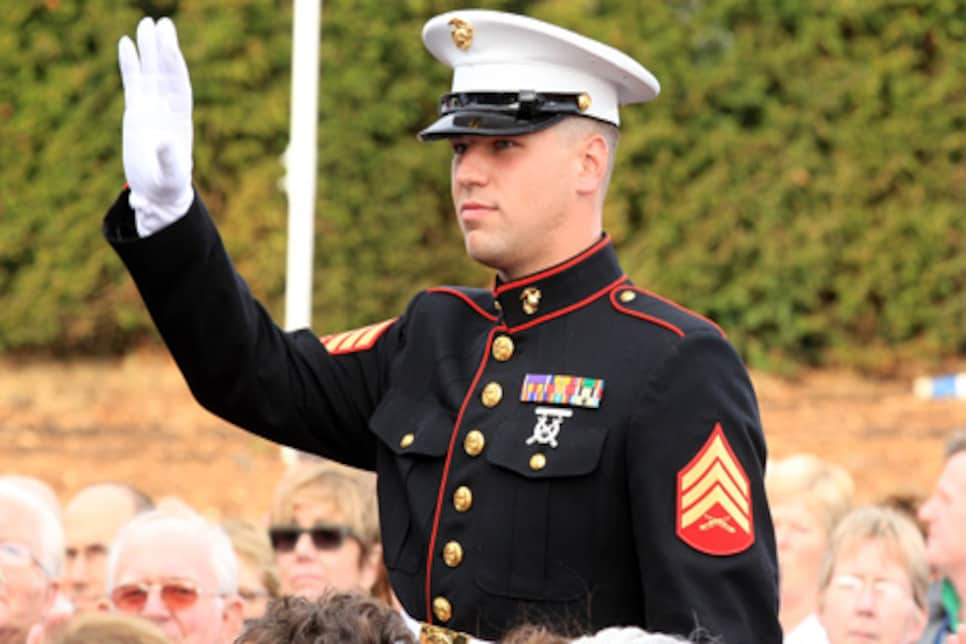 "I remember seeing nothing but black all around me, then nothing but blue all around me," he said. "That's when all that training kicked in. I just remember thinking I better cuddle up in a ball because I was about to hit the ground." Lang fractured his back and suffered traumatic brain injuries, but his first instincts were to try and stand up. That's when the wave of pain rushed through his body. "It felt like my leg was on fire," he said.
From Fallujah, Lang was transferred to hospitals in Balad and Germany, before flying home in the back of a C-130 to Bethesda Naval Hospital and eventually Walter Reed National Military Medical Center near Washington, D.C. Over the course of 4 1/2 years Lang survived 48 operations and lost over 100 pounds from bacterial infections picked up the day of the blast. But as he was fighting depression and going through rehab in early 2008, in through the door walked Jim Estes, cofounder of the Salute Military Golf Association.
Lang was an athlete growing up and came from a highly competitive family of 12. "Golf itself pretty much finished what doctors were able to start," he said. "It made a world of difference mentally, emotionally physically. It became my satisfaction. I was able to feel like a human being again. It gave me the self confidence that I missed for so long."
Now 27, Lang is pursuing a criminology degree at Eastern Michigan. Rosie Jones heard his story at the 2010 Teaching & Coaching Summit during the PGA Merchandise Show and made him honorary captain of the 2011 Solheim Cup team. Now he is a motivational speaker, which, like golf, is something he never saw himself doing.
"It's been so awesome for me to talk to others and share the message of hope and moving on," Lang said. "Everybody has dark days. How you get back up in life is how you'll be remembered. I've healed. Now my mission in life is to help others heal."