The Loop
How golf is causing Donald Trump to take a break from the campaign trail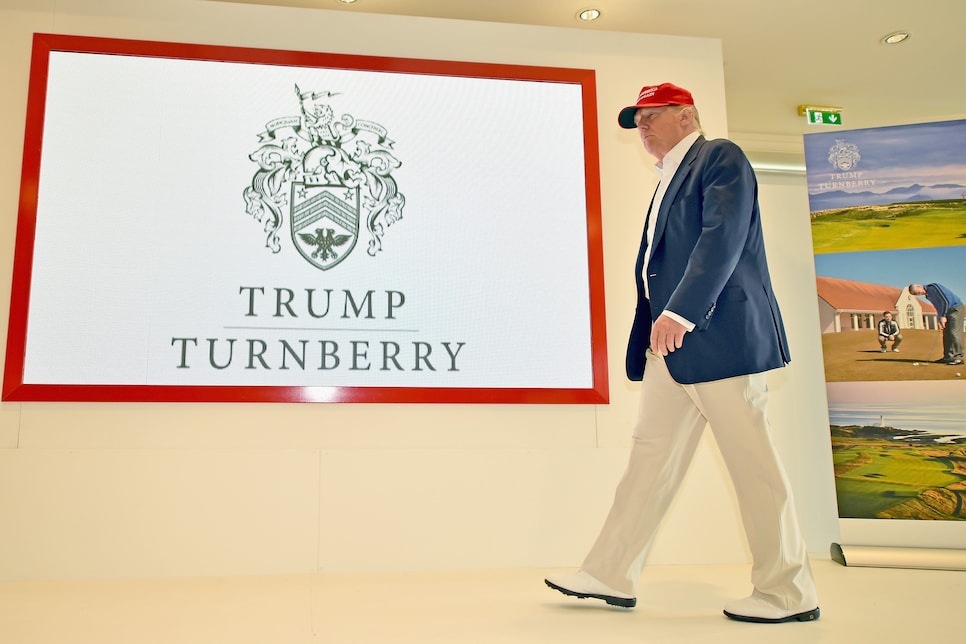 In the midst of running for President of the United States, Donald Trump will leave the campaign trail. In fact, he'll leave the country entirely. The reason? Golf.
Trump will travel to Scotland later this month for the re-opening of Trump Turnberry's Ailsa Course. The famed track that's hosted four Open Championships went under extensive renovations under Martin Ebert beginning last fall. And a Tuesday media day produced rave reviews.
"It's around the turn, though, where Trump and Ebert have come up with the joint-vision to create a stretch of holes that match any in terms of being both spectacular and challenging," The Scotsman's Martin Dempster wrote. "Make no mistake, the ninth, 10th and 11th will be talked about in golf in the same breath as Augusta's Amen Corner and the equally spectacular stretch at Pebble Beach."
High praise, indeed. Looks like Trump will be getting a few pats on the back when he heads across the pond.
The course's public relations manager, Lisa McGhee, confirmed Trump will be on site on June 24. There are no other details about his trip and what else it might entail. Although, again, it's tough to imagine Trump being out of the country for very long during a hotly-contested campaign.
As for Turnberry, it was removed from the British Open rota last year following controversial comments made by Trump about Muslims. Previously, the course had been unofficially slated to host the event in 2020. From Dempster:
"It would be even more of a crying shame now, though, if the world's top players didn't get the chance to compete for the Claret Jug again on a course that was already regarded as being the most scenic on the rota but has just been taken up several notches in that respect and also, importantly, in terms of its overall test."