How does Jordan Spieth get over his Masters collapse? It all depends on how he frames it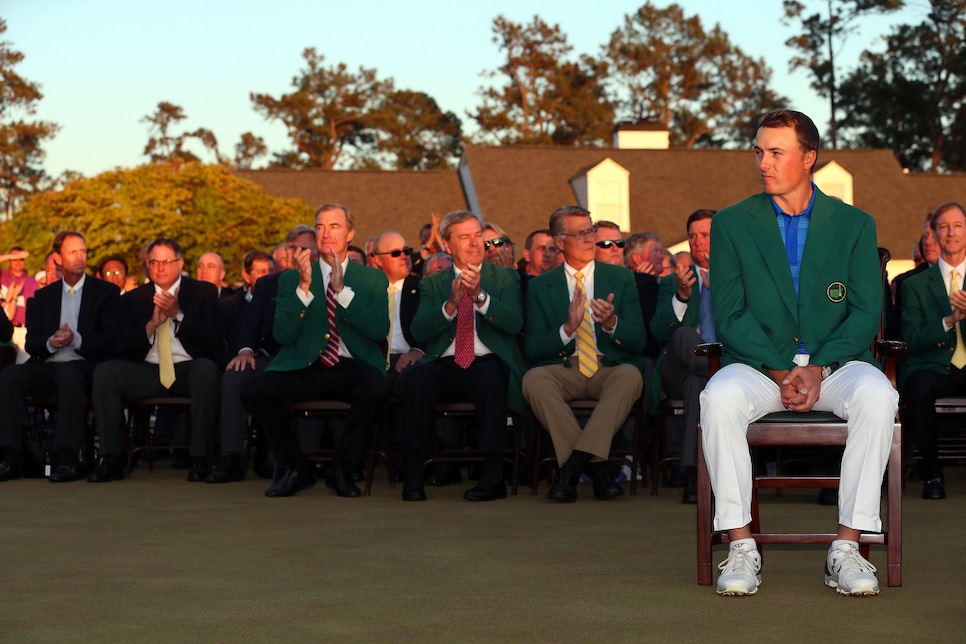 AUGUSTA, Ga. -- In the gloomy aftermath of his stunning Masters collapse, Jordan Spieth stood blank-faced before a bank of cameras on Sunday and tried to put words to everything that had just happened. Light was fading quickly over Augusta National Golf Club, and it seemed fitting. At that point, Spieth had trouble finding any bright side.
"Big picture, this one will hurt," Spieth said. "It will take a while."
Exactly how long it will take Spieth to overcome a Masters loss in which he blew a five-shot lead with nine holes to play is not something he or anyone else can answer.
Losses are like snowflakes. No two are ever the same, and in his young career, Spieth had certainly never endured something like this. Not only did he surrender the lead in such dramatic fashion -- dunking two balls in the water on the par-3 12th -- but he also had to endure a post-tournament tradition in which he was forced to give the green jacket away.
"As you can imagine, I can't think of anybody else who may have had a tougher ceremony to experience," said Spieth, who ended up losing to Danny Willett of England by three strokes. "It was very tough given that it's so soon after the finish...I felt that I stood up there and smiled like I should."
At this primary level, Spieth handled the loss gracefully. His lone raw display was when he lost his patience with cameramen who shadowed him closely as he walked off the golf course, but otherwise he managed a difficult moment well. As he approached the 18th green, his loss assured, Spieth removed his hat to acknowledge the crowd. He gritted his way through two painful green jacket ceremonies -- first for TV in the Butler Cabin, and again for the patrons on the 18th green. Finally came the media session, when he spoke candidly about where the day went awry, and how crummy it all felt.
"It takes a strong-willed guy to do that after you lose a few big events," Harmon said. "I don't think you get over it, but I think you find a place to put in your mind and learn from it. The big key is to learn from it."
But this is only one part of losing well, because the hard part, and the most important part, is in how the loss will shape Spieth moving forward. I spent a lot of time exploring the dynamic of losing over the past year, talking to everyone from athletes to CEOs to politicians about what failure can yield, and how it often can be a blessing. The product of these conversations is a book, Win At Losing, which will be published later this year.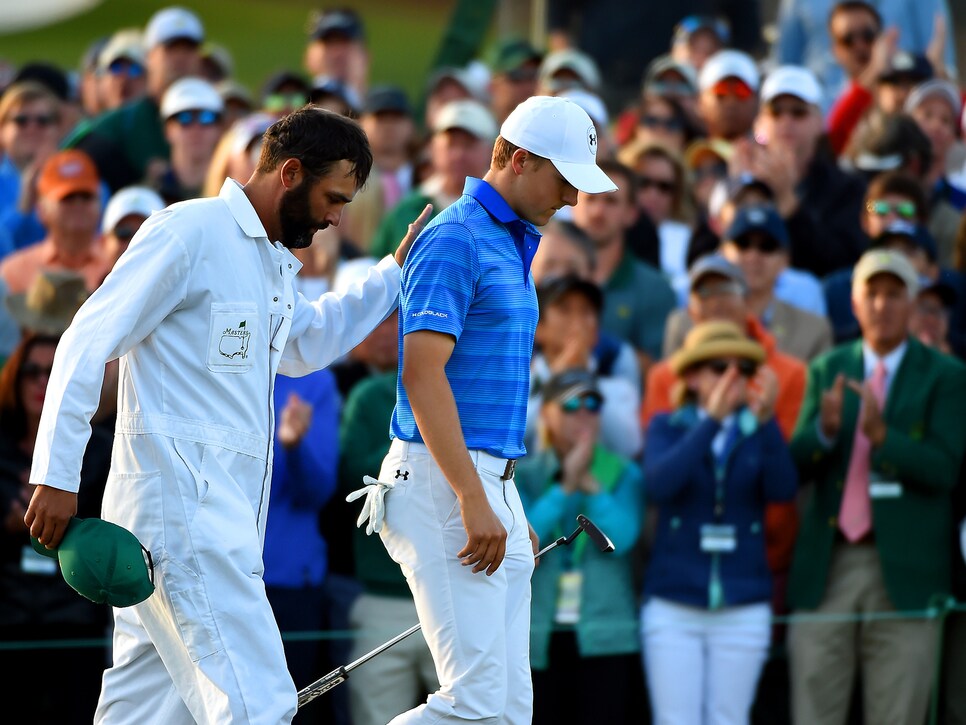 As it happens one of the people I talk to in the book is Greg Norman, who had his own Masters collapse 20 years ago. (That chapter was excerpted in Golf Digest's Masters preview issue, and can be read here.) Unlike Spieth, Norman had never won a Masters, and for that reason, I'd argue his loss was even more heartbreaking. It came when he was 41, at a point in his career when his window to win majors was rapidly closing. Folded into the sadness that day was the sense this was Norman's last chance, and we were right: He would never win another one. But even then, the loss for Norman had benefits, both in how it made him more accessible as a person, and nimbler as a businessman.
"Nobody is impervious to mistakes, and you need to be humble enough to admit when you've made one," Norman told me. "The quicker you make a mistake the quicker you can implement change. Every day I make a mistake, I learn from it."
Norman has a line when discussing his Masters loss. "Although I lost the golf tournament, I've won the tournament of life." It's a bit cheesy, but it's a perfect example of the golfer "framing" the loss in a constructive manner, choosing to dwell not on what could have been, but the deeper growth it produced.
This whole idea of framing is something I encountered often in hearing how people processed a difficult loss, and I now recognize it as a vital step for Spieth as he attempts to turn the page on his Masters disappointment. The concept was best explained by Dr. Jim Loehr, a sports psychologist and the founder of the Human Performance Institute in Orlando, who notably helped the speed skater Dan Jansen overcome a series of devastating falls to eventually win gold in his final Olympic race.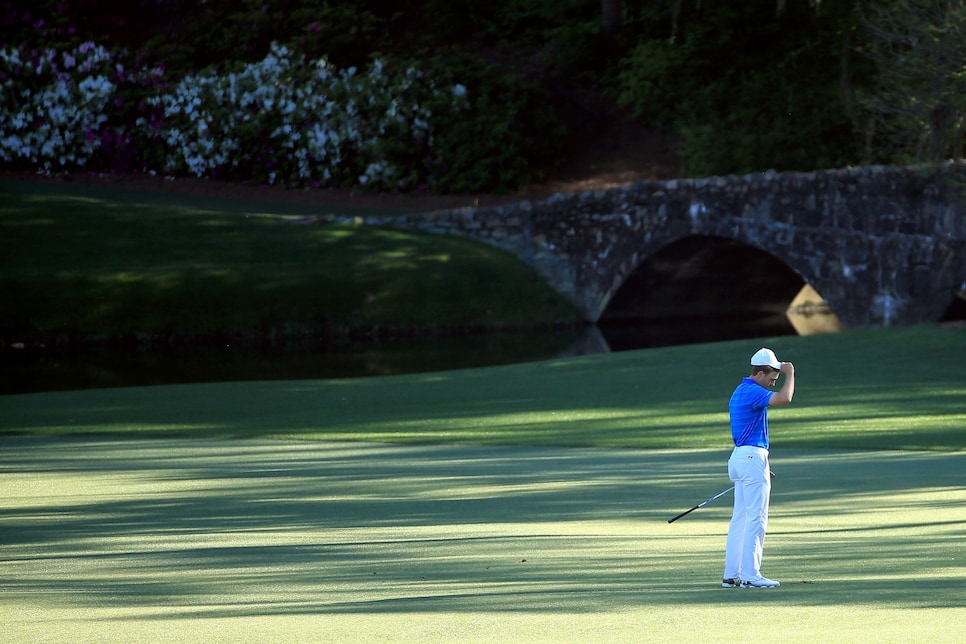 With Jansen, Loehr set out to show the skater that every event in our lives is subject to an interpretation we control, and in his case there was a way to look at his Olympic spills as a springboard to something greater. That's not to say Jansen had license to distort the truth. But Loehr pushed the skater to embrace a narrative that was both palatable and useful.
"More important than what happens is the story and mindset you create around what happens." Loehr said. "We spend a lot of time helping people recraft stories that are grounded in truth, but that still give them a sense of optimism and takes them where they want to go."
Loehr's point as it relates to Spieth is that it would be very easy for the golfer to look at what happened on Sunday at the Masters and kick himself for all the ways he screwed up. That will probably still happen in the days and week to come. But eventually, he'll need to tell himself a new story. Maybe he can recognize that he was fighting his swing all week, and he was fortunate to be in contention in the first place. Maybe this will be the episode that incites a change to his competitive approach that he needed.
"After Spieth beats himself up some, he will see the big picture and gain some utility," said Dr. Michael Lardon, a psychiatrist who works with a number of tour players, including Phil Mickelson. "He actually already did that in his post-tournament interview when he said he lacked discipline. I was impressed he was able to see that so quickly."
It's worth noting that when it comes to framing, Spieth already has experience. As my colleague Jaime Diaz wrote in our Masters preview, it was Spieth's loss in the 2014 Masters that helped prepare him for his breakthrough win last year.
"It's the best tournament I can learn from in my life," Spieth told Diaz. "The good and the bad."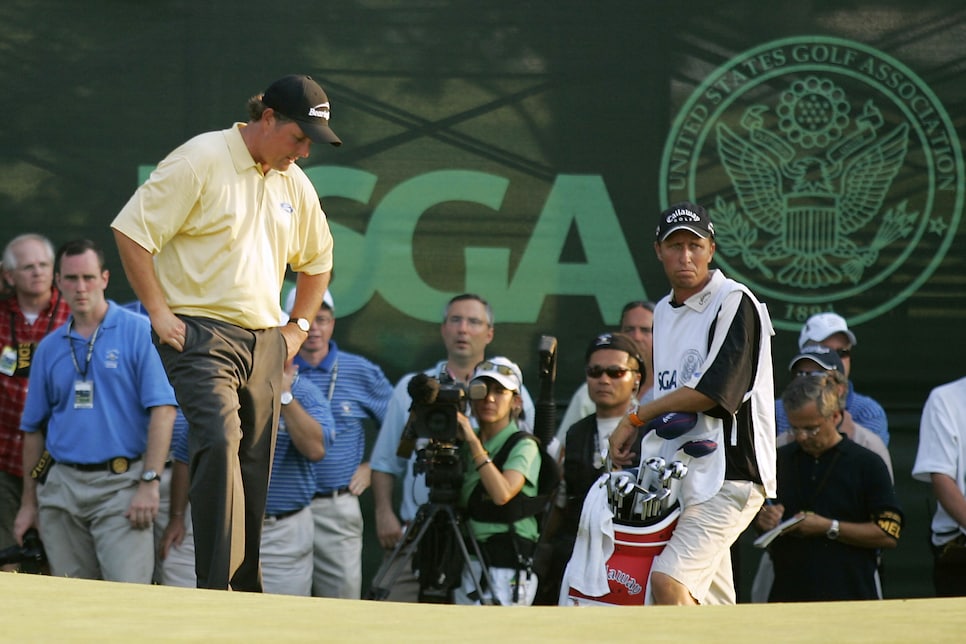 NY Daily News via Getty Images
For all the outward similarities to Norman, a better model for Spieth might be Mickelson, who had his own epic meltdown at the 2006 U.S. Open at Winged Foot. Like Spieth, Mickelson was at a point in his career when he seemed to be riding high; he came into Winged Foot winner of the last two majors. And as much as the loss that day stung and the U.S. Open continues to elude him, Mickelson was able to frame it in a beneficial way. Not surprisingly, he's won two majors since.
"I've always been somebody, ever since I was a kid, that got motivated by failure, that worked harder because of failure," Mickelson said at the 2015 U.S. Open. "Some people get discouraged by that, and it almost pushes them away. But for me it's been a motivator to continue to work harder and get over that hump."
A decade after losing his U.S. Open, Mickelson has compartmentalized that loss where it fuels him rather than gnaws at him. In the eyes of his former coach Butch Harmon, it's fortified him to the point he's one of the most resilient players on tour. The instructor likens the player to a defensive back who gets beat on a deep route, but who still lines up for the next play undeterred. Spieth has a chance to adopt a similar approach the next time he tees it up when it counts.
"You kind of have to have that mentality," Harmon told me. "The last shot is over. I can't go back and hit it again, so I've got to go forward. It takes a strong-willed guy to do that after you lose a few big events. I don't think you get over it, but I think you find a place to put in your mind and learn from it. The big key is to learn from it."