News
How DJ has become golf's Forrest Gump, Jon Rahm's rapid rise, and why the WGC-Match Play format isn't changing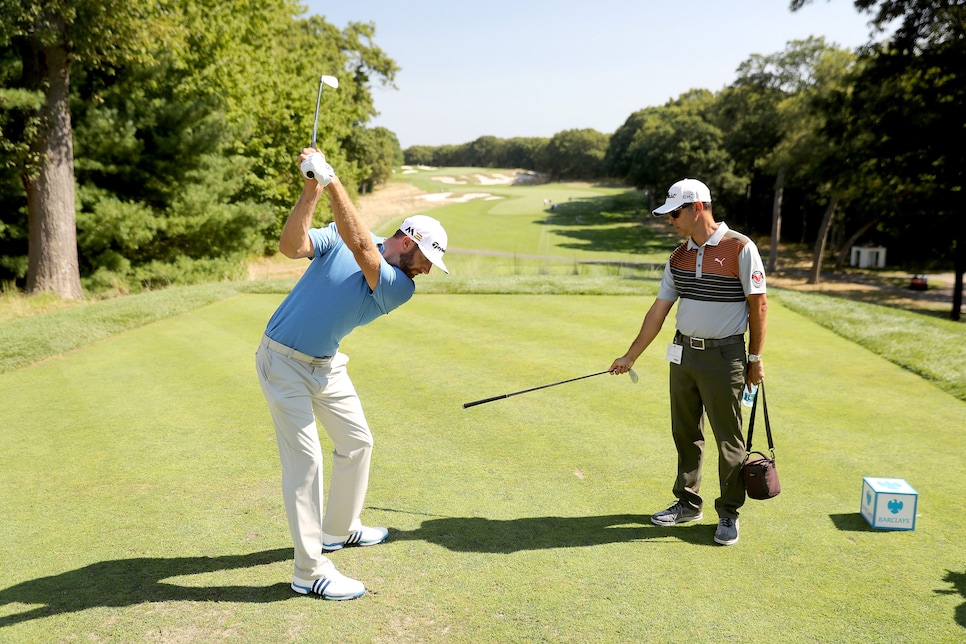 Dustin Johnson's extraordinary physical talents smack you in the face. He's 6-foot-4, 190 pounds, can dunk a basketball and is long and sinewy with incredible flexibility and speed to launch a golf ball 428 yards (the longest drive measured on the PGA Tour this season, on the 18th hole in the final round at Kapalua in January).
If he were a racecar, he'd be a Bugatti or McLaren.
But is the mental approach to Johnson's game actually his greatest attribute? Or perhaps better put, his seemingly lack of one.
The 33-year-old No. 1 player in the world will never be someone who spends too much time thinking, especially when it comes to golf. His coach, Claude Harmon III, referred to him as Forrest Gump during an interview for a story I was writing on Johnson last year. Billy Horschel once said Johnson plays "caveman golf."
Clearly it works. Johnson has won his last three starts, six of his last 18 and has eight other top-10s since this run began at last year's U.S. Open.
It wasn't all that long ago, however, that Johnson was criticized for his lack of thinking and confounding missteps.
There was bunkergate during the 2010 PGA Championship at Whistling Straits; the ball OB on the 14th at Royal St. George's, when he was down just two late Sunday of the 2011 Open Championship; a three-putt from 15 feet on the 72nd hole of the 2015 U.S. Open at Chambers Bay.
But his ability to let all those failings roll off his back is an asset every bit as important as his physical capabilities. It would be enough to make a lot of baseball closers jealous.
"He has always been the same as long as I have known him: chilled and laid back," says Harmon, who began coaching Johnson a few years ago. "He is so positive, always looking forward, never looking back.   "The same things that people used to say were his weakness—not smart enough, doesn't care enough, needs to try harder, etc.—now everyone is saying those are all strengths."
Is it any wonder then that he was so easily able to shake off the USGA's bungling of a ruling during the final round last year at Oakmont, or not let Jon Rahm's late-inning rally Sunday at the WGC-Dell Match Play get to him?
"Man, I mean what's to say," Rahm said. "His power off the tee, it's amazing how he's able to keep cool the entire round. It amazes me. And he's just a perfect, complete player. Honestly, he doesn't really make mistakes. I think he's learned from what he's done in the past, and he's embracing it now. That's why he's winning tournaments."
Maybe Johnson is also a lot smarter than he gets credit for being.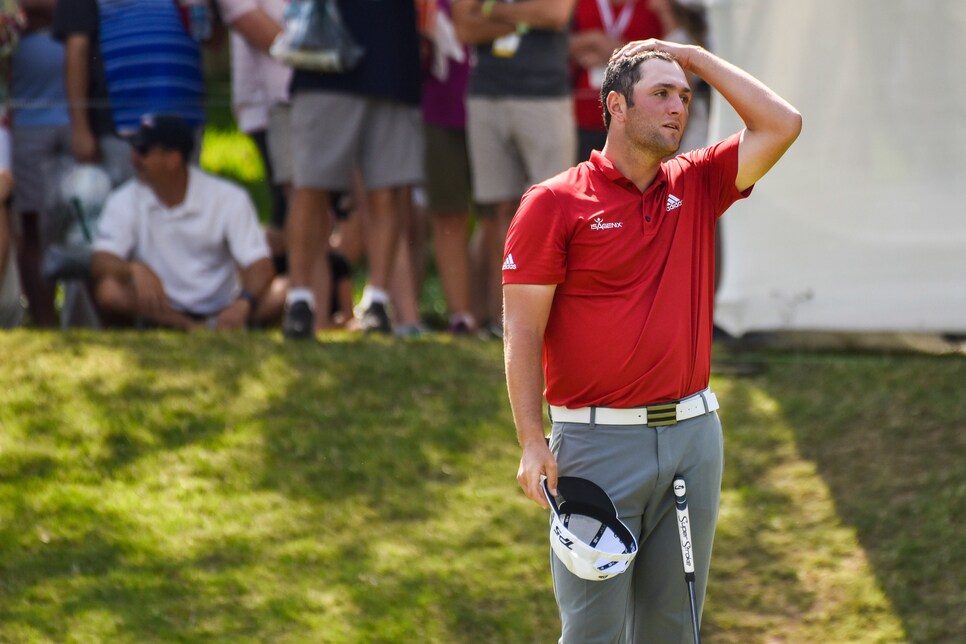 So much for experience. In nine starts this year, rookie Jon Rahm already has four top-10 finishes, including a win, runner-up and a third.
He's also fourth in strokes gained/off the tee, 13th in strokes gained/approach to the green, 60th in strokes gained/putting, eighth in birdie average and seventh in scoring. About the only negative thing you could say about his game is that he can be wild off the tee—he's 128th in driving accuracy—but that can be made up for.
Tim Mickelson coached Rahm at Arizona State before recently leaving to become his agent. Good timing. "I'm mildly surprise at how quick [he has had success]," Mickelson said via text. "But not surprised by the success.
"Golf is golf, no matter where in the world. He believes in his ability to play golf at a high level."
MATCH PLAY FORMAT, REVISITED?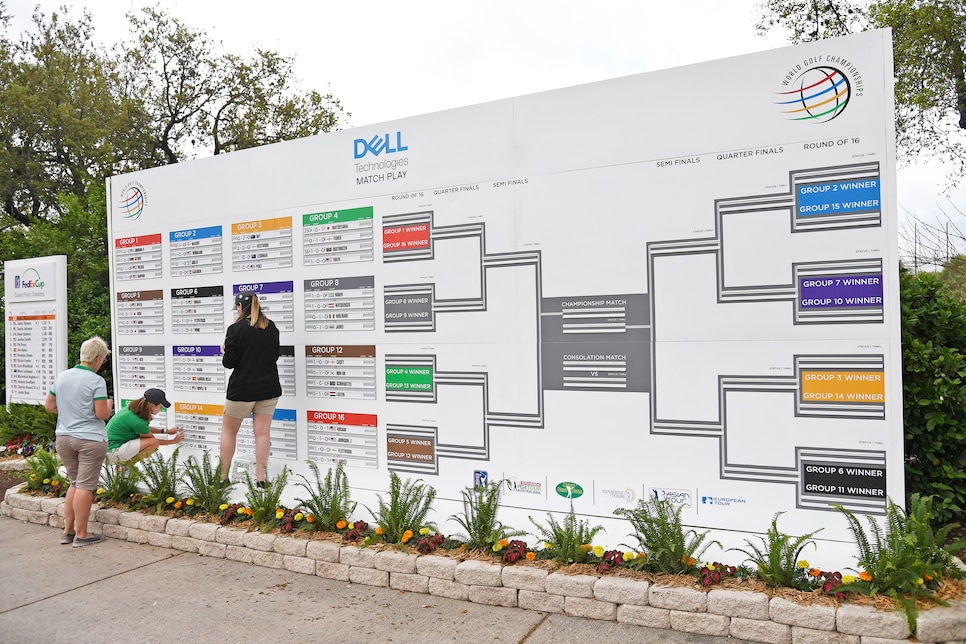 In 2015, the PGA Tour switched the format in the WGC-Dell Technologies Match Play a straight single-elimination bracket, to pool play with 16 players advancing followed by knockout rounds. This was done to keep stars around longer. If you're a sponsor ponying up big bucks to put on an event, who can blame them?
Love it or hate it—I'm still more in the camp of the latter —it's hard to argue with the outcome. Three seasons in, the formula has rewarded the best players in the world, as the No. 1- (Rory McIlroy), No. 2- (Jason Day) and No. 1-ranked (Johnson) golfers each year have won the whole thing.
That said, the end doesn't necessarily justify the means. There are still meaningless matches being played on Friday, and a straight knockout formula, to me, is more appealing for the exact reasons TV and sponsors hate it—the potential for a top seed to be knocked off by a 64.
Still, the tour likes it, and the players do, too. Who can blame them?
"I think that guarantees three matches, and I think that's a good thing for the field," Phil Mickelson said last week of the round-robin pool play. "I think it's a good thing for the players."
The year's first major is just a week away. Johnson is the favorite, but it rarely works out where a player this hot carries the momentum into the Masters. Winning streaks are hard in golf. Colin Montgomerie did a nice job of summing up who will likely fare well at Augusta National, saying, "I always feel that going into the first major, you look at the top 10 in the world, you look at the top 10 on the money list in America and you look at the top 10 on the money list in Europe, and that's really your winner. Obviously there's an overlap there. But you look at the top 10 in the world, mainly, and that's where it comes from." I appreciate where Monty's coming from, but you can go a little beyond that, too. Danny Willett was 12th in the world a year ago, and Rahm is currently No. 14. Look for someone in the top 10 to 15 to be slipping on the green jacket. …
Comparing anyone to Tiger Woods is a futile enterprise. One quality that Johnson does seem to share with the 14-time major winner? Tremendous ability as a front-runner. Once DJ's in front, he's tough to catch, especially if you're alongside him watching one missile off the tee after another. Johnson is also a better putter than he gets credit for (see last week's performance, save for the semifinal match with Hideto Tanihara, when DJ made miles of putts). "If he gets off to a good start the first day, he'll be a very, very difficult man to beat, because he's becoming like Woods was in our era," Montgomerie said of Johnson's chances at the Masters. "You don't want him in your rear-view mirror at all, and if he gets off to a decent start, that puts pressure on people." …
And while we've been talking about long-ball hitters, here's a random stat I came across the other day that sheds light on the bombers era. This year there have been 643 drives of 350 yards or more. In all of 2002, there were just 389. In 2003, the number spiked to 901, a massive jump that can be attributed some to course and weather conditions but also the rise of solid-core balls, launch monitors and other technological advances. Meanwhile, the rash of 400-yard drives on tour this year does seem real. There have been nine so far in 2016-'17 while there were only eight all of the 2015-'16 season.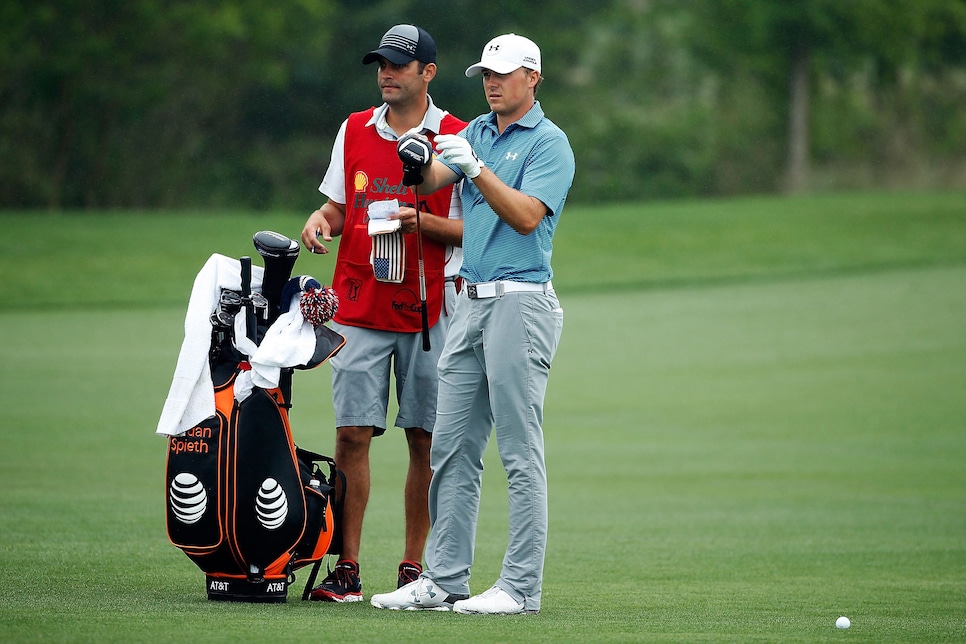 Since Dustin Johnson decided to take the week off, everyone else suddenly has a chance at the Shell Houston Open. Well, not quite. Four of the top 10 players in the world are in the field, including Jordan Spieth, who lost in a playoff at the Golf Club of Houston in 2015 (above). Speaking of playoffs, the tournament has had 23 of them—the most for any non-major on tour—including in two of the last three years. After the early exit from Match Play last week, Spieth should be well rested. He'll win in Houston, then try to pull off the double by winning the Masters.