The Loop
How Darren Clarke won the Thursday night pairings battle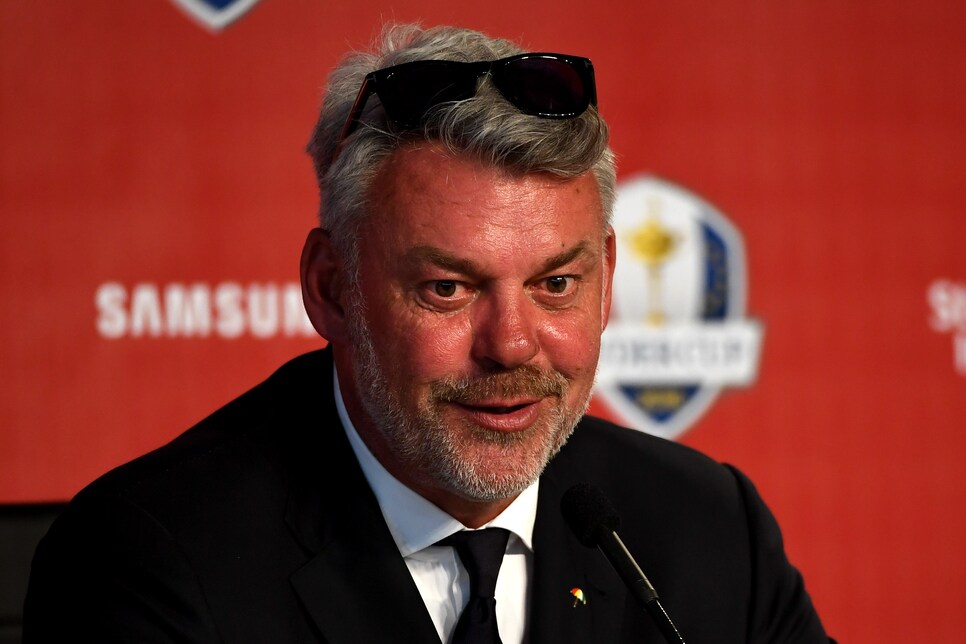 CHASKA, Minn. -- This post deserves a huge disclaimer up top: Nothing could be more insignificant than having a slight advantage in the first session of the Ryder Cup before that session is even played. It's only four matches, and a leg up on paper isn't worth . . . well, the paper it's written on.
That being said, there's no debate that the U.S. comes into Hazeltine with the superior roster -- especially since Europe is carrying six rookies -- and the fact that Darren Clarke just crafted a foursomes lineup that gives Europe the edge over the home team is no small feat. The matches tell the story.
1. Reed/Spieth vs. Stenson/Rose
These are the two premier teams on each side, and as Clarke just said in his press conference, both captains, all the players, and many fans could have predicted months ago that this would be the opening match. Both pairs had tremendous success in 2014 at Gleneagles, and both are in solid form this year. You might give Europe a very, very slight edge based on recent form, but the correct reading here is that it's a virtual draw.
2. Mickelson/Fowler vs. McIlroy/Sullivan
If I had a gun to my head, and my life depended on picking one winner from the opening session, I'd go with Rory McIlroy and Andy Sullivan beating the Americans in match two. For one thing, Rory has historically dominated Mickelson and Fowler -- he beat them both at the 2014 PGA Championship in Valhalla with a brilliant back nine, and he destroyed Rickie in singles at Gleneagles. If ever that psychological edge would come in handy, it's in the nervy atmosphere of a Ryder Cup. Then there's recent form to consider. Phil has struggled since his great showing at the British Open, and Rickie has had an aggressively mediocre season with no top-5 finishes since May. Meanwhile, Rory just won the Tour Championship, and though Sullivan has been more workmanlike than spectacular, he's no worse than Fowler. The advantage here belongs to Europe.
3. Walker/Z. Johnson vs. Garcia/Kaymer
Call it justified or call it a flaw, but Zach Johnson made the Ryder Cup team because he won the British Open last year. His play in 2016 has been steady by any normal standard, but very pedestrian by his own . . . the last time he finished this low in the FedExCup race (57th) was 2008. Walker has clearly been better, but Europe gets the edge here because they're sending out two guys in strong form with a wealth of positive Ryder Cup experience.
4. D. Johnson/Kuchar vs. Westwood/Pieters
A clear edge to America here, with the current best player in the world teaming up with the Olympic bronze medalist. Westwood is a Ryder Cup legend, and we saw how well he could shepherd a rookie when he and Jamie Donaldson posted a 2-0 foursomes record in Gleneagles, but there's no amount of justification that could make them favorites here.
So -- and again, I have to emphasize that this is on paper -- my analysis gives Europe a 2½-1½ advantage in the first session. We have no idea how it will actually play out, but the pairings themselves seem to put a lot of pressure on the very first match. If Reed and Spieth can't beat Stenson and Rose, suddenly the American lineup looks very weak until the anchor match, and Europe stands a good chance to go 3-1 and deflate the home crowd.
This analysis will vanish in the face of whatever reality tomorrow morning brings, but Clarke deserves credit for scoring the first small strategic victory of the Ryder Cup.