News
How can you tell the Drive, Chip and Putt has developed a following? This girl just qualified for the fourth time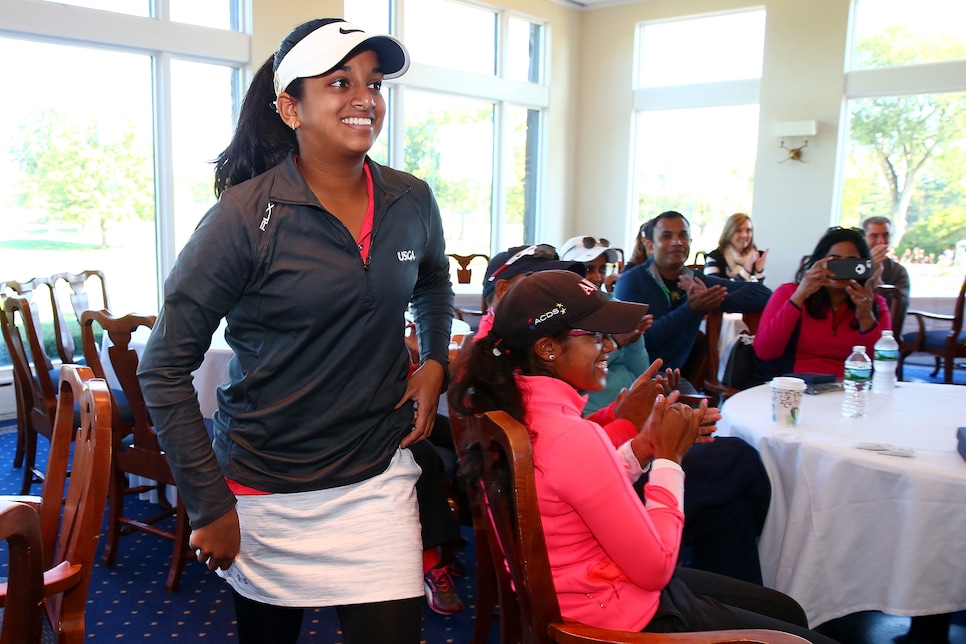 Regional qualifiers began last week to determine the 80 girls and boys who'll be competing in the Drive, Chip and Putt National Finals next April at Augusta National, and a familiar name emerged from Congressional Country Club in Bethesda, Md. Megha Ganne claimed first place in the girls age 14-15 division, and made history as the first junior to qualify for the DCP Finals four times in the event's six-year existence.
A high school freshman from Holmdel, N.J., Ganne is actually a perfect four-for-four when it comes to advancing to Augusta; she did not attempt to qualify in the inaugural year of 2014 and also skipped qualifying in 2016, but was successful now in the four years she applied.
This will be Ganne's final visit to Augusta as she'll be 15 when she competes in April, with the competition open to juniors 7 to 15. She's looking to improve upon her finishes of sixth, T-2 and fourth.
"[The first year] was extremely nerve-wracking because it was the first time in front of that big of a crowd and all the cameras," Ganne told the Masters Journal. "Now I know what it is like, and I have a much better chance of winning."
When Ganne qualified in 2015, she proved an inspiration for her younger sister, Sirina, who entered the competition in 2017 and made the Gannes one of a handful of siblings to advance to the National Finals. (Sirina finished tied for fifth in the 10-11 qualifying at Congressional.)
Ganne's credentials are solid beyond the DCP world. She played in the 2018 U.S. Women's Amateur Four-Ball Championship with another DCP alum, Bailey Shoemaker. She also qualified for the 2017 U.S. Women's Amateur and the 2017 and 2018 U.S. Girls' Junior, and won her first AJGA title earlier this summer. She is 97th in the Rolex Junior golf rankings.
While experienced with the pressure involved in trying to earn an invite to Augusta, Ganne says the challenge has only gotten trickier.
"I can definitely say that each year it gets harder and harder to qualify because there are so many more kids that try and compete in it," Ganne said earlier this spring. "Even at the local stage, the number of kids who were there my first year compared to this past year is not even comparable."