The Loop
How Blayne Barber's 2012 Q school experience helped him negotiate 2013
Blayne Barber and wife Morgan celebrated in Toomer's Corner the night Auburn beat Alabama in the Iron Bowl. Saturday night, when the Tigers beat Missouri for the SEC title, one of the most respected golfers in the Auburn Nation was in the mountains of Georgia, watching the game on TV while on a university retreat for Young Life. When the game ended, Barber tweeted, "Truly great to be an Auburn Tiger."
Barber doesn't have a major like PGA champion Jason Dufner, or the immortality of Chris Davis in Auburn lore. But perhaps he too is destined. In his own young life this 23-year-old from Lake City, Fla., has set an example by disqualifying himself from the first stage of last year's PGA Tour Q school.
Because he was doing what the game's code calls for, Barber deflected the widespread praise he received for his action (including text messages from Webb Simpson and Jonathan Byrd). He didn't expect good karma on the NGA Tour this past season, and he doesn't expect any quid pro quo beginning Thursday in the finals of the Web.com Tour Q school at PGA West.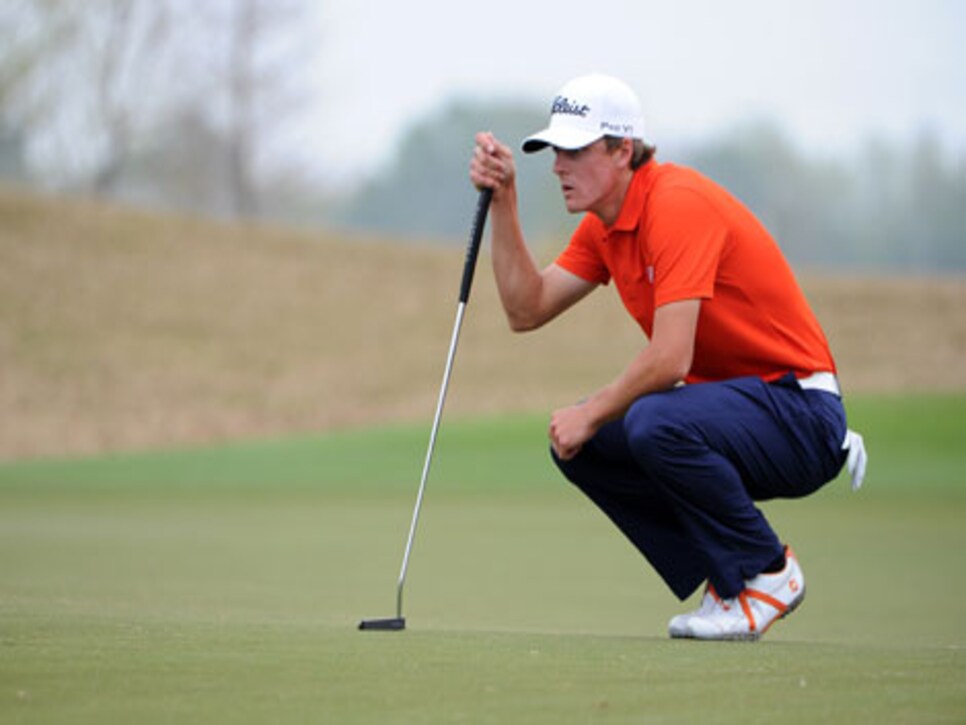 "I don't think that just because I did something right would mean I'd get something good from it," Barber said from his home just off campus. "Maybe it just delayed the dreams of what I desire to do."
Coming off the Walker Cup team in 2011, Barber's dreams took him straight to the PGA Tour. What occurred on the 13th hole at Callaway Gardens last October is still uncertain in his mind. When he called a penalty on himself for clipping a leaf in a bunker, Barber figured that was the end of it. It was just the beginning.
That night Auburn teammate Michael Hebert said the infraction incurred a two-stroke penalty, not the one stroke Barber signed for on his card. For the next six days, including the two final rounds of second stage, Barber lived with that, trying to reconcile whether he actually did brush the leaf (his caddie, brother Shayne, said the leaf didn't move).
"I didn't want to make a decision based on emotion," he said, knowing that even with the proper two-stroke penalty, he would have advanced. "I was clearly frustrated by the situation. But I know what I did. I wouldn't have called a penalty on myself in the first place when nobody else saw it . . . if I didn't think it occurred. It was a matter of doing what I thought was right, protecting the integrity of the game, and my future, and also letting those six other guys in that previously didn't get in."
Among those six players to advance into the Q school's second stage and ultimately onto the Web.com Tour was Chesson Hadley. In September, Hadley won the Web.com Tour Championship while Barber was closing out his rookie-of-the- year season on the NGA Tour. He also earned over $100,000 in 10 PGA Tour and Web.com events.
"Being honest, obviously the future was unclear at that point," Barber said. "I didn't know what this year, 2013, was going to look like, but I did feel a sense of relief. So what if I didn't have my status? I was still playing golf, doing what I love, and clearly it was a fun year. I had some success and it worked out. So there wasn't a sense of fear, or worry or being bummed. It was just a sense of relief so I could move on and go to the next thing."
Barber goes into Q school knowing the next thing for Auburn football after losing to LSU was winning out.