Equipment
How Adidas is shifting to meet the demand in women's golf apparel
Christine Cowan joined Adidas Golf earlier this year as the Global Director of Product. Having spent 18 years previously with Nike, Cowan is an expert in product and consumer trends, and has a pulse on all golf apparel. At a recent Adidas Golf photoshoot in St. Louis, Cowan talked about the trends in women's golf apparel, and how Adidas is growing to meet the demands of female athletes. The brand works with top LPGA players like Danielle Kang, Jessica Korda and Paula Creamer, so Cowan is working to create product for professional and casual golfers alike. Women are no longer accepting golf apparel that was originally made for a man just cut into a female size, here's what Cowan had to say about the trends and changes.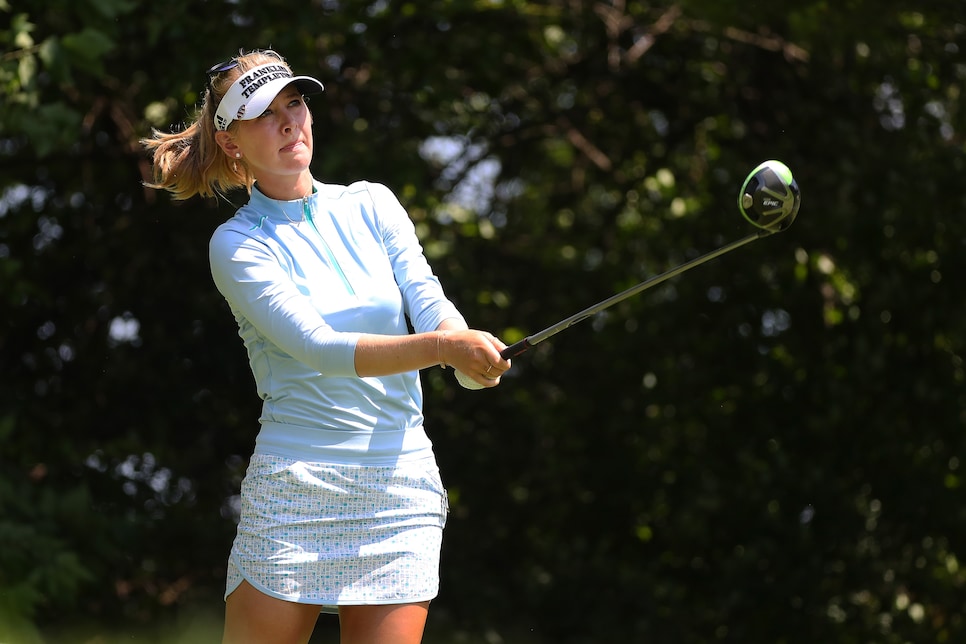 (Photo by Gregory Shamus/Getty Images)
What are some trends you've seen in women's golf apparel?
"Stretch is No. 1 and most of our products have UPF 50—that is really important. We're definitely seeing more focus on long-sleeve silhouettes than we've seen in the past. It sort of started in Asia and has definitely moved itself over [to the U.S.]. A lot of our female athletes like to wear long sleeves, so we're looking at that and giving them additional options. The long-sleeve polo collar is great, but we're looking at mock necks and other more feminine detailed necklines and things like that."
Long sleeves in the summer?
"More people are starting to understand that sun protection is important, but is also a wearable piece. It's important to help them understand the different fabric technologies [used] and that you're not wearing a heavy winter long sleeve out in the summer.
"The fabrics that we have now allow us to bring technologies that are more suited for warmer climates...We incorporate mesh for breathability in a lot of our pieces, it could be down the side panel or through the arms. Then also just the fabric itself, it's lighter weight, more breathable fabric and...kind of helping the consumer have that understanding and mindset that these fabrics really are meant to be worn in these types of [warmer] conditions."
What other feedback are you receiving when you test product?
"Fit is very important, in both men's and women's, but we're seeing great success in our women's business with this consistency of fit that we've got. We've just met with a couple of our players to go through scripting for the future season and were just asking them what is going well with their product and if there are any issues.They're really happy with the fit, the consistency, the look of the product, the color, print and graphics."
How is Adidas different in women's apparel?
"One of the things that we've had a lot of success in is our women's bottoms and that attention to detail. We have a secret pocket where you have your tee or your marker, we really think about pocket depths, all the skorts have two pockets on the back so you have room for your scorecard and for your glove. [We think about] the playability, so we've incorporated a gripper elastic on some of our stretch under-shorts to help that sit a little bit better. We've really obsessed the materials we're using so we've got a great stretch woven and a really good stretch knit fabric that will hold up really well are are really comfortable for women to play in....We're really seeing this evolution of the traditional fixed waists that we used to all play in, and while they are all still there and it's sort of always going to be there, there is this ability, especially in womens, to wear like leggings and more kind of fitted pieces and more pull on knits. They're just so much more comfortable to play in so and they look great, and women feel great wearing them."
Where is the golf apparel market going?
"I think there is an openness now to changing the game, like the face of golf. You always want to maintain that beautiful tradition, but it is kind of like respect the past, represent the future. Consumers are wanting newer technologies, newer silhouettes and especially in women's [apparel] there is a lot more focus in disbanding traditional collared shirts into what is new, different, fun pretty silhouettes. They want to look powerful and feminine, to be comfortable in what they are playing and not feel like they have to dress like a man anymore."