The Loop
Why a tweet from 2012 might be the key to picking this week's Open champ
Still undecided on your pick to win the British Open? Consider Jason Dufner.
Yes, that Jason Dufner, who has only played in four Opens and has never finished better than T-26. And the same Dufner who has failed to make it to the weekend on two of those occasions.
So why pick him? Because he really likes Royal Liverpool (Hoylake), the site of this week's Open, and really liking a course has really worked out for him before. Here's a prescient tweet Dufner made on Nov. 14, 2012: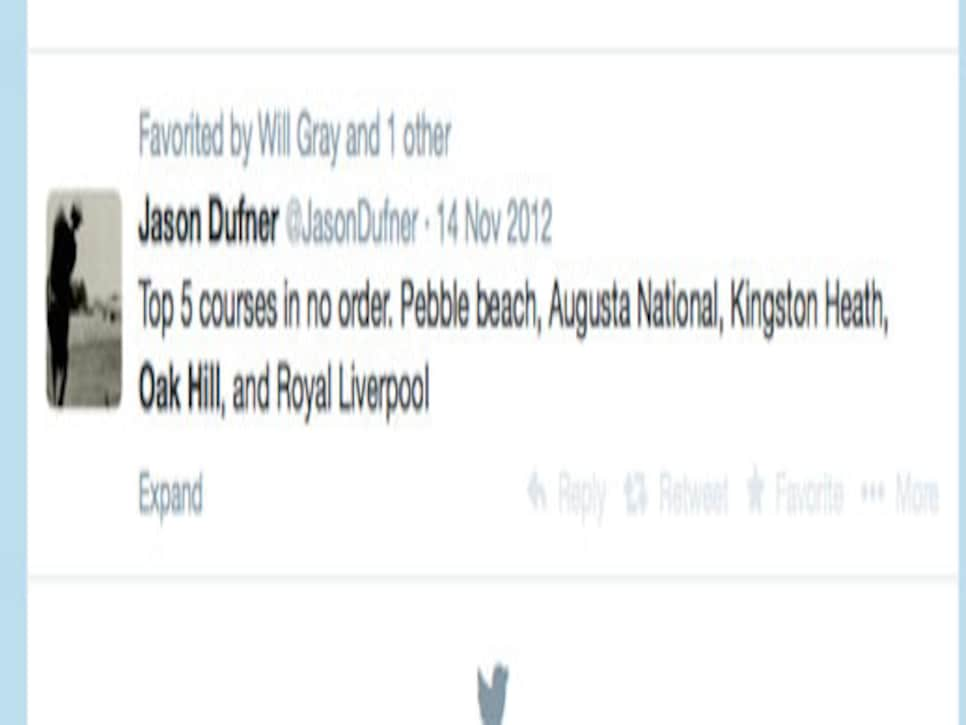 Less than a year later, Dufner won the PGA Championship, his first major title, at, you guessed it, Oak Hill. Spooky!
OK, so it's a bit of a stretch to think Dufner will master links golf this week and pair a claret jug with his Wanamaker Trophy. After all, Dufner has never won at Pebble Beach, Augusta National or Kingston Heath (in Australia).
But mentioning Oak Hill and Hoylake in a top-five course list is a bit random, and at least we know Dufner is excited to tee it up this week, unlike, say, Bubba Watson at Pinehurst No. 2 for this year's U.S. Open. Here's what Dufner said about his list after winning at Oak Hill.
"Yeah, I put that list out and I meant what I said. It's a ball-striker's golf course. I think you really have to hit a lot of different shots out here, shape the ball differently. It really tests you off the tee and it really tests you into the greens. You know, guys tend to like golf courses that suit their games, and I felt like this place suited my game."
Will he be saying something similar in another press conference come Sunday evening?