The Loop
Hot Take Conspiracy Theory of the Week: Fergie is a Russian Agent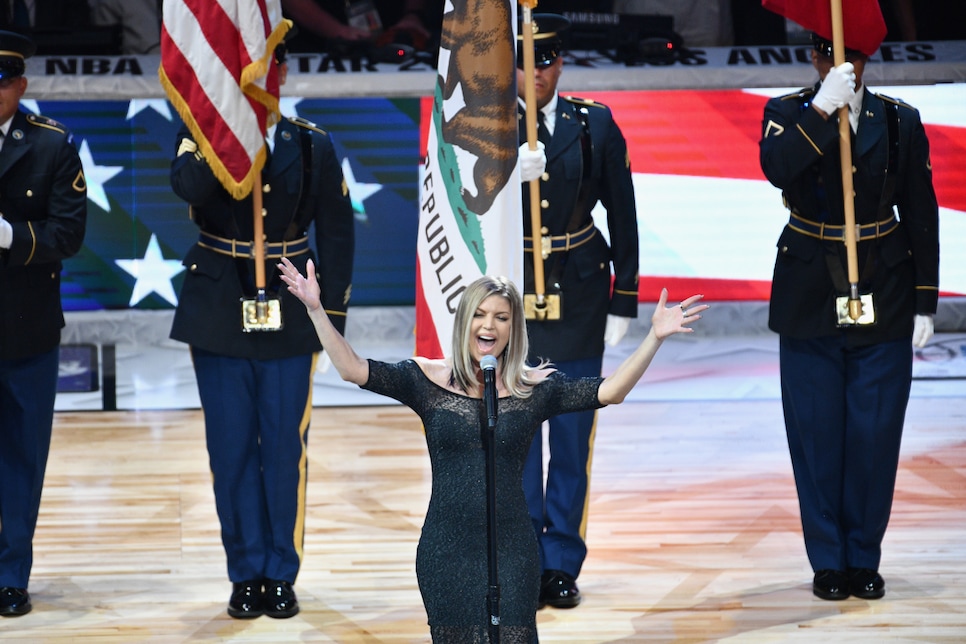 For me, the most remarkable thing about the indictment handed down by the Department of Justice last week implicating 13 Russians and their affiliated Internet sabotage organizations was the underlying goal of the operation. The aim wasn't necessarily to get Trump elected—at least not immediately—but more broadly to undermine Americans' faith in their democratic institutions in any way possible. It's hard to say whether they succeeded, or whether the divides they tried to exploit were already in place, but while some of their troll attempts were vaguely clever, a lot seemed kinda stupid. From starting Facebook groups with names like "woke blacks" to paying a Hillary impersonator to ride in a makeshift prison cell during a parade, this wasn't exactly Operation Overlord.
Based on what we know about the Russians—how they flew by the seat of their pants, how they tried to orchestrate the most gaudy public spectacles, and how their ultimate goal was the shattering our political faith, tell me if this concept seems too far-fetched: The American singer and Russian double agent Fergie was sent on national TV to absolutely butcher the national anthem, thereby diminish the importance of the song, and devalue American democracy in the process.
If you think it's too wild and/or stupid, please watch the "performance":
Folks, there's only one way a professional singer (i.e,, not Carl Lewis) could turn in a national anthem that bad: KOMPROMAT. She's a Putin puppet, and Mueller needs to get on the case.
Funniest Doping Allegation in World History: This Curling Dude
Speaking of Russians, I can't not laugh at this:
Why on Earth would he need to dope for curling?? Did he get peer-pressured by athletes from sports where it might actually help? Have Russians just become so comically super-villainous that they have to do the most evil thing in a given situation? Should we test their chess grandmasters for steroids?
Most NYPost Sports Headline ever: This Curling Fall
The wife and teammate of the Russian curling doper became a minor sensation during their bronze medal run because of her looks, but at one point she actually fell on the ice. The AP did a short write-up, but when the New York Post picked it up? The headline was allll theirs, baby:
Most Disappointing Non-Incident of the Year: Bubba Watson at the All-Star Game
In between earning his 10th PGA Tour victory at Riviera and setting himself up as one of the favorites at Augusta, Bubba Watson played in the NBA All-Star celebrity game. He took the court alongside such luminaries as Jamie Foxx, Arcade Fire's Win Butler, and one of the kids from Stranger Things. Knowing Bubba's penchant for on-course drama—the good kind and the bad—there was every reason to believe something crazy might happen. Would he get a technical foul for complaining about court conditions? Would he refuse to pass the ball for play defense? Would he scream at his own teammates? Would he get in a fight with the Stranger Things kid?
Unfortunately, this was the only interesting thing that happened to Bubba:
If anything, getting swatted by T-Mac is humanizing. He also went two-for-two at the free throw line, which is impressive, at least to me. But as far as his behavior. Very off-brand, Bubba. Very disappointing. Very much a letdown.
Underrated Sports Story We Should All Be Talking About: Ester Ledecka, Czech Republic
Ester is a SNOWBOARDER who won a GOLD MEDAL at SKIING. Are those caps annoying? Sorry, but that is truly astonishing. I know the sports aren't super different, but then again, they kind of are. Before we get to Ledecka's gold, I want to note that she has a chance to win a medal at the same Olympics in two different disciplines when she races in the parallel giant slalom in snowboarding. This has happened before, but almost every time it was in the olden olden olden days when there were like 12 people who even competed. I took a thorough look at that list, and as far as I'm concerned what Ledecka is attempting is absolutely unique—modern era, one Olympics, two disciplines, two medals...and possibly two golds.
Now, let's talk about her Super-G gold medal, which was an astounding upset. In that race, the best skiiers in the world (by World Cup standings) race in the middle, so there's a point after which the top racer skis when the quality takes a huge dip. It's not uncommon for networks like NBC to declare the gold medal winner midway through the race once the cream of the crop have finished, so improbable is an upset late in the field. As Deadspin pointed out, NBC totally bailed, and though they took some flack, I can't really blame them—history indicated the race was over. Then Ledecka did this:
The reaction, too, was so amazing:
There aren't enough adjectives to describe how ridiculous and improbable this feat was, but WaPo has the best historical rundown of what's at stake when she attempts the double. Bottom line, this hasn't been done since 1904, never by a woman, and never in the current climate of specialization. I will be absolutely glued to my TV Friday night at 10 p.m.
Best Proposed Change to a Major Sport: NBA
It seems like we may be on the verge of finally ditching the current format of the NBA playoffs, where teams from the Eastern and Western Conferences play on opposite sides of the bracket, and only meet in the NBA championship. In a post All-Star Game presser, commissioner Adam Silver made it sound like a change might be imminent. Silver's idea is for a modified format where there are still eight teams from each conference in the playoffs, but they are seeded from 1-16 based on their records. That's a major change, because it would mean that two teams like the Rockets and the Warriors, who have the league's best records, could meet in the NBA finals despite both playing in the Western Conference. There's some controversy about this (Deadspin called it a "solution in search of a problem"), but I love it—for too long, we've seen an unworthy Eastern Conference contender waltz to the NBA finals, only to face a Western team that has run through the gauntlet just to get there. The crowning example is the 2016 finals, when a clearly exhausted Golden State Warriors team ran out of steam while leading the Cavs 3-1, and blew it. There's absolutely no way the Cavs would have won that title under Silver's proposed system, and it's highly unlikely they would have even made the final round.
It's time to let the best teams have a chance to square off in the finals. Per Silver, the main concern is travel, and the main obstacle is getting 20 of the 30 teams to agree. But it would be a welcome change, and one that's long overdue.