The Loop
Horschel has learned it's not how you start, but how you finish
KAPALUA, Hawaii - "It's a long season," Billy Horschel noted with a sigh Sunday after another frustrating day on the grainy, mainly zany, force-you-to-be-brainy greens at Kapalua Resort's Plantation Course.
The slight scent of burning enamel was detected as he said it, his teeth grinding over the words.
Then he realized what he said. Long season? No problem. He's got this.
His jaw unlocked into a grin.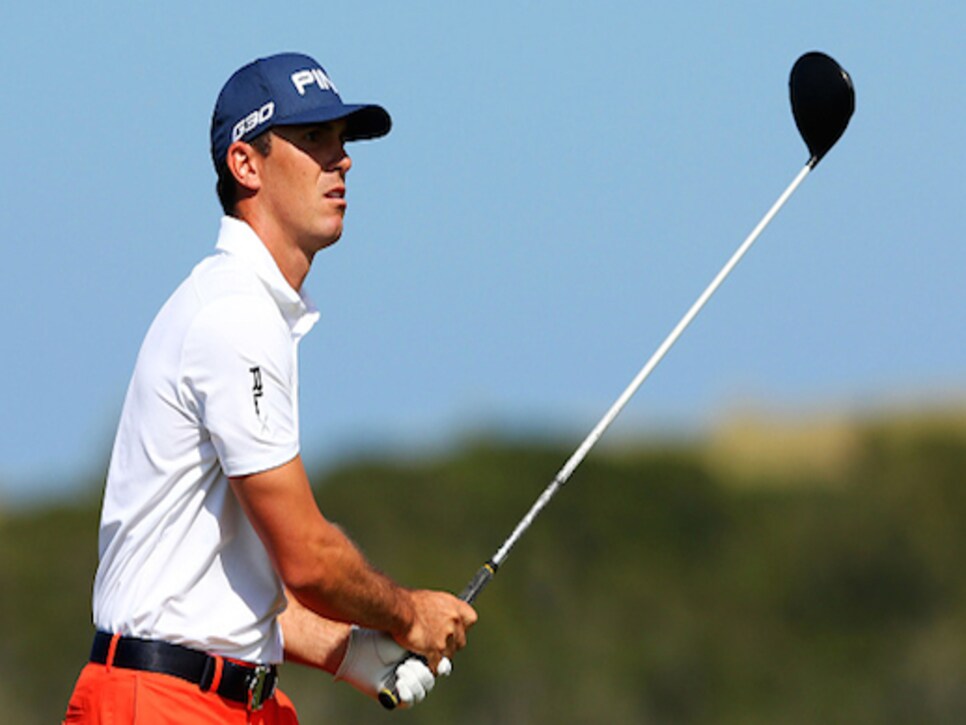 The reigning FedExCup champion after his three-tournament blitz to cap the 2013-14 season, Horschel finds himself an also-ran at the year's opening tournament, the Hyundai Tournament of Champions. He has his putter to thank … er, blame for that. Thirty-three putts accompanied his second straight 3-under-par 70, not exactly the kind of stat you want riding shotgun when you're otherwise cruising through a bogey-free round.
With 18 holes remaining, Horschel sits T-20 at 7-under 212, 10 strokes behind leaders Hideki Matsuyama and Jimmy Walker.
"I'm not making anything. It's a little frustrating because the other parts of my game are in good shape," said Horschel, who finished T16 in his debut in this event last year. "Yesterday I think we counted up we could have been five to seven shots better and today easily three to five shots better. Add that up and it's a different tournament.
"But, you know, it's a long season."
After a largely lackluster campaign last year, Horschel's season appeared destined for truncation until he finished T2 at the Deutsche Bank Championship. The good times didn't last long - but long enough. He followed with his second and third career PGA Tour titles at the BMW Championship and Tour Championship to abscond with the FedExCup title and its $10 million bonus prize.
"Unbelievable," is the term Horschel has employed frequently to describe his closing burst, and he vindicated the use of the adjective when he opened the 2014-15 season with a missed cut at the Shriners Hospitals for Children Open followed by a T37 at the CIMB Classic in Malaysia and a T73 meltdown at the WGC-HSBC Champions in China.
Complacency seemed to have left him a forwarding address, but that was not the case, he said. Horschel was simply exhausted. Skipping those events never crossed his mind, however. "Maybe I should have taken some time off, but I committed to them before my playoff run, and I wanted to honor those commitments," he said.
With little offseason after the Hero World Challenge and Franklin Templeton Shootout, Horschel could have used the rest. Instead, he redoubled his efforts at practice, precisely to ward off complacency or the appearance thereof.
"I've worked hard in the offseason, especially on my short game, so to see the ball not going in kind of sucks," he said rather bluntly yet accurately. "But I have to look at the positives. Short game was probably the weakest part of my game, and I think other than putting the rest of it has been pretty good. I shouldn't say it was weak. I think I have good hands, but the consistency was not there."
Consistency in all aspects is Horschel's goal for 2015. Only naked people are streakier than the Florida golfer, and in order to reach his potential, he understands that the player who torched the tour for three weeks has to show up week-in and week-out.
That means improving, not surprisingly, his putting, though he ranked a not-so terrible 53rd in strokes gained-putting in 2013-14. But don't tell Horschel, who complained, "I putted awful last year until those last three weeks."
Hmmm, what a coincidence.
With riches beyond his imagination already secured, Horschel could have shown up in Maui to work on his tan. Instead, he was headed to the putting green after his round Sunday afternoon to iron out the rough edges on technique, see if he can make a final-round move up the leaderboard.
Consistency likely remains elusive if you're not consistently diligent. And Horschel promises that he's far from satisfied just because of the late-season largesse that fills his bank account.
"I never hit it awful. I hit it well enough to where I'm going to be competitive most weeks," said Horschel, who tied a record when he hit 18 greens in regulation at Merion Golf Club at the 2013 U.S. Open. "Do I hit it great all the time? No, but that's just the perfection side of me. But I know where I need to improve, that my short game isn't at the same level.
"I'm nowhere close to hitting my high-water mark. I feel like there is so much talent left in me," he added. "I haven't yet shown the talent level that I have. Obviously, I showed a glimpse of that in the playoffs, but I can be a better player on a regular basis. If people think that I am ready to rest on my laurels, that I might get complacent, I am happy to prove them wrong."
And he has a long season to do that.