WGC-Dell Match Play
Billy Horschel, student of match play, beats Jon Rahm to reach third straight knockout stage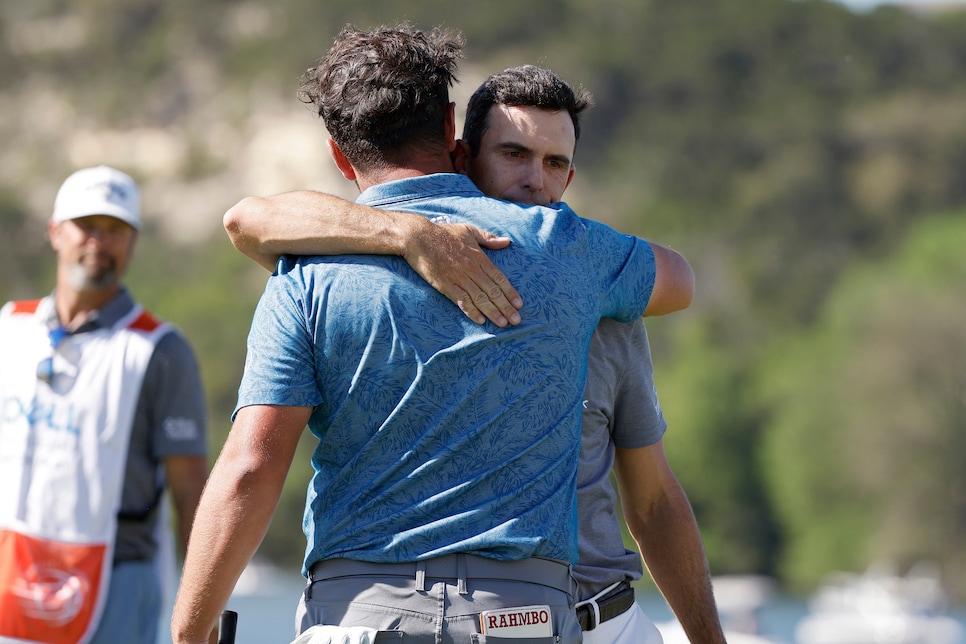 Jon Rahm and Billy Horschel hug after Horschel won their Day 3 match.
Mike Mulholland
AUSTIN — The format of the WGC-Dell Match Play lends itself to some interesting situations on Friday, the day when the group stages conclude, playoffs commence if necessary, and one player from each pool advances to the knockout rounds. One of those small oddities played out on the 14th green late in the afternoon, when Billy Horschel, 4 up on World No. 2 Jon Rahm, stood over a 21-foot birdie putt. If he made it, he wouldn't win the match—Rahm still had an 18-foot birdie of his own to extend—but he would win his group. Why? Because, with a win and a tie coming into the match, all he needed was a tie against Rahm. When the putt went down, it created the strange scenario where Rahm could sink his putt to fight on, but all the drama would be over, and they'd essentially be playing a lame duck match.
Tagging along with Horschel and his caddie Mark Fulcher in the courtesy vehicle for the long drive back to the clubhouse, Horschel acknowledge that he knew the technical importance of the putt, and while he wasn't obsessing over it, he had been aware of the dormie score and pressing for it over last few holes.
That awareness, along with a certain relentlessness in head-to-head play, is what makes Horschel so effective in this format, and at this tournament in particular, which he won with a victory over Scottie Scheffler in 2021. With a lifetime record of 15-7-3, he's one of the most successful match-play golfers of his generation, and it's all the more remarkable considering that he's never once made a Ryder Cup or Presidents Cup team.
On Friday, mind you, he had some help from Rahm.
"Jon didn't have his stuff," he said. "It made my job a little bit easier ... he's not the guy we saw at the start of this year."
In match play, you take any break you can get, and Horschel was happy to have a slightly smoother road than expected, particularly after he saw his group draw at the start of the week and realized that if there was a "group of death," as he put it, he was in it. But following a frustrating tie with Keith Mitchell on Wednesday, he turned it on to defeat Rickie Fowler and Rahm in succession, setting up a date in the round of 16 with a red-hot Cam Young.
It was steady play, rather than spectacular play, that saw Horschel jump to an early lead when Rahm made double bogey on the second, and after another Rahm bogey on 8 and Horschel's 11-foot birdie putt on 10, the lead was 3 up. The great match-play golfers are adept at capitalizing on momentum, and Horschel followed up that win with an iron to 11 feet on the picturesque par-3 11th. When Rahm put his shot in the water and conceded the hole two shots later, Horschel's dormie, and a trip to the weekend, was closer than ever.
Rain gave way to sunshine with a slight breeze in the afternoon, and Horschel's body language matched the weather, energetic and positive as he interacted with Fulcher. Not so for Rahm, who grew increasingly frustrated, never more so than the 12th hole, when he addressed his third shot off the green on the par 5 and saw the ball move. A rules official was called, a one-stroke penalty assessed, and though Rahm saved par with a brilliant pitch and Horschel missed his birdie putt, it was a disastrous missed opportunity with the match's conclusion getting closer and closer. At that point, Rahm was fairly sulking, his head bowed as he walked his slightly duck-footed walk up the fairway, ignoring the random cries of "Arriba!" and "Vamos!" from the gallery.
At that point, Horschel began to tighten the noose, playing cautious with a lay-up on the 13th and surviving Rahm's missed 14-foot birdie putt. A slightly wayward drive for Horschel on 14 proved the adage that Austin Country Club is a second-shot golf course. With the boaters in the Colorado River tributary looking on, he hit his approach from the rough to 21 feet, setting up the winning putt.
"This was the week I needed," he said after. "I was playing one person, focusing on trying to beat that one person on that one hole. And if it doesn't happen, I go to the next hole, regroup and it's another opportunity to win that hole."
Horschel was asked if there was anything interesting in the fact that he, Jason Day, and Matt Kuchar—three match-play juggernauts who were trying to find their old form—had each made the weekend, and whether that proved there was a special match-play gene that these guys could turn on even when their games weren't at peak form.
"When you look at all three of us, for the most part, Kuchar and I, we're in every hole. We don't give a lot away. And that's something you need to do in match play," he said. "Jason, he's so dangerous because his short game's so good and he putts it so well. It's frustrating. I was watching this morning actually on the coverage and Collin had like 12 feet for birdie at No. 2 and Jason had like a 30-footer for par. Jason makes his par, Collin misses, they go tie. Jason wins the next couple holes or next two or three holes and next thing you know he's got Collin down early."
It was telling that Horschel's mind went right to combativeness and a moment in a different match that caught his eye earlier in the day. He's a student of the format, and that's a big reason why he plays it so well.