Golf Hoodies
4 hoodie styles to add to your golf wardrobe
*All products featured on Golf Digest are independently selected by our editors. However, when you buy something through our retail links, we may earn an affiliate commission.*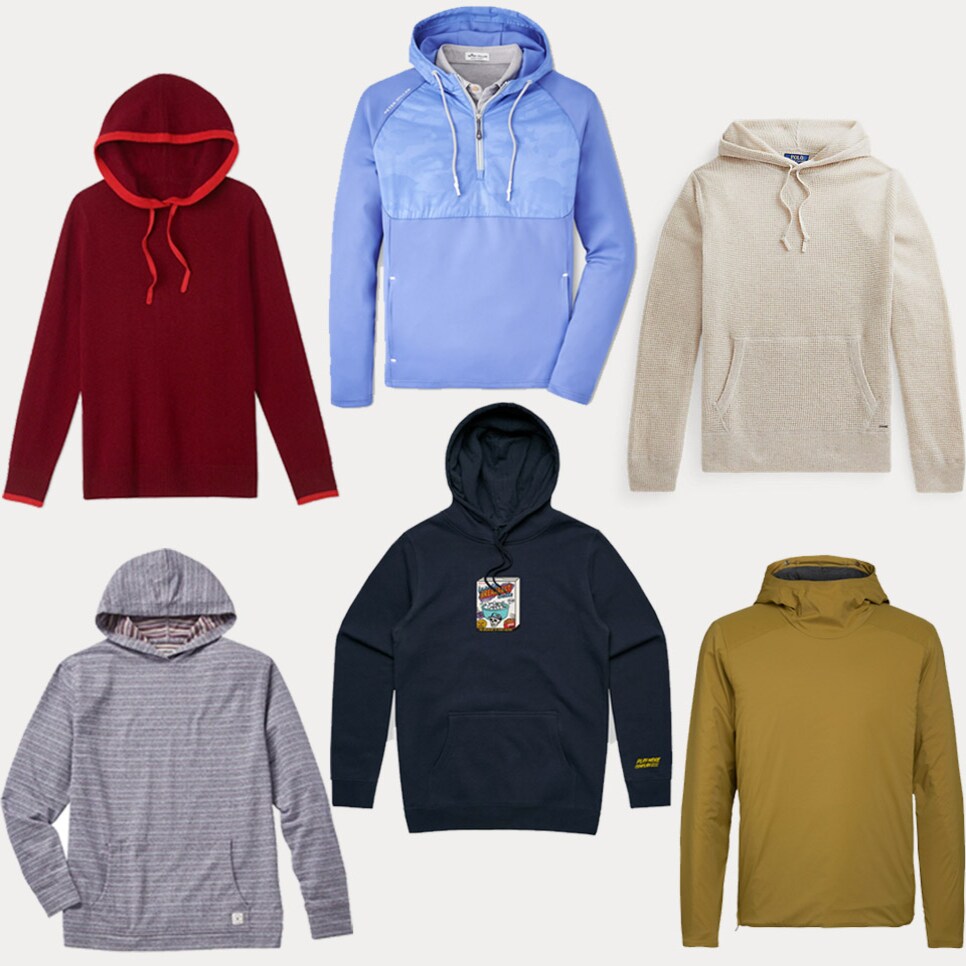 Hoodies are rapidly becoming a golf staple and there is no stopping the trend. It's a cozy and versatile piece that, when styled right, looks great on the course. But let's get one thing straight, not all hoodies are considered equal. We all have that perfectly worn-in cotton sweatshirt to lounge around in, but when it comes to golf there are upscale fabrics, trendy graphics and weather-ready features that you should consider the next time you're headed to the course. We've rounded up a few of our favorite hooded styles and silhouettes that are great for golf.
RELATED: Are hoodies acceptable golf attire? Golf Digest editors weigh in
Starting with simple and traditional hoodies, these are the options you'll likely wear the most and will match with almost any look. The key to pulling off a hoodie for golf is to select one with quality-materials for like-new look and feel. It might be tempting to grab your favorite old sweatshirt, but anything with holes, stains or that's too tattered will look sloppy. A solid colored hoodie can be dressed up with a well-fitting pair of golf pants or be layered under a rain jacket with ease—just look for one with a wider hood to make sure it doesn't impede your mobility in the golf swing.
Bold patterns and graphics combined with a hoodie silhouette might feel like a golf course no-no, but at the right venue and a little extra thought with how to pair, it can be a fashion-forward and golf-appropriate look. To let a statement piece shine, keep the rest of the outfit and accessories as simple as possible. Black or white bottoms and headwear are a great way to balance the look, but if you must add more color, find a matching shade that won't clash.
Cashmere and wool-blend hoodies have been a strong trend in the golf world since Justin Thomas started wearing them on tour in 2020. The trendy sweatshirt was even part of the 2021 Ryder Cup scripting for Team USA. Not only is wool a great insulator and naturally antimicrobial, it's also an upscale-looking material that will add sophistication to any outfit. Cashmere can be a bit pricey, but there are several cashmere-blend or other wool options that are affordable without sacrificing warmth or style.
Quarter-zip jackets and pullovers are a golf staple. Typically designed without a hood, many brands are designing hoodie-like versions of the popular golf layering essential. The zip opening makes it easier to change out of when things start to heat up and many are even wind- or water-resistant for a great all-weather option.
Hooded Quarter- and Half-Zips