The Loop
Honoring a deceased mentor and growing the game, one set of clubs at a time
How to pay homage to the memory of a man to whom you owe your livelihood, who provided the blueprint for a career in golf and the inspiration to pursue it, who died in the seat next to you in an automobile accident 20 years ago?
Jack Hardwick was a New Mexico golf institution, the Tireless Teacher, as he was known, for giving as many as 2,000 lessons a year, some of them to Derek Gutierrez, now the director of the Santa Ana Golf Corporation. He and Gutierrez had been returning from a pro-am tournament, heading north toward Albuquerque on Interstate 25, when the SUV Hardwick was driving blew a tire, causing him to lose control. The SUV rolled several times, killing Hardwick instantly.
Derek Gutierrez at the site of the memorial
Gutierrez pondered the question and decided to mark the anniversary with a small tribute. He would return to the site of the crash and toss a couple of golf balls there and he asked another Hardwick disciple, Todd Kersting, to go with him.
Kersting, the director of golf at Puerto del Sol, where Hardwick had done his teaching and Gutierrez had gotten his start, has been recognized by Golf Digest as New Mexico's top instructor, but he also has to rank among the state's top characters, a man who once wore a helmet-cam in a golf tournament.
Odd Todd, as he is affectionately called by friends, has an XXL sense of humor that is dwarfed only by the size of his heart. Kersting was honored that Gutierrez had asked him to go along and he volunteered to drive. In the meantime, his unbalanced wheels began spinning.
"I didn't know how he would react when he got to the site," Kersting said. "Maybe he wanted to make it quick so as not to bring back too many memories. My DNA is I just try to think of ways to turn a possible negative situation into a positive."
Kersting's mission, aside from amusing others, is to help grow the game. So he took a set of clubs from his garage and put them in the trunk, then typed up a note to go with them, though he was not yet sure whether he'd follow through.
"Everything kind of fell into place," Kersting said. "Derek and I chatted about Jack on the way down there. I said I got a couple of things I'd like to do, and Derek continued to smile and laugh. So I put it into fifth gear. 'While we're at it, let's plant another seed in Jack's honor.' "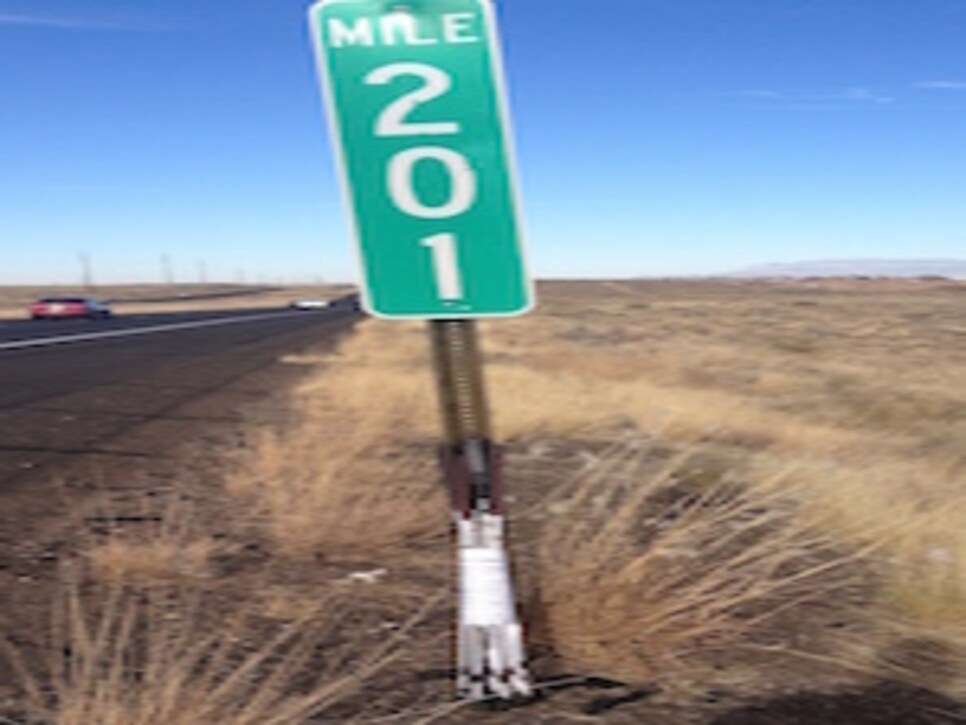 At the site, in the Interstate's center divide, near Mile Marker 201, they constructed a rudimentary cup in which they placed a flagstick, and left the clubs there with the note attached. It read: "Friends of Jack Hardwick want to celebrate his passing (11/7/1994) with donating this set of clubs. This set has made the game of golf an inspirational part of people's lives and now it's time to Play it Forward to you. The only thing we ask is to respect this gesture and leave the clubs for the next person who knows in their gut that this is a sign meant for them."
By the next morning, the clubs were gone.
"It was one of those moments when everything just felt right," Kersting said. "It felt like Jack was looking down on us and laughing. This ended up being a great thing that Derek really enjoyed."
When word spread about what they had done, people began offering to donate sets of clubs. Kersting has left a second set at the crash site (shown here), though this time on the side of the Interstate, and he was preparing to take a third set there.
"People love the idea," Kersting said. "People want to donate for this neat way to help others get into the game. The icing on the cake was that it helped make Jack Hardwick's kids smile. It was another way to remind them that their dad still makes a difference 20 years later."