News
This Honda Has All The Elements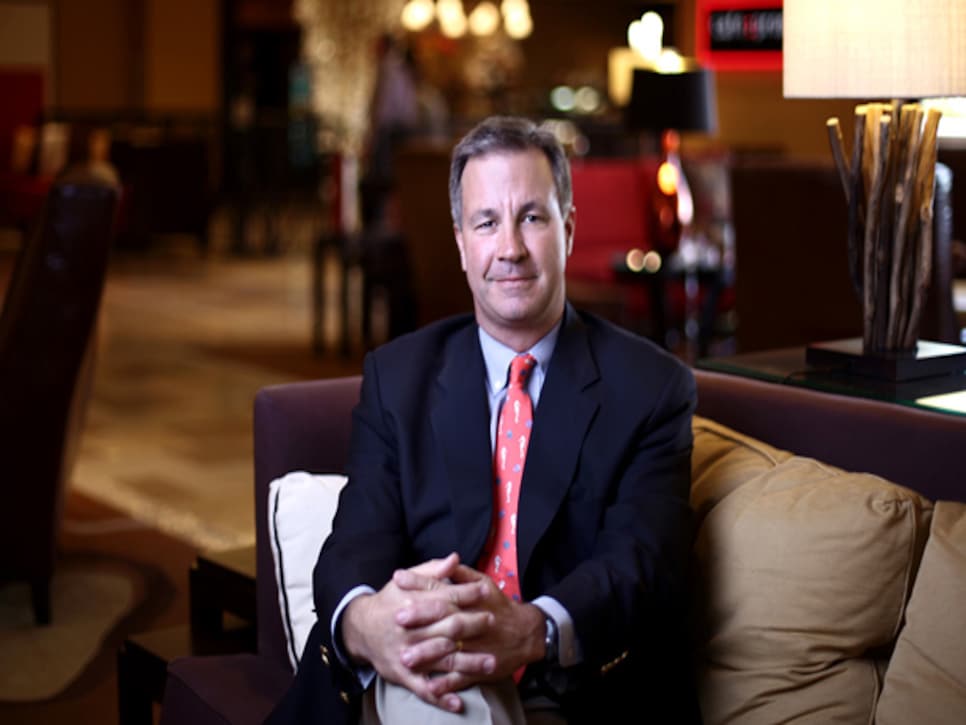 Ken Kennerly realized he'd put the Honda Classic on the map in 2008 during a visit to the Arnold Palmer Invitational two weeks after Ernie Els' victory that year. Confirmation came at the crossover from the 14th green to the 15th tee at Bay Hill on pro-am day -- from a guy who'd watched Kennerly's event on TV. "Ken, congratulations on the Honda!" yelled Phil Mickelson, who had spotted Kennerly in a sea of spectators. "You've done a wonderful job. I really want to come and support it one year."
Kennerly told this story over lunch at the Thirsty Turtle in Juno Beach, a week before the first round of this year's Honda Classic. In the 1990s, Greg Norman proclaimed the tour didn't start until Doral, which then kicked off the Florida swing. Two decades later the Honda is the tournament creating the buzz, with more World Ranking top-10 players (eight, Mickelson among them) than last week's WGC-Accenture Match Play Championship (seven). "I'm like, 'Wow. Thanks for noticing,' " Kennerly remembers saying to Mickelson. "That comment was great to hear, but we kind of left it at that."
The courtship of Phil heated up at last year's PGA Championship when Mickelson called Kennerly to his table in player dining. Sitting next to Mickelson were three impressionable young players based in the Palm Beach/Jupiter area: Rickie Fowler, Peter Uihlein and Brooks Koepka.
Mickelson, who had played the 2002 Honda at TPC Heron Bay when it was struggling at the gate and bouncing between venues in Broward County, talked to Kennerly about potential changes to his 2014 schedule, mentioning that he also wanted to support the Jack Nicklaus family and their involvement with the Honda through the Nicklaus Children's Health Care Foundation.
When the commitment was official, Kennerly didn't get all choked up the way he did when Tiger Woods committed for the first time as a pro in 2012, but in a way, Mickelson playing Honda was a bigger get because of his allegiance to the West Coast swing.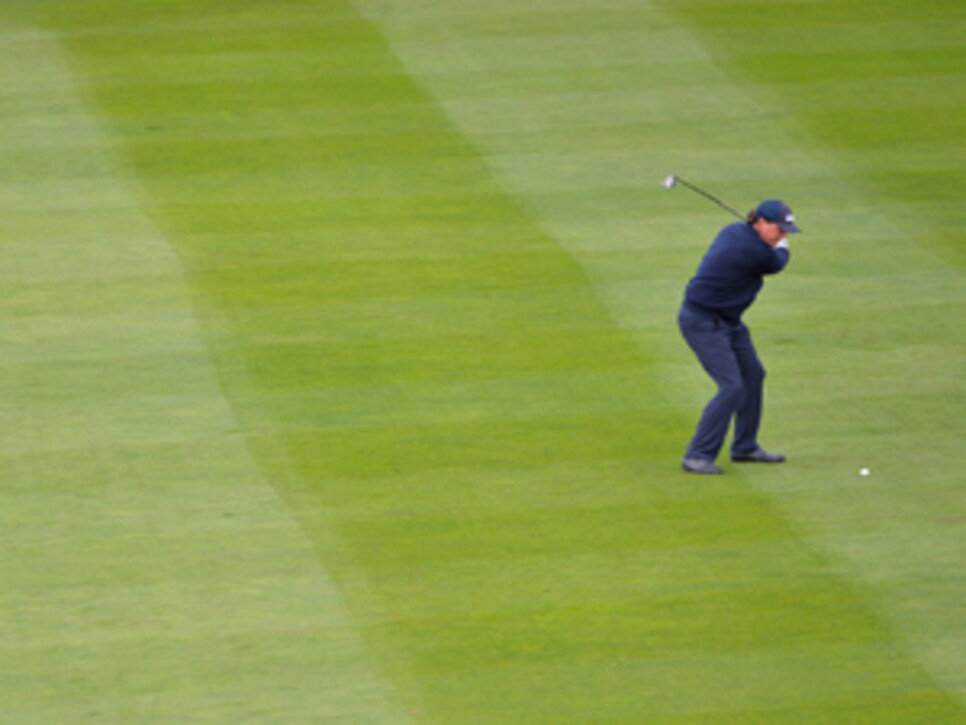 Woods was new to the area, a Jupiter Island resident who had kept an eye on the Honda's growth. As agent Mark Steinberg reminded Kennerly: Tiger has a history of supporting hometown events. When he eagled the 72nd hole in his first Honda to put a scare into Rory McIlroy, it gave the tournament its Tiger Woods moment -- and validation that the Champion Course fit Tiger's eye. "For us it was another badge, and a big badge," Kennerly said.
The new Honda Classic has grown exponentially from 2007 (two top-10 players, 40,000 spectators) to 2013 (five and 168,000). Kennerly's biggest break after getting the management contract in 2007 was moving the tournament across PGA Boulevard from Mirasol to PGA National. He took the new venue and created a party atmosphere, positioning hospitality areas near its signature Bear Trap, offering a Kenny G concert and live music for spectators as soon as the last putt dropped after the first three rounds. Two nights of fireworks, free admission for children 15 and under and free Saturday child care for spectators also helped.
Within the community, he set up a network of ambassadors similar to the Byron Nelson's Salesmanship Club. Many were friends Kennerly developed when he moved to North Palm Beach in 1993 to run the sports management division of Nicklaus' Golden Bear International. When Nicklaus took his company public in 1996, Kennerly left and formed International Golf Partners, where he managed players and events. Getting the Honda contract was fortuitously timed.
Walton Street Capital had just bought PGA National and was beginning a $100 million renovation of the property. The resort lobby's iBar quickly developed a reputation as one of the most popular hangouts on tour. Even a misstep, commissioning Bulgarian artist Kiril Jeliazkov to paint a series of impressionistic canvases that were stationed around the course in 2008, yielded a positive: NBC executive producer Tommy Roy's blunt reminder: "This is a golf tournament, not an art show."
Kennerly took Roy's message to heart, and through his relationship with Chubby Chandler at International Sports Management, extended invitations in 2009 to Darren Clarke and McIlroy, then 19. With Els' win by a stroke over Luke Donald in '08 and the endorsement of Clarke and McIlroy, more Europeans started playing the Honda as a bridge between the WGC events in Arizona and Miami.
Like European stars McIlroy, Clarke, Donald and Lee Westwood, a new breed of Americans led by Fowler and Keegan Bradley (as well as Uihlein and Koepka) make Jupiter their home base and the Honda a home game. Though International Management Group bought Kennerly's business, he still presides over the Honda and heads up IMG's North America events.
"We are over the moon with what we're about to get into," Kennerly said before heading to his office. "We keep talking about the top eight in the world, and that's not including Graeme [McDowell], Louis [Oosthuizen] and Charl [Schwartzel], Keegan, Rickie, Hideki Matsuyama and others. It's top-heavy, which is how we're promoting it."
Jason Allred's decision to play the Honda Classic was made by wife Kimberly, who gave birth to a healthy baby girl Feb. 24, allowing Jason to travel to Florida from their home in Arizona the following day.
"Maybe in this situation it's best to go and play your heart out and care for us that way," Kimberly had told her husband after his T-3 in the Northern Trust Open earned him a spot in the Honda. Allred knows the territory. In 2008 he flew a red-eye to Palm Beach Gardens and waited on the putting green as first alternate until no one withdrew. The Gateway Tour player, who has only conditional status on the Web.com Tour, made $388,600 at Riviera -- more than he totaled in 57 previous tour starts. As he said Monday from Scottsdale, "We can afford diapers, thankfully."
One of Stephen Gallacher's first memories of TV golf was watching uncle Bernard compete in the 1983 Ryder Cup at PGA National. He remembers the lightning flash across the sky when Lanny Wadkins stuck the defining wedge shot, the fabled 3-wood Seve Ballesteros struck from a fairway bunker on the 18th hole, and ultimately Bernard missing a putt to lose to Tom Watson on 17. Gallacher stepped on the property in Palm Beach Gardens hoping to re-create moments of his own. His Q rating is just catching up with his world ranking (No. 39), which led to a sponsor's invite. The winner of the Dubai Desert Classic hopes to be on the European Ryder Cup team later this year in his homeland of Scotland and ultimately could become a global player and PGA Tour member. Uncle Bernard, wearing a pacemaker and recovering from a heart attack, was to be honored with a lifetime achievement award last week in Glasgow by the Scottish Golf Union.