The Loop
9 distinctly American contributions to golf
Once upon a time golf was as foreign to Americans as, well, soccer.  It was much too rich for most of us. Courses were sparse. And the world of competitive golf pretty much moseyed along without us.
Over time, thanks to curiosity, competitiveness, a very American technology called television and three heroes with the un-heroic names of Francis, Dwight and Arnold, we made golf our own.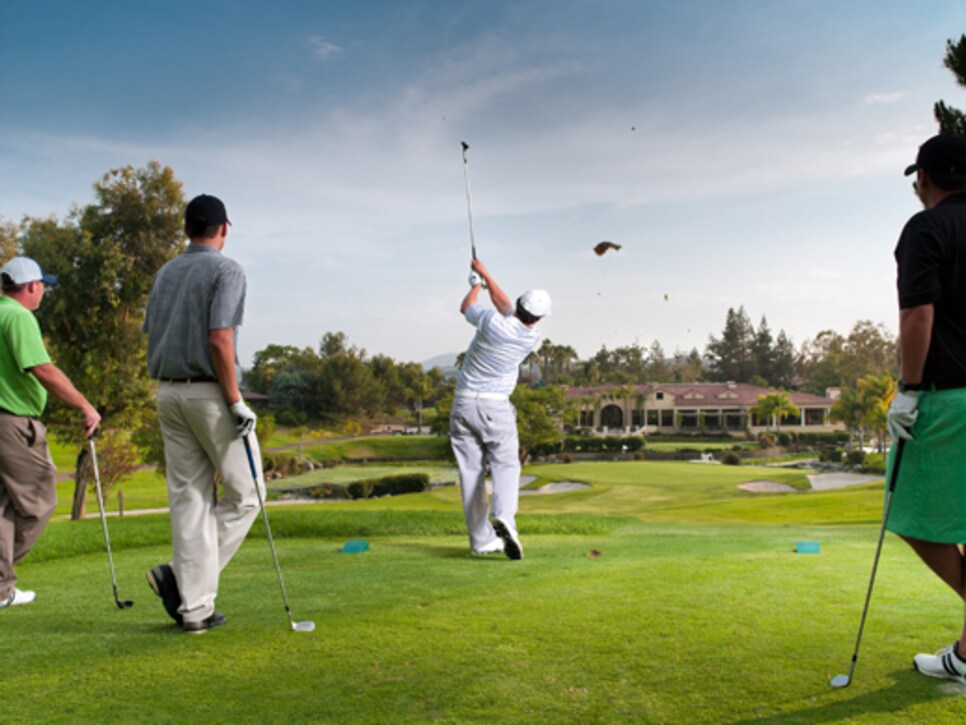 It seems fitting then on this Fourth of July to reflect on what America has brought to the game, how we transformed it, and what makes golf here different from the game played elsewhere -- for better and for worse.
1. Motorized Carts. A nation falling in love with the automobile, when given the chance, was bound to want to drive the golf course as well. Born in the 1930s but not embraced until the 1950s (when you might have driven a Sears Roebuck), the golf car became our foremost addition to the game. And our biggest subtraction: We removed the walk. Though hoofing it -- via caddy, pull cart or bag-on-back -- has made a bit of a comeback among the fitness-conscious, carts are still the norm, with four generations of golfers, fit or not, knowing no other way. Our misgivings about this innovation remain. In 2001 professional Casey Martin, suffering from a debilitating condition in his right leg, sued the PGA Tour for the right to ride a cart. The tour, with the support of the USGA, said, in effect, that's not golf. Martin won. In America we ride. You'd think carts would speed us up. It seems to have done just the opposite to our pace, another thing that sets us apart from most of the world.
2. The Big Dog. American golfers worship the Big Dog. The master teacher Bob Toski has spent a career telling students, "Golf is a game of how near, not how far," but most of us aren't buying. We love the 1-wood. We want to bomb it like Bubba, Big John, Jack, or George Bayer, depending on one's era. We want the boys to know that last week we busted one down the hill or over that far bunker on 3. We buy new drivers when the mortgage is due to get "15 more yards" and support an industry that lives by, and turns out, new driver products as often as Detroit does. Our most American of competitions, the National Long Drive Championship, enters its 4th decade with prize money at $500,000 and winning drives routinely exceeding 400 yards. You can play smart, sure.  But real Americans let the Big Dog eat.
3. The Greatest Player Who Ever Lived. Best-ever lists are as American as Mount Rushmore: We live to rank. In golf we not only have created the ranking, but we've produced the names to fill it. In no particular order: Tiger Woods, Jack Nicklaus, Ben Hogan, Bob Jones…(OK, maybe there is a particular order), with Tiger being the perfect "greatest" of all. Only in America, dedicated to fairness but infected with racism, can a black man emerge as the greatest golfer of his, or perhaps any, generation, the most well-known, well-paid, liked, disliked and highly-watched player in the world. And only in a puritanical country like ours, with its voracious appetite for sex, could he self-destruct so spectacularly. Some of us forgive him. Some of us accept him as we did Big Jack when he worked so hard (in Arnold's shadow) to win us over. Some of us know that he's the face of our American game, the straw that stirs our country club drinks. And most of us, I think, believe he is the greatest player who ever lived.
4. A Tradition Unlike Any Other. In so many ways, the Masters is our major. If golf is religion, Augusta is America's cathedral and, for a week, high-sacrament. It is U.S. golf at its most tasteful and well-behaved, if anxious to remind you of that fact. In a crassly commercial world, it is both anti-commercial and exuberantly capitalistic. (See the green-jacket CEOs serving well-mannered patrons). It was inevitable then that the pristine lawns of Augusta National would become a model for clubs across the country, and that its treacherously fast greens would become the standard for green committees ambitious to make their club the finest. Our obsession with slick, expensive, difficult putting surfaces can be traced to the Masters in 1981, when bent grass replaced Bermuda. We love long, but we really love fast. Cost be damned.
5. "What'd ya shoot?" A golfer could always total his shots and report a score, but for centuries he or she was usually playing matches. There was only one result that counted: Up or Down. Play in Scotland or Ireland today and you will likely still experience the game that way. If you're playing a match, what does score matter? You might encounter Stableford scoring, where you earn points, not tally final score. But Americans live for data. Golfers here want to Break 100, 90 or 80 (as Golf Digest organizes it) or to achieve a "personal best." We want you to, as President Eisenhower's button put it, "Ask Me What I Shot!" Our handicap system, with its Index decimals, slope system and adjustable course ratings, reflects this desire for scoring precision. Forget it that we roll the ball over once in a while, practice Equitable Stroke Control, and indulge in the occasional re-do, we live for THE number.
6. Breakfast balls. It's not easy to trace the origin of the Mulligan, and it may not even be American. Some say it began with a golfer named David Mulligan, a hotelier here and in Canada, who favored the occasional "correction shot" at his club in Quebec. That second shot became known as a "Mulligan." But several U.S. clubs have laid claim to the term, including the Essex Fells C.C. in New Jersey, which attributes the term to John "Buddy" Mulligan, a locker room attendant known for replays on his Monday rounds. Suffice it to say, nowhere is the Mulligan more passionately embraced nor more diversely described than here: Breakfast ball. Lunch ball. Hit until you're happy. Do-Over. Re-Tee. Don't try any of those in Scotland; they'll tell you you're Hitting Three. So will persnickety rules nerds and golf committees who have banned the practice to speed play and protect the first teeing ground. No mulligans! That's un-American.
7. Partisanship. Or patriotism, depending on how you see it. To international competitions once treated as sleepy exhibitions, Americans have brought wartime jingoism, replete with face paint, nail paint, and decorum borrowed from football. Of all those competitions, the Ryder Cup ranks most nationalistic, stemming from "The Battle of Brookline" in 1999 when fans abused players, players forgot their manners, and the experience left golf with a black eye. The Solheim Cup, adding cuteness but no more sportsmanship, is a close second. Yes, the Euros cheer and dress funny and root against their opponents, but perhaps because they are playing not as a nation but as a conglomeration, they seem to keep it within bounds. Nothing quite matches American zeal when it comes to xenophobia. Which is why the Walker Cup, where patriotism but not nastiness reigns, is in our opinion the most "attendable" team event.
8. BIG golf resorts. We're on shaky ground here because there are wonderful golf resorts around the world -- Gleneagles and LeBorde come to mind-- but no one quite does massive golf development like the Americans. It begins with Pinehurst and the exquisite vision of James Walker Tufts --he created the town and some of its splendid golf courses at the turn of the last century, at $1.25 an acre -- and continues to this day with Herb Kohler who created the American Club in Wisconsin and Michael Keiser and his remarkably successful Bandon Dunes.  Add Donald Trump, mostly as an acquirer, and you get the grand vision of American golf resorts. Most important, there is no less emphasis on golf in these developments than on destination. A dozen of Golf Digest's 100 Greatest Courses are part of resorts, not including Bethpage Black, one track of a 90-hole state park in New York. Pinehurst, the model, now has nine courses, proving that in America we do golf big.
9. John Daly. Let Daly here represent the American public golfer and all the fun he's had learning this country club game. Let him represent league guys. Let him represent hackers who hate dress codes. Let him represent the hat-backward, t-shirt wearing, flip-flop dragging ex- jock who just can't get enough. Let him represent the crude and the sweet, the embarrassing and the maddening, the foolishly devoted lover of the game, his marriages to it and his break-ups with it. In America golf is everyman's. And most of our game is played where rules officials and green chairmen have never tread. Let John Daly represent every golfer who's tossed a club, given up, fought back, and birdied the last hole. Let him represent our worst and most colorful moments. Let him represent our faults, our penchant for giving what we haven't got to charity, our innocence and our guilt. Let John Daly represent what happens when you really share your game, when golf is accessible, when we all have to live, let live, and, in the end, learn. About the game, about ourselves, about one another. How American is that?