His season nearing a possible end, Tiger Woods still able to maintain sense of humor
AKRON, Ohio -- There was a discernible wryness to Tiger Woods's demeanor Wednesday afternoon at Firestone CC, where he met the media on the eve of his eighth title defense in the WGC-Bridgestone Invitational.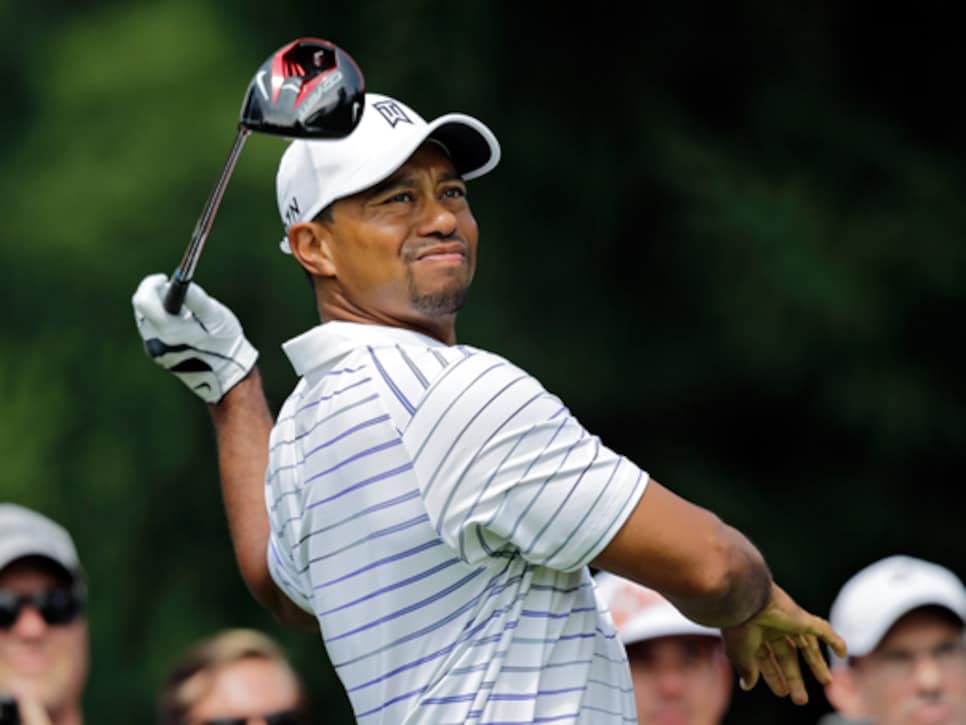 Perhaps it's the comfort that Woods feels returning to Firestone's South Course, one of a collection of venues where he has been nearly unbeatable. Or perhaps his attitude betrayed an attempt to deflect the pressure he is under this week and next as he tries to qualify for the FedExCup playoffs to extend his injury-marred season and impress U.S. Ryder Cup captain Tom Watson. Whatever the case, Woods, known for his often droll responses, offered a few snappy comebacks. To wit: On his backswing getting shorter: "We've been trying to shorten it up over the years. I think a perfect way to do it is just have back surgery. All those geniuses out there, there you go." On whether Jack Nicklaus' record of 18 majors seems as obtainable as it did in 1997 (the year he won his first Masters): "I'll tell you what, it's a hell of a lot closer now than I was in '97. These 14 weren't easy. " On Firestone as a proper, straightforward test for his game: "It goes to show you that you don't need elephant burial grounds out there to make a golf course fair, difficult, and enjoyable." Of course, his most important comeback -- the one from back surgery -- continues this week. Paired in the first round with U.S. Open winner Martin Kaymer at 2:20 p.m. EDT Thursday, Woods will make his third start since undergoing a microdiscectomy on March 31 and kick off a critical two-week stretch that will determine the remainder of his year. Ranked 215th on the FedExCup points list, Woods, 38, is hoping to repeat something close to the performance of just a year ago, when he flirted with a 59 in the second round, carded 61, and went on to win by seven strokes for the most recent of his 79 career PGA Tour titles. And then he needs an equally strong performance in next week's PGA Championship at Valhalla GC in Louisville, Ky. -- where he won the 2000 title -- or he will miss the FedExCup playoffs for the second time in four years. "Unfortunately, I've been in this situation before," said Woods, who missed the bulk of the 2011 season with an Achilles injury. "Maybe three years ago, I believe, when the PGA was at Atlanta Athletic Club. I had my Achilles injury, and I didn't play all summer, and I was in a similar position coming into these last few weeks, having to play well to get myself into the playoffs. At that time, I didn't. So hopefully, this go around I'll be a little bit better." That year, however, there was not the secondary pressure on Woods to qualify for the U.S. Presidents Cup team. U.S. captain Fred Couples declared long before the final points standings that he intended to use one of his two wild-card picks on Woods. Conversely, Ryder Cup captain Tom Watson said that Woods, 70th on the U.S. points list, needed to be healthy and playing well before he would add him to a roster that also currently does not include Phil Mickelson. At the Open Championship two weeks ago at Royal Liverpool, Woods shot three rounds over par after opening with a 3-under 69, and finished 69th. Two weeks prior to that he missed the cut at Congressional CC in the Quicken Loans National, his first "rehab" start. He called his is return to tournament golf at Congressional a "high point" in a year that is void of a top-10 finish, though he has competed just five times. "Even though I missed the cut miserably, just the fact I was back playing again after what I'd just been through was big for me," he said. He can't afford such modest gains these next two weeks. Woods averred at Hoylake that a reasonable goal for him was to win the British Open. Victory is virtually a must now. "I would like to win these two events and not have to worry about anything.  That's the plan. That's the mindset. That's the focus," he said. "We'll see how it falls after these few weeks. Other than that, I really ‑‑ I'm so far out of it right now that I need to play well to get myself there where I can get myself into the playoffs and ultimately, hopefully, play all four weeks." That would be quite a comeback. Even for Tiger Woods.