CHASKA, Minn. -- The moment before his song, I stood behind Rory McIlroy on the 11th green and watched him adopt what I think of as his quintessential pose: Left leg crossed over the right, leaning slightly to port, weight supported by a putter gripped in the left hand, right elbow jutting out, right fist pressed into his ribs. Watching the sunlight stream over his shoulders, I felt that this vision should be one of sport's iconic silhouettes, the next Jerry West or Discobolus, and he seemed, as he watched Dustin Johnson and Brooks Koepka attempt to make birdie in their afternoon four-ball match, to be the embodiment of all things sanguine and still.
Then he missed a birdie putt to win the hole, was ushered into the roped-off walkway that is meant to protect the players but actually creates an hysterical gauntlet of verbal abuse, where feral Americans howl at European golfers the way ancient Romans howled at Christians who would soon be disemboweled by lions, and came face-to-face with a coterie of creative types that began to sing the chorus of "Sweet Caroline" at him in reference his former fiancee Caroline Wozniacki. Rory turned their way and finished the lyric:
"Good times never seemed so good."
This may sound like a quirky story of an athlete handling some good-natured ribbing with a smile. It was not, because Rory did not truly sing the words. He shouted them. He clapped his hands, only once, but very hard. His neck muscles were tensed, his eyes were bulging and demonic, and it looked like he'd enjoy nothing more than climbing over the ropes and goring them all with an iron. Quite honestly, it looked like madness. Even the drunks were disturbed—I watched one of them, decked out in an American flag suit, take a step back and say "whoa," as though this had just gone too far even for his indelicate tastes.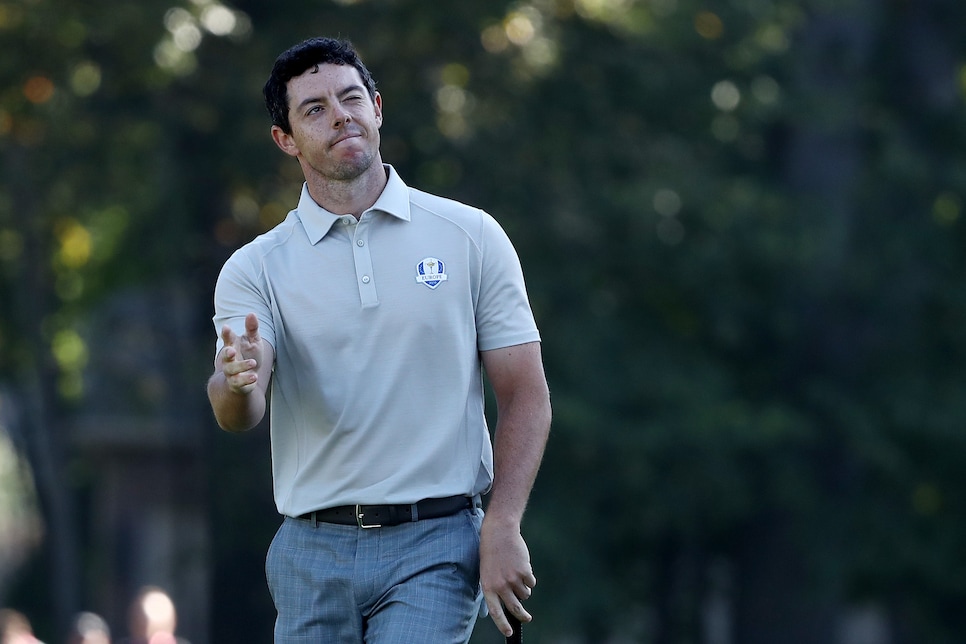 In fact, the mutual hatred had been simmering for quite some time. It started the day before, when McIlroy was apparently so pissed off about losing his Friday morning foursomes match against Phil Mickelson and Rickie Fowler that when he earned his revenge in the afternoon with an eagle putt on 16, he bowed twice to the crowd in solemn mockery. Even then, you could sense rage stewing beneath the surface, and just after the second bow, it came came out in a violent torrent as he punched the air and let out an expletive that he had undoubtedly heard directed at him many times that day. It was the most intense five seconds I've ever seen in golf.
The fans, rising to the challenge, were ready for him on Saturday—ready to return his scorn in kind, and ready to roar each time his opponents sent their golf balls flying roughly in the proper direction. But he disappointed them by teaming up with Thomas Pieters to thump Fowler and Mickelson, 4 and 2, and rising to their choleric energy with a good dose of his own. Now, reunited with Pieters in the afternoon and facing Dustin Johnson and Brooks Koepka, Rory and the thousands of American faithful had provoked one another the way two estranged brothers will provoke each other, lobbing minor insults in escalating fashion until, inevitably, the whole thing ends with punches. Nerves were frayed on both ends, and to make matters worse, he was still winning. It felt like the only logical endgame consisted of Rory hitting one last spectacular putt, throwing his arms wide and being torn apart by a bloodthirsty mob of stars and stripes.
In sports, you often hear the phrase "he played like a man possessed," but it almost never means that the athlete in question literally seemed to be possessed by the devil. Rory had all the signs of actual possession, and if he represented the incarnation of Satan to the American fans, he had a sidekick. Pieters—brilliant by any standard, spectacular for a rookie—came out Saturday like a man on fire, playing with skill and passion to match his teammate, and stoking the flames of malice with a kind of youthful glee. If Rory was the devil, he was the devil's red right hand, and they were so in sync that they made me indulge some truly deranged notions. For example: On the 11th tee, while the Americans were preparing to drive, I watched a ladybug land on Pieters' back. It made its slow, inexorable way up to his spine, onto his shoulder, and crept toward his collar. The minute it threatened to reach actual skin, Rory flashed at Pieters, and the bug flew away. Now, am I saying the two events were related, and that the symbiotic connection between the two is so acute that one can sense even minor disturbances in the other, and resolve those disturbances in a supernatural manner?
The answer is no, but it's also yes.
This is the third Ryder Cup I've attended in person, and though I've been awestruck by each one, I've never seen anything quite like what happened in his final match. If it's not strictly true that smoke was rising from Rory's head as he paced down the fairway, jaw set, head a-bob on the imaginary ocean of grass, scanning the gallery with his neutral menace as the vitriol rained down, it's true in our collective memory. Earlier in the week, a journalist asked Phil Mickelson if he thought the polite behavior of the crowd somehow reflected the way the late Arnold Palmer conducted himself with class, and if that question was strained at the time, it looked downright comical Saturday afternoon. Decorum was thrown out the window. Rory had one fan ejected on the seventh hole for making a particularly lewd suggestion, and even veteran journalists with far more experience than me were struggling to remember such a nasty crowd.
Rory devoured the hatred and met it with aggression and defiance. After his birdie on the 10th hole, he walked beneath the stadium seats and stared down the fans leaning over their seats, desperate to get closer to the man as they showered him with boos. Earlier, after he and Pieters went 4 up on Johnson and Koepka, he actually approached a writer who had gone on Twitter to pine for that exact American pairing, indicated the two, and said, "you got your wish." As he walked to the 15th tee, a fan yelled out "don't choke," and Rory turned to him, eyes narrow, shaking his head. "Don't worry. Don't worry."
The power, charisma and sheer irresistible force of Rory McIlroy over the past two days is difficult to overestimate. His reach extended beyond his matches—Mickelson and Matt Kuchar, in their own four-ball match on Saturday afternoon, began to curtsy at each other in celebration after winning holes, an obvious response to Rory's bow. It was funny, but it also proved a point, which is that it's nearly impossible for anyone not to behave in reaction to Rory when he's at his most brutally destructive. He's the baddest man on the scene, the center of his own solar system.
It's a gratifying thing to witness, as a fan of golf, when he channels this emotion at a Ryder Cup. As another writer pointed out, it's something that Tiger never quite managed, and the sheer amount that the guy cares—despite being a four-time major winner who just pocketed more than $11 million last week—is beautiful. There is no complacency, no sense of superiority and no capitulation. There is just sheer warlike will, of the kind that reaches out to his entire team and says, "follow." Emotionally, he is exactly what any captain would want in his best player.
But there is, of course, a larger counter-narrative at this Ryder Cup—Europe is losing. The individual prowess of one player, even one as great as Rory, can't always stem the prevailing tide. Darren Clarke made the indefensible decision to send out the struggling Lee Westwood and Martin Kaymer Saturday afternoon. They both let him down, and Europe's gutsy comeback on Friday afternoon and Saturday morning ended in disaster. McIlroy closed out his match (or, to spill a dirty secret, he worked himself up into such a frenzy that he nearly went overboard with emotion toward the bitter end, and needed help from the unflappable Pieters to secure the point), but the rest of his team faltered. Some, like Westwood, plainly choked, while the best of them, Stenson and Rose, withered under the storm und drang of America's answer to McIlroy, Patrick Reed. It appears, barring the kind of repeat miracle of 2012 that would render the American Ryder Cup leadership either catatonic or suicidal, that the Europeans will lose.
The rest of Rory's teammates have stumbled, one way or another, because this is not their year. They've been reduced to whining about drunk Americans shouting insults and jockeying for position on Europe's inevitable force d'intervention for the 2018 Ryder Cup in France. But Rory McIlroy remains a dangerous mercenary, trigger-happy and armed to the teeth, synapses raw with electric current, tired, wired, and demented, ready for the dark joy of mutually assured destruction and happy to kill in a losing cause. Tall among the corpses, he stands alone.