Women's PGA Championship
Caddie tests positive for COVID-19 and water-logged 10 on a par-3. This pro had a really bad day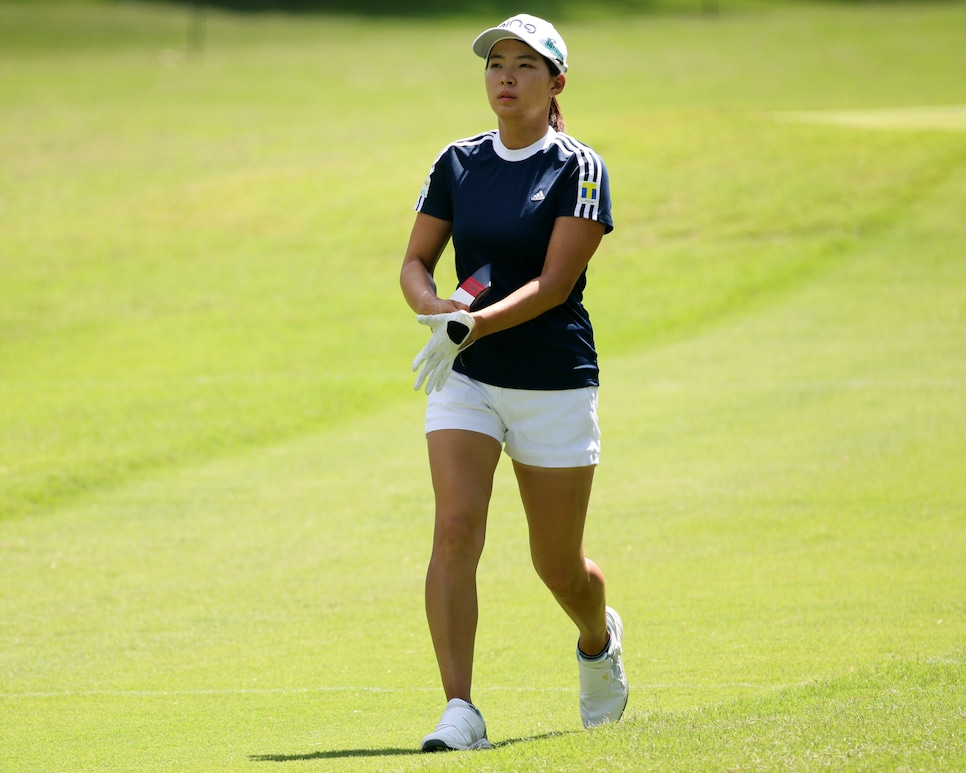 Hinako Shibuno walks on the 14th hole during the third round of the KPMG Women's PGA Championship.
Kevin C. Cox
Hinako Shibuno, in her final bid to make the Japanese Olympic team, ran into two unforeseen hurdles Saturday at the KPMG Women's PGA Championship. First, her caddie tested positive for COVID-19 on Friday and couldn't be on her bag for the third round. Then, to completely ruin her Saturday at Atlanta Athletic Club, Shibuno suffered a septuple-bogey 10 on the 17th hole.
All this as Shibuno—the 2019 AIG Women's Open champion—was trying to make a push to make the Olympics in her home country. After starting the season at No. 13 in the Rolex World Rankings, the 22-year-old had fallen to 31st heading into this week and was behind No. 11 Nasa Hataoka, No. 25 Mone Iname and No. 28 Ayaka Furue. The latter two weren't entered this week, and with only two players able to represent Japan in Tokyo, Shibuno could make a big move with a strong performance at AAC.
Shibuno made the cut on the number with a 70 on Friday, but the 10 in the third round led to a 76, and at six over she was next-to-last among the weekend survivors.
At the par-3 17th, Shibuno hit into the water off the tee, then went to the drop zone. (There was hope, since she holed out from the drop zone for a par save at the 15th on Friday). But Shibuno hit three more into the lake from the 114-yard position before one-putting for a 10.
It was an awful end to a day that began badly. Tournament officials released two statements on Saturday about the situation regarding Shibuno's caddie, Keisuke Fujino. One statement said that Fujino tested positive in a pre-travel test for a trip after the tournament, while a subsequent PCR test was negative. "Per championship protocols," the statement read, "if a caddie tests positive, his/her player may continue to play under the direction of the LPGA's medical director with daily testing."
In her own statement released by officials, Shibuno said, "I do not have any symptoms and will play today under the LPGA's guidelines. I will do my best and focus on my game, even with this difficult situation."