Courses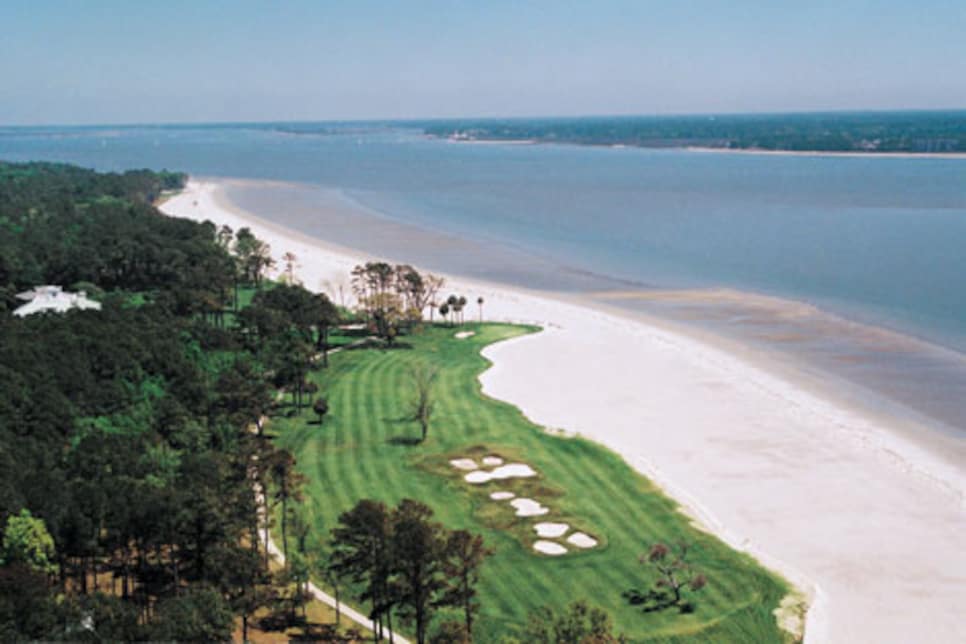 Shore enough: The 18th hole at Daufuskie's Melrose Course hugs the Atlantic Ocean.
Daufuskie Island is only one nautical mile from the shores of Hilton Head Island, but in pace of life and tranquility, the separation is much farther. The South Carolina resort, which includes two golf courses and a spa among its various amenities, is a giant step back to a time when Southern hospitality meant stone-ground grits, soft slippers and rocking away the hours with the fireflies in the cool of the evening.
Daufuskie's remoteness is a big part of its charm. Reachable by water (a 45-minute ferry ride from Hilton Head) or air (visitors to the MCI Heritage tournament at nearby Harbour Town Golf Links often fly over via helicopter for a round), the resort features an antebellum mansion with 52 suites overlooking the Atlantic Ocean, plus full-service cottages with ocean views. Golf carts and bicycles are the modes of transportation for visitors. Various activities include an equestrian center where the adventurous can learn the art of driving horse-drawn carriages. There are also eight tennis courts, sand volleyball courts, dolphin tours, nature hikes, three swimming pools, a kids' cottage and parasailing. The spa features 45 therapeutic treatments for adults.
If Daufuskie is old-school, Southern gentility smothered with sausage gravy, much of the surrounding area is new-school glitz dipped in au jus. At Hilton Head's Sea Pines Resort, for instance, dozens of shops boasting designer fashions line the harbor, and million-dollar villas line the famous 18th hole at Harbour Town. Yet diversity (links and parkland courses, resort and daily-fee) is an enduring quality shared by Hilton Head and Daufuskie that has made this region one of the world's top golf destinations.
For a relatively tiny piece of real estate (12 miles long, five wide), Hilton Head has been developed prudently. There are 18 public-access courses, many with seasonal rates easy on the pocketbook. Although the major resorts like Daufuskie, Sea Pines and Palmetto Dunes have plush accommodations, golfers don't have to stay at the resorts to play their courses. There are 6,000 villas and 3,000 hotel rooms on the island. Some, such as the Holiday Inn Ocean Front, boast standard incentives—i.e., children under 12 stay and eat free—for the frugal golfer. Rates range from $89-$159 per night for oceanfront rooms depending upon the hotel's calendar of events. Because most villas have fully equipped kitchens, they are another affordable option.
As for the weather, Hilton Head boasts a tropical climate spring through fall. Best green fees are in-season twilight rates (generally after 3 p.m.) and during the low season from November until the end of January.
Daufuskie Island Resort Breathe Spa,
Daufuskie Island, 843-341-4810, $63-$99. Melrose is a links-style course with the three finishing holes hugging the Atlantic Ocean. Jack Nicklaus carefully routed the course to protect the natural setting. A minimal number of homes don't detract from the golf experience. Even with generous fairways there are plenty of hazards to challenge the most skilled player. The 560-yard (from the tips) 18th has magnificent views of the ocean, including a precarious approach to a smallish green with a 12-foot dropoff to the beach. The prevailing wind off the water can turn this beauty into a bear.
Bloody Point, meanwhile, derives its name from an Indian massacre of the early 1700s. Architects Tom Weiskopf and Jay Morrish did a nice job of preserving the marshes and lagoons as natural hazards. And there's an abundance of wildlife, including a bald-eagle's nest on the par-4 sixth hole, that gives a player a sense of being far from civilization. The short (310 yards) 10th plays over a marsh and, though heavily bunkered at the green, is a nice risk-reward hole to start the back nine. The spa is adjacent to the clubhouse for those who need a respite after what can be a grueling test to the accuracy-challenged.
Harbour Town G. Links, Hilton Head Island, 843-363-4485, $165-$250. Distinguishable from land, water and air by its famous red-and-white lighthouse, Harbour Town is postcard perfect with dire consequences for those lulled to sleep by its beauty. Although it is one of the shortest PGA Tour courses (6,973 yards), strategically placed hazards and devilishly small, undulating Pete Dye greens supply enough defense for the world's best at the MCI Heritage. Pars and birdies are earned. The picturesque, par-4 18th gets all the notoriety, but short holes like the ninth (332 yards), 13th (373) and 16th (395) are the soul of the course.
Palmetto Dunes Resort, Arthur Hills Course, Hilton Head Island, 843-785-1138, $50-$115. The best of three 18s at Palmetto Dunes, the Hills Course was home to the men's Golf World Invitational college tournament for 15 years. (The other two courses were designed by George Fazio and Robert Trent Jones Sr., respectively.) The Hills layout is a shotmaker's course of only 6,651 yards, and because it was built on old sand dunes, there are few even lies. In fact, funky lies are the norm. The 380-yard 17th is a prime example. There is a forced carry over a water hazard to a small landing area, then a short iron over water to a tiny, sloping green. Many of the country's top collegians, including a Stanford All-American named Tiger Woods, faced that hole with trepidation.
Hilton Head National G.C., Bluffton, 843-842-5900, $50-$75. These are 27 of the best-conditioned holes in the area, including 18 by Gary Player. Bobby Weed designed the other nine holes. The Weed-National combo—featuring tight, tree-lined fairways and several water hazards—is perhaps the strongest 18 of the bunch. There is no residential element, just golf to satisfy purists and naturalists alike.
Country Club of Hilton Head, Hilton Head Island, 843-681-4653, $95-$109. Generous fairways are atypical of Rees Jones designs and U.S. Open makeovers, but they enhance the playability of this scenic layout, twice ('99 and '05) a site for Open qualifying. Fourteen doglegs pinch in the targets and make shaping shots from the tee a necessity.
Oyster Reef G.C., Hilton Head Island, 843-681-1764, $65-$125. Rees Jones created a thinking person's course of doglegs and bunkers (68), where bombers have little advantage. The 400-yard seventh is a case in point. With water on the left and trees on the right, there is no bailout. You must be precise with your drive, then pick the correct club for an uphill approach of 150-165 yards. The par-3 sixth overlooks Port Royal Sound with Paris Island in the background.
Golden Bear G.C., Hilton Head Island, 843-689-2200, $60-$109. With water on 16 holes, this 13-year-old Jack Nicklaus design is challenging and aesthetically pleasing. The 537-yard 18th can be visually intimidating to the average player. It's a dogleg-left with water in play for snap-hookers, plenty of room on the right for a bailout, and a water-guarded green. A lay-up leaves an approach from a downhill lie similar to the 15th hole at Augusta National.
The course plays every bit of its 7,014 yards, but it does have five sets of tees for every skill level. Bruce Borland, member of the Nicklaus Design team and a victim in the plane crash that took the life of Payne Stewart, was instrumental in routing the course.
Old South G. Links, Bluffton, 843-785-5353, $45-$92. A true links with five holes bordering the Intracoastal Waterway, Old South has loads of wildlife and natural hazards. Several of the holes, designed by Clyde Johnston, have greens that are surrounded by wetlands until high tide. Then they become island greens. The 16th, at 417 yards, is a real sleeper. A dogleg-left, it has a forced carry of 190 yards over wetlands, then a second shot with a middle to long iron—or even a utility wood—often into a three-club wind.
Course ratings are derived from the exclusive 5-star Golf Digest Places to Play scale. A single star represents "basic golf." Five stars indicates "golf at its absolute best." Golf Digest's Best Places to Play guide, based upon the ratings of tens of thousands of readers, is available for $24.95.
Very good. Tell a friend it's worth getting off the highway to play.
Outstanding. Plan your next vacation around it.
Superb. Golf at its absolute best. Pay any price to play at least once in your life.
The equivalent of one-half star.
If a course has no star rating, it means that the course did not receive a minimum of 10 ballots, either because it is very new or simply was not visited by a sufficient number of Golf Digest readers. If you've played one of these courses and would like to rate it, click here.