The Loop
Higher handicap golfers can enjoy Bandon Dunes, too
In 2013, I went to Bandon Dunes with three other guys. Our ages ranged from 26 to 32, and our handicaps ranged from 2 to 5. This year, I went to Bandon with seven other guys. Our ages ranged from 28 to 70, and our handicaps from 1 to 25. Same destination, two very different groups, one very similar outcome: we all had a blast.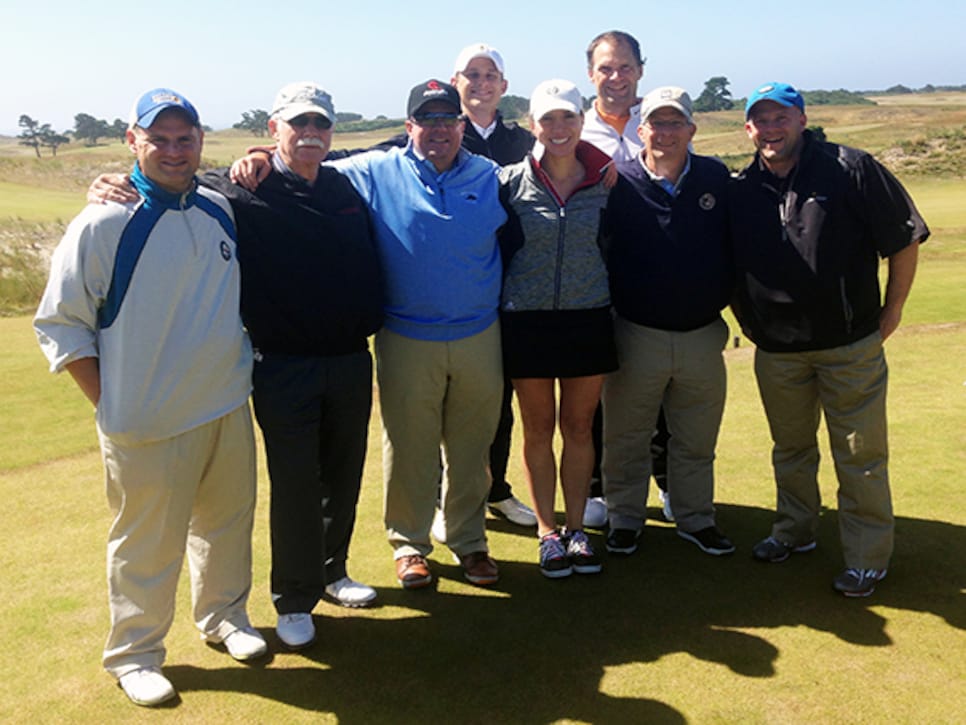 *Our crew played The Preserve as an eightsome on the day we arrived. *
Whether you're an avid, accomplished golfer who thrives on a good challenge, or a weekend warrior who attempts to avoid any and all trouble, the five courses at Bandon Dunes manage to offer enough of a test for single-digit-handicap golfers without being too overwhelming for double-digit-handicap golfers. Our higher-handicappers had this tremendous fear of losing a lot of golf balls. As it turns out, they lost very few. Don Scheck, a 23-handicapper, lost just one ball in five rounds (he lost it at Pacific Dunes), and says the courses are playable because there aren't a lot of forced carries, especially off the tees. "My drives mostly landed short of trouble as long as I hit them straight," says Scheck. "Approach shots and putting are what did me in."
Brian Bakst, a 22-handicapper, says he returned home with more balls than he brought. "And better ones," says Bakst. "When I went into the junk, I often came out with two or three beauties." Scott Davies, who started playing golf when he was 65 years old (he's now 69), says that the courses are not as intimidating as they might seem. "Having a caddie was a big assist," says the 25-handicapper. "And playing Preserve (the 13-hole par 3 course) first really increased my sense that I could play these courses and have fun. I lost a couple balls at Pacific Dunes but not otherwise." The best decision we made all week was taking a "Links Lesson" led by Master PGA Professional Grant Rogers and PGA Professional Jake Sestero. They taught us, in just one hour, how to play golf in the wind, how to hit bump-and-run shots with putters, irons and hybrids, and how to lag putt. "Some of the lessons I learned there carried with me the whole week," says Eric Hyland, an 11 handicapper. Among them:
--Light hands on fast putts. --If you can run the ball up to the green, run the ball up to the green. Keep it low.--Remember, the golf holes like to win, too.--You might as well be the person having the most fun in your foursome.
That lesson was equally important to our higher-handicappers as it was to Tom Freeman, our 1-handicapper. "There aren't many courses in the United States where you'll learn how to hit a bump-and-run hybrid 123 yards, and then use it to give yourself a 4-foot birdie putt," says Freeman. "It's something I'll laugh and smile about for years." I asked everyone in our group to answer the classic question that all golfers should answer after they've played each of the four regulation-length courses at Bandon Dunes: If you had 10 rounds to play at Bandon, how would you divvy them up? Collectively, our double-digit handicap golfers slightly prefer Old Macdonald—wild bounces on that course generally feed toward the green and can turn so-so shots into stellar ones, and it's actually quite difficult to lose a ball there—and our single-digit handicap golfers would rather face Pacific Dunes—Tom Doak's extreme design requires shot-making skills.
Other than that, our higher-handicappers and lower-handicappers appreciated Bandon Dunes just the same. "You better laugh when you think at the start of your shot that you're putting for birdie and then leave the hole with a double," says Tom Scheck, a 9-handicapper. "Good shots are going to roll under the lip of a bunker. It's a lot like life. You better roll with the good and bad bounces or you'll spend most of your time in misery."
But isn't it that kind of misery that keeps us nutty golfers coming back for more?