The Loop
Hideki Matsuyama wins 'Tiger's tournament, and what a great honor that is'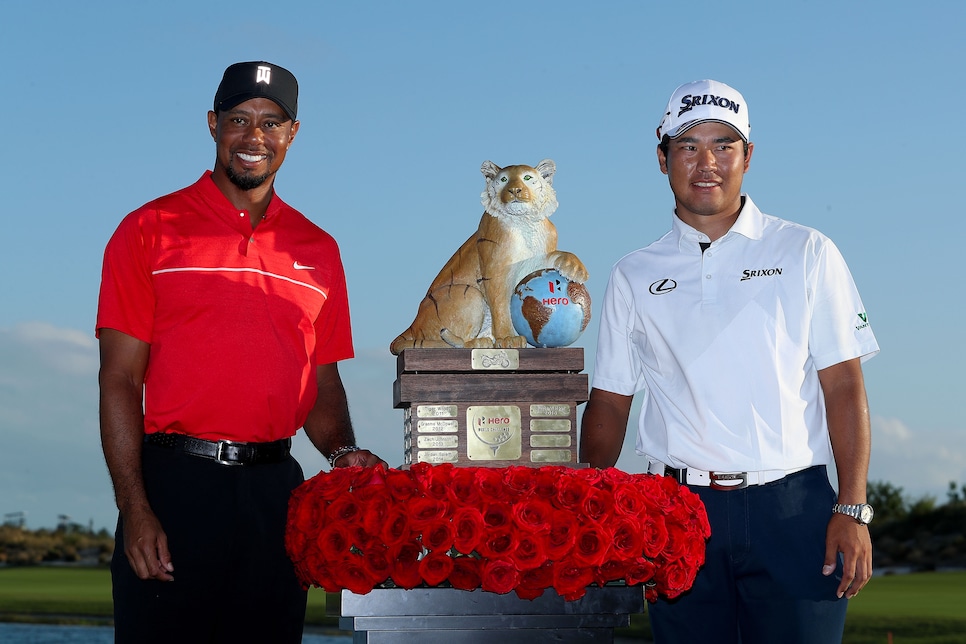 NEW PROVIDENCE, Bahamas -- The first time Hideki Matsuyama heard the name Tiger Woods, he was just 5 years old. The year was 1997, and Woods won the Masters in record fashion.
"I watched that video over and over and over again," Matsuyama recalled nearly two decades later.
Sunday, Woods, playing in his first tournament in more than 15 months following multiple back surgeries, presented the 24-year-old Japanese star with the trophy.
Matsuyama shot a final-round 73 to finish at 18-under 270 and win by two over Henrik Stenson at the Hero World Challenge, a tournament that benefits Woods' foundation.
Woods finished 15th in the 17-man field.
The victory for Matsuyama, meanwhile, was his fourth in his last five starts. His other finish in that span? A runner-up.
"I can't say that I played well today," Matsuyama said. "But I did win Tiger's tournament, and what a great honor that is."
Though it was his highest score of the week and one of the worst of the day with only three players posting a bigger number, Matsuyama, long considered one of the game's best ball-strikers who has struggled at times with his short game, was good enough when it mattered most.
After Matsuyama began the day with a seven-stroke lead and still led by six at the turn, Stenson managed to cut the deficit to two with birdies on 14 and 16. But Matsuyama chipped to within inches of the hole from behind the 18th green, got a high-five from Stenson and tapped in for par to seal the victory.
"I probably felt the most pressure at 16 after Henrik hit it in there about six feet," Matsuyama said. "But I was able to answer, and when he hit it that close, I was thinking, wow, if I don't make par here, it's a two‑shot swing. But thankfully I was able to hit the green and make par there.
"These last five weeks I've been able to make some putts, and the more putts you make, the bigger the hole gets and the confidence grows and that's played a big part in it."   It helped, too, that recently he had gotten some putting advice from countryman and friend Hiroshi Iwata, whose caddie he also borrowed for the week.
"It's going to give him a boatload of confidence going into next year, and he's going to be one of the top guys to beat for a very long time," Woods said of Matsuyama. "Look at his swing, look at his game and look at the body that he has, it's built for a workload and it's built to handle the test of time. He's going to be one of the players that we're going to have to beat for a long time."
Over the last month, no one has been better.
Matsuyama, No. 6 in the world, will finish 2016 as the only men's player to win five times this year. He was also a combined 89 under in his last 20 rounds of individual stroke play and prior to Sunday had posted 17 consecutive rounds in the 60s.
He is also the same age as Woods was when Woods had his best year, in 2000, when he won three of four majors.
"I'm not even close to being mentioned in the same sentence as Tiger," Matsuyama said. "But I am working hard and hopefully little by little I'll get better and better."
This week he was. He beat the tournament host by 14 shots.