The Loop
Hideki Matsuyama beats Webb Simpson in playoff, wins Phoenix Open for second year in a row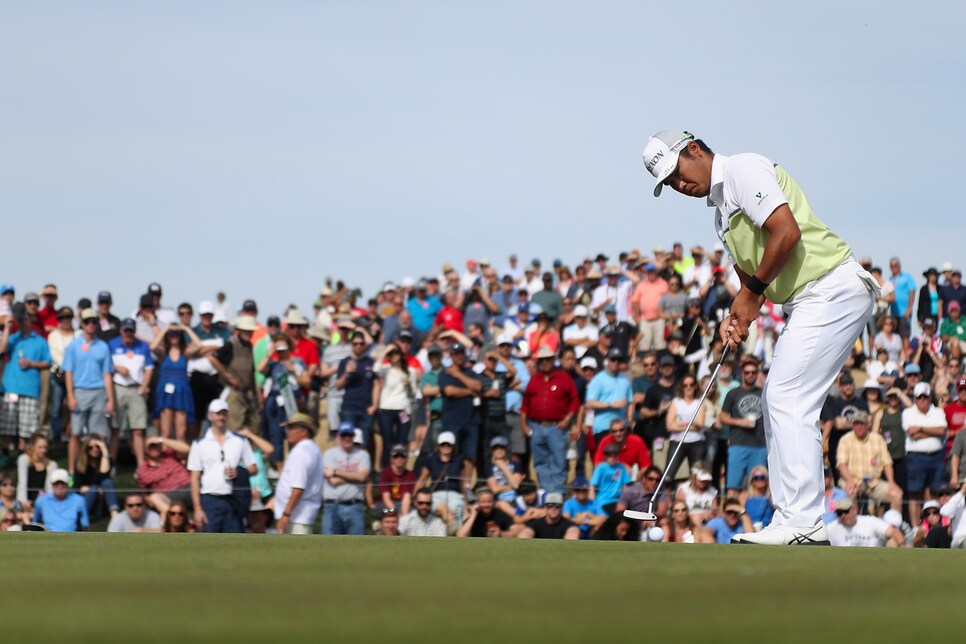 SCOTTSDALE, Ariz. -- For the second straight year the Waste Management Phoenix Open went into a sudden-death playoff that was decided on the fourth extra hole.
The winner was the same, too.
Hideki Matsuyama birdied the par-4 17th to beat Webb Simpson Sunday at TPC Scottsdale. The victory is his fifth in his last eight worldwide starts.
In the last three years at the event, Matsuyama has won twice and finished second. He also became the first player to win a playoff back-to-back years in the same tournament since Ernie Els at the Sony Open in 2003-04.
"I don't know if I played that well, but I won," said Matsuyama, who shot 66 to finish regulation at 17-under 264. "It's been a good run. I'm going to ride it as long as I can."
A year ago, Matsuyama made a birdie on the 72nd hole to force a playoff with Rickie Fowler, then won four holes later after Fowler drove into the water on the reachable par-4 17th.
This year, the 24-year-old Japanese star nearly won in it regulation, leaving his 19-foot birdie putt on the last an inch from the hole as Simpson, who birdied three of his last four holes to shoot 64, watched from the range.
Once in the playoff, Simpson had a putt to win each of the first three holes, not coming close on his first two on 18 before leaving his putt on the 10th an inch short.
One hole later, Simpson drove to the back right fringe but left himself in an awkward spot to a back left pin with a bunker between his ball and the hole. Instead of trying to chip, he putted to 25 feet after Matsuyama had left his chip shot from just short of the green 12 feet away.
Simpson missed and Matsuyama made, letting out a fist pump as the ball tracked toward the cup.
"That putt at 18 [in regulation], I don't know how it stayed out," Matsuyama said. "But during the playoff, I did hit some good putts. Just the line wasn't there, and so, you know, up and down. But I didn't lose confidence. I just kept grinding and had patience."
Simpson has tried to do the same. It has been three years since his last victory.
"I feel like two weeks ago I was pretty lost," said Simpson, cheered on during the playoff by Bubba Watson, who has a house in the area and returned to the course to watch despite having missed the cut. "I did't hit it that great the first couple rounds. [My caddie] Paul [Tesori] notices something, so we go work on it. You know, that's all we do is kind of fine-tune everything. And came out this weekend and I hit it great."
Fowler, meanwhile, made a furious rally to get into contention for a second straight year at TPC Scottsdale, making four birdies over his final six holes. He shot 65 but finished two strokes out of the playoff.
Phil Mickelson got within three of the lead with four birdies through his first nine holes but faded on the back, making four bogeys and a double. He finished with a 71 to tie for 16th.
"It just killed my momentum," Mickelson said of bogeys on 10 and 11. "I had a hard time picking it back up."
Jordan Spieth found some on Sunday, making five birdies and just one for a second straight 67 but it wasn't close to enough. He finished five strokes back in a tie for ninth.