It's a mess
Here's why pro golfers complain so loudly about getting mud balls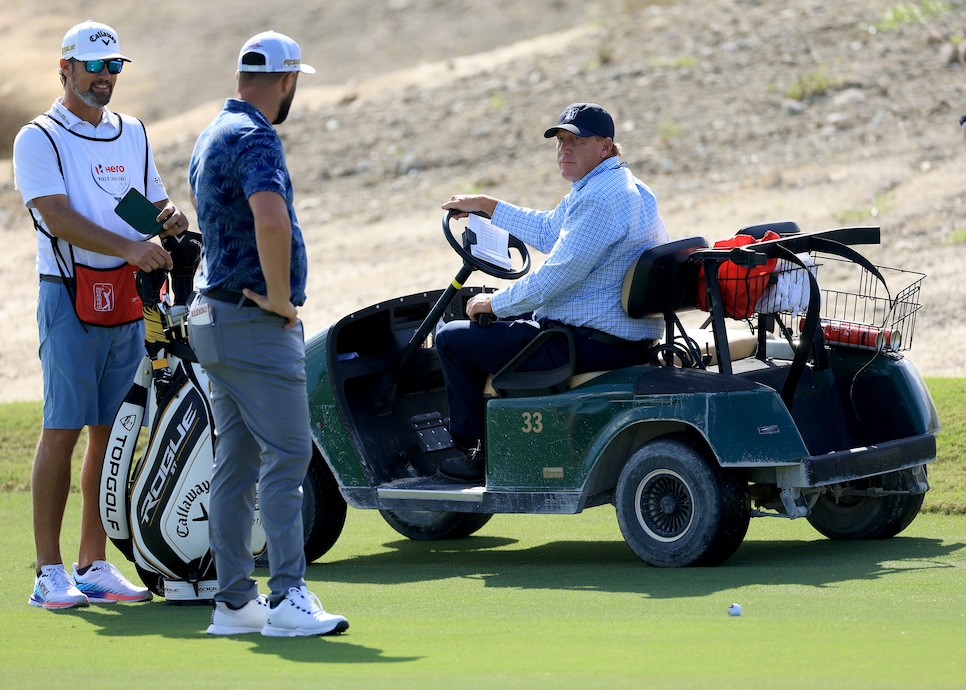 Jon Rahm complains to a PGA Tour official about mud on his golf ball before he plays his second shot on the third hole during the third round of the 2022 Hero World Challenge.
David Cannon
NASSAU, Bahamas — Controversy boiled over in the sporting world on Saturday. No, not that controversy.
This one unfolded in the third round of the Hero World Challenge at Albany. In a move that undoubtedly made the U.S. Golf Association smile, PGA Tour officials decided that after two days of allowing the 20-man field to play preferred lies in the fairways, the third round needed to be conducted under the standard rules of golf. In other words, the practice of lift, clean and place, which was deemed necessary after heavy rains on Wednesday and a few squalls on Thursday, was discontinued.
Much to the chagrin of the competitors.
What ensued was lots of hand wringing and questioning and, well, general dismay. But also, later, after passions subsided, some reasoned options were put forth. More on that in a minute.
First, however, it was more than a little entertaining to hear the stories of how much mud, um, colored the proceedings in what is an unofficial event. Be it known, regardless of the stakes, professional golfers have a distinct disdain for mud. A golf ball with mud on it is an affront to their sensibilities. It fouls up their circuitry and their carefully crafted routines. "It's a bit of a crapshoot," Justin Thomas said.
Collin Morikawa was more blunt. "It's an absolute guess, and it sucks."
The late Bruce Lietzke, a Texan who knew how to navigate windy conditions, once said with a certain amount of relish that the only external factor that causes the world's top players consternation is wind. Well, you can add icky, mucky glop to that list. In fact, Hero host Tiger Woods said he'd much rather contend with wind than with mud.
Mud makes things interesting. Exciting even.
"Exciting's definitely not the right word for it," said World No. 2 Scottie Scheffler, who begins today's final round with a chance to regain the No. 1 spot in the Official World Golf Ranking if he can overcome Viktor Hovland's three-stroke lead.
Both Scheffler and Thomas shot 66 on Saturday, which were the best scores of the week until Hovland ambled in with a 64. So, the boys managed just fine despite enduring a legitimate hardship known as "guesswork." Mudballs made for some fascinating shot selections as well as a lively topic of conversation.
For example, Xander Schauffele purposely hit a 180-yard runner on the fourth hole because of mud on the right side of his ball. "If I went for a hero shot, it probably would have ended up in the trees," he said.
Scheffler opted for a similar strategy twice in four holes on the front nine and escaped with par on each. "I hit the ball about eight feet off the ground and it ended up 50 to 60 yards right of where I was trying to hit the ball," he said of his second shot on the par-5 third hole. "I did it again on No. 6 with a 3-wood with mud on my ball and I hit it so low it, actually hit the grass in front of my ball and somehow got out about 200 yards. I literally tried to hit it four feet off the ground.
"It's infuriating," Scheffler added. "It's frustrating you spend so much time trying to learn how to control your golf ball and then you're in the middle of the fairway and you have no idea where the ball's going to go."
Raise your hand if you know this feeling without the added variable of mud.
Shane Lowry actually attempted to have rules officials reconsider their decision. Playing in Saturday's first pairing with Corey Conners, the Irishman found mud on his ball in the first fairway and advised that they could still change their minds before he hit his approach shot. No sale.
Scheffler was inclined to give officials the benefit of the doubt, but at the same time put forth a common-sense compromise that perhaps should be given consideration at a future tournament—at least as a test run. He believes that allowing for preferred lies near the green is too much of an advantage for players with lesser short-game prowess.
"I think with the Rules of Golf there might be something we can figure it out whether [we] draw a line in the fairway where it's like, when you're inside this line up to the green, you don't clean your ball," he explained. "That's just something we've done at home, Jordan [Spieth] and I and everybody's done it, and it works well. I don't know what works exactly in a tournament setting. It's nothing that anybody's really tried before."
Around the greens it's really a skill to be able to play off of muddy, sandy, whatever lie it is, that's a skill a lot of guys practice," he continued. "It's tough when you hit it in the fairway and get a mud ball and when you're up around the greens, people lose their skill of being able to chip and play off of different lies."
Independently, Thomas put forth a similar suggestion. "I was joking with Tiger, and I said to Billy [Horschel], too, like I wish we could play it up after our tee shot and down around the green because I think playing it up is a huge advantage around the greens. You're able to just put it on a tee. The lies that you have, the shots that you have to create just doesn't take as much creativity and skill I think, to be perfectly honest, as when you have to play the ball down and you have to obviously play it where it is."
The final round at Albany also was contested playing the ball as it lies, despite a few overnight squalls passing through. On the practice range Sunday morning, Max Homa was observed hitting a few shots in which he purposely applied mud to the ball. There was no point in fighting it.