The Loop
Here's why you should root for Sang-Moon Bae at the Barclays on Sunday
With a reward of $10 million, the FedEx Cup is not an endeavor taken lightly by its participants. Conversely, it's not the end of the world for those who fall short of victory. The Barclays' entire field has tour cards for next season -- which, in golf's new format, means the second week of October -- so, no matter the outcome, all have the chance to tee it up this autumn.
Well, almost all of them.
Following a lengthy court battle with his home country, PGA Tour player Sang-Moon Bae lost his appeal of a South Korean law that mandates military service. After the FedEx Cup, Bae will have to enlist for a two-year stint.
When the ruling came down in July, Bae told Golf Digest's Tim Rosaforte that he had "mixed emotions" on the topic.
"You know, I just hope I will play good when I come back," Bae said to Rosaforte. "Because I really love golf and playing on the PGA Tour."
Worse, because of this obligation, Bae will likely miss the Presidents Cup, which will be in South Korea.
Which makes his performance at this week's Barclays all the more inspiring.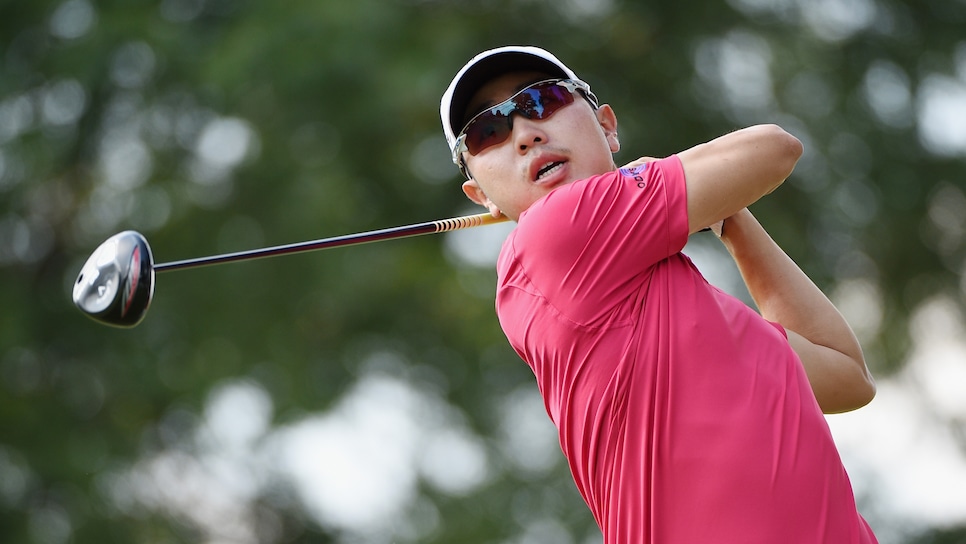 Bae turned in a third-round 63 to take a share of the lead heading into Sunday. Bae had nine birdies on the afternoon, many coming off long putts on Plainfield Country Club's notoriously devious greens. The 29-year-old will be in the final group with Jason Day.
Though he has over $2,000,000 in tour earnings this year, including a win at the season-opening Frys.com Open last fall, Bae has been in somewhat of a funk. He has missed the cut in four of his past nine events, with a 49th-place finish at Muirfield the best showing in that span.
Those around Bae have alluded to the military decision as a distraction. Luckily for him, Bae's early-season harvest, coupled with his strong play through three rounds at Plainfield Country Club, will prolong his tour season for another week.
Often we'll hear of a tournament win as a "life changer" or "cherished memory" for a player. In Bae's case, nothing can stop his upcoming military commitment. But you better believe the latter remains in play.