OAKMONT, Pa. -- The pace of play -- or the lack thereof -- has been a prominent storyline at the 2016 U.S. Open. And with good reason: Some groups were taking close to three hours to complete nine holes.
Yes, Oakmont's notoriously tough greens warrant extra study, but 18 holes shouldn't take longer than a cross-country flight. Such duration is problematic under regular circumstances; with players fighting Oakmont daylight to offset Thursday's rainout, the situation is amplified.
Jordan Spieth probably isn't helping matters. The two-time major winner's, ahem, methodical ways have come under scrutiny before, as he was famously penalized for falling behind at a European Tour event earlier this year. At Oakmont, his groups were routinely a hole behind.
But is Spieth really that slow, or does his constant presence on television merely make his pace seem worse than it is? This matter required investigation, which is why my boss kicked me out of the friendly, air-conditioned confines of the media center into the Western Pennsylvania heat to find out.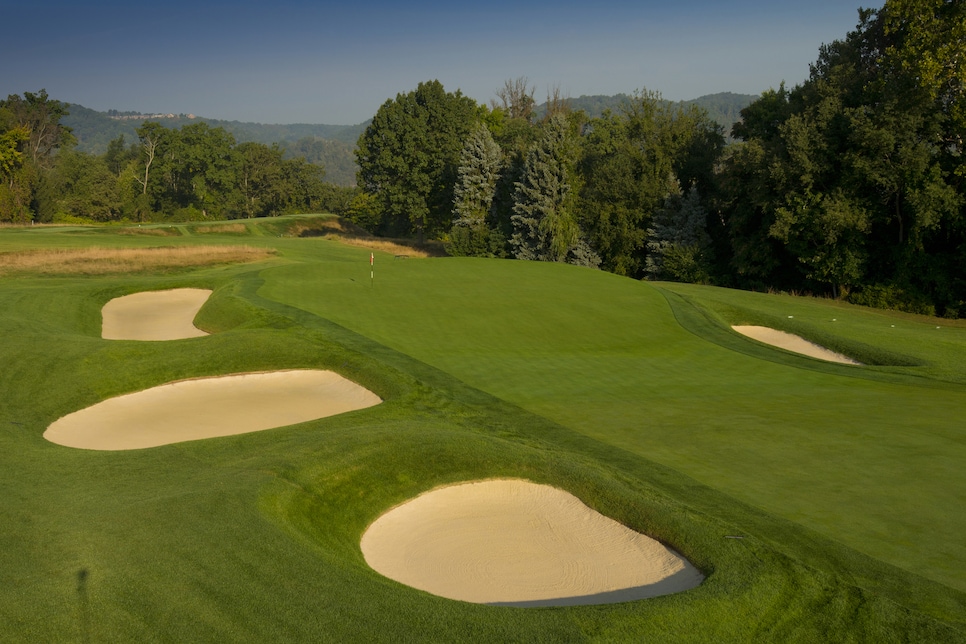 My sample comprised of 12 players, and for the control, I used the 227-yard 16th hole. Why the 16th, you ask? A par 3 serves as a good litmus for pace, with an iron shot requiring more consultation and deliberation than a driver or 3-wood, and the 16th green is riddled with subtle nuances. Also, the hole was really close to the media center, and I didn't feel like walking that far.
I timed players from when they put their tee in the ground until they made contact. On the greens, the clock began when their ball was away. (If a player putted before them, their time didn't start until their partner's ball was marked or finished.)
The first group that came through was Charl Schwartzel, Rob Oppenheim and Andrew (Beef) Johnston, a trio that started on the back nine. With no one in front of them, the group took their time: All three took close to 40 seconds from teed ball to contact, the majority of that time spent behind the ball, lining up the shot.
The green was a different matter. I've taken history exams in quicker fashion than Oppenheim's first putt. From when he was away (Beef putted first, which is a sentence I've always wanted to write) to making his stroke, Oppenheim checked two angles, stood behind his ball for exactly 42 seconds and hovered over his ball for another 10. The final tally was 1:49, which seemed a hell of a lot longer than it felt. Schwartzel and Johnston weren't sprinters by any means, both looking at different lines and making multiple practice strokes, but at least they kept their routines under 50 seconds.
Regardless, this was beginning to look like a long afternoon.
That is, until my three new best friends strolled up: Rafa Cabrera Bello, James Hahn and Byeong Hun An. Either the group had dinner reservations or had just committed a robbery, because they flew through the 16th. Cabrera Bello took just one practice swing before hitting his shot, a process that took all of 22 seconds. Hahn was slightly more systematic, with two cuts and a strategy confirmation with his looper, but he still struck his ball in less than 35 seconds.
As for An? The USGA has found a new spokesperson for its pace-of-play campaign, for the 24-year-old South Korean took just 12 seconds to send his ball flying toward the flag. He is my hero.
The group wasn't as diligent on the green, mostly due to Rafa taking 39 seconds to look at his line from three perspectives, and Hahn did stand over his ball for a disconcerting time, but they were soon about their way.
With only two groups ahead and on the sixth hole of their rounds, Spieth, Jason Dufner and Spencer Levin were already an entire hole behind. I walked back to the 15th hole to see what the holdup was and soon found my answer. Facing a 44-foot putt for birdie, Spieth took two minutes and 49 seconds from placing his ball down (Duf had a heck of a bunker shot before Spieth's turn) to his stroke. In that span, he walked to the other side of his line, checked his notes, kneeled down, fixed marks by his ball, went to a third perspective, backed off, stood behind the ball for 25 seconds and lingered over his Titleist for what seemed like an eternity. He missed, and his three-footer for par -- which he converted -- still took close to 90 seconds to make.
Spieth wasn't the only guilty party of this pairing. Levin was recorded at 82 seconds, a mark filled with a ton of time behind the ball, a back off and rechecking a different angle.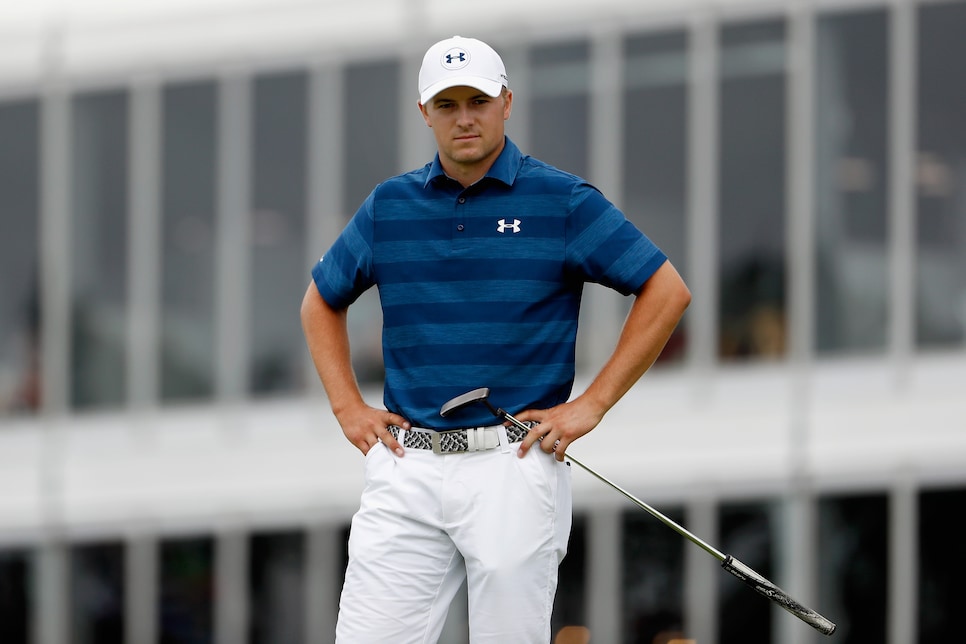 They were a tad quicker on the 16th tee box -- Duf didn't take a practice swing, with a tee-to-contact time of 28 seconds -- and even Spieth, who made four quick, abbreviated practice hacks and multiple wags, got out in 38 seconds. (Levin, perhaps upset that he failed to grab a birdie on the 15th, took 14 seconds, which I believe included a confusion about yardage followed by an "Aw, screw it" shrug.)
Unfortunately, the group ran into the same issue on the green. Dufner's first putt took 11 seconds, and Levin, even with multiple practice putts, completed his in 19 seconds. On the other end of the spectrum was Spieth, who went to both sides of the line, set up shop behind the ball for 30 seconds before his stroke for a total time of 84 seconds.
Taking an extra 90 seconds on the green seems trivial, but if that duration takes place on every hole, that's 30 minutes behind schedule. And the group was put on the clock on the 18th hole -- the second instance for Spieth this tournament.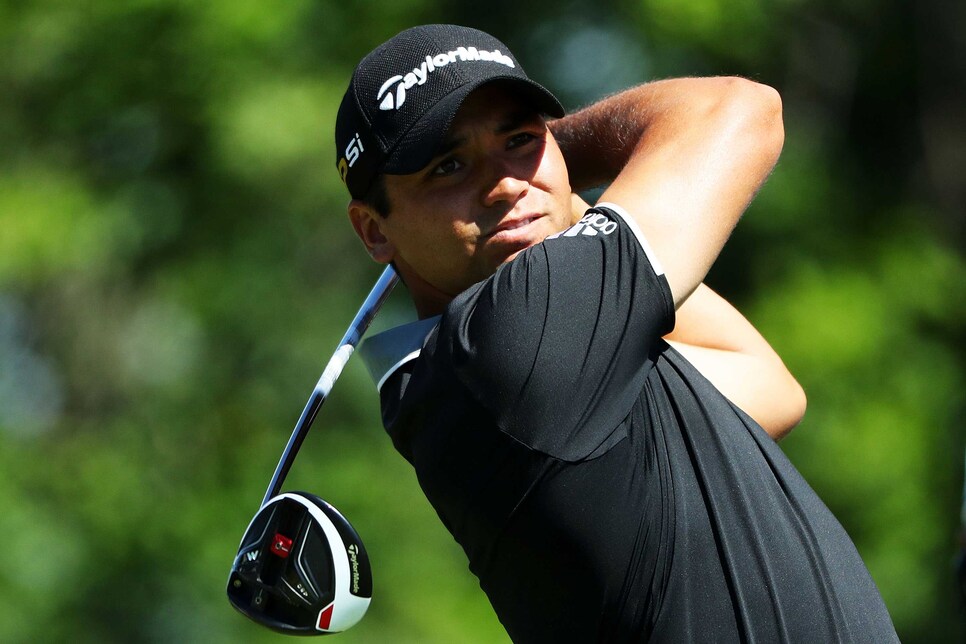 The final threesome that came through consisted of Jason Day, Chris Wood and Bill Haas. Due to Day's reputation -- viewers complained about his systematic approach at the World Match Play this spring -- and perhaps because I was getting cranky from the midday sun, I expected much of the same. Yet Day, along with Wood and Haas, were swift: All were under 30 seconds on the box.
Better yet, the group wasn't messing around on the green. From my observation, this stemmed from better preparation during their partners' shots. Wood and Haas were both less than 25 seconds, and that included Wood examining the hole like a squirrel had defecated in it. Because he was quick to loiter over his ball, it felt like Day took his time, yet when I checked the clock, he came in at 32 seconds.
In short, Day had learned his early year lesson, and has picked up his pace.
I'd be remiss without mentioning the counter: Is it possible Spieth's performance -- he has finished no worse than T-4 in the past five majors, after all -- comes from this careful, calculated routine? And his first- and second-round partners, Zach Johnson and Bryson DeChambeau, are arguably slower than Spieth, and both have had their successes in the past year.
Conversely, a hole behind is a hole behind. You hate to bring penalties into play, but such a drastic ultimatum might be the only solution. If professional golf is leery of upsetting marquee players, an alternative would be to show the TV coverage on a tape-delayed, edited basis to cut out the slow parts. Of course, that's hardly the preferred route, especially in the digital now-now-NOW age of media.
But, time after time, it beats watching my stopwatch instead of a player's swing.