The Loop
Here's why Peggy Kirk Bell held such a unique place in golf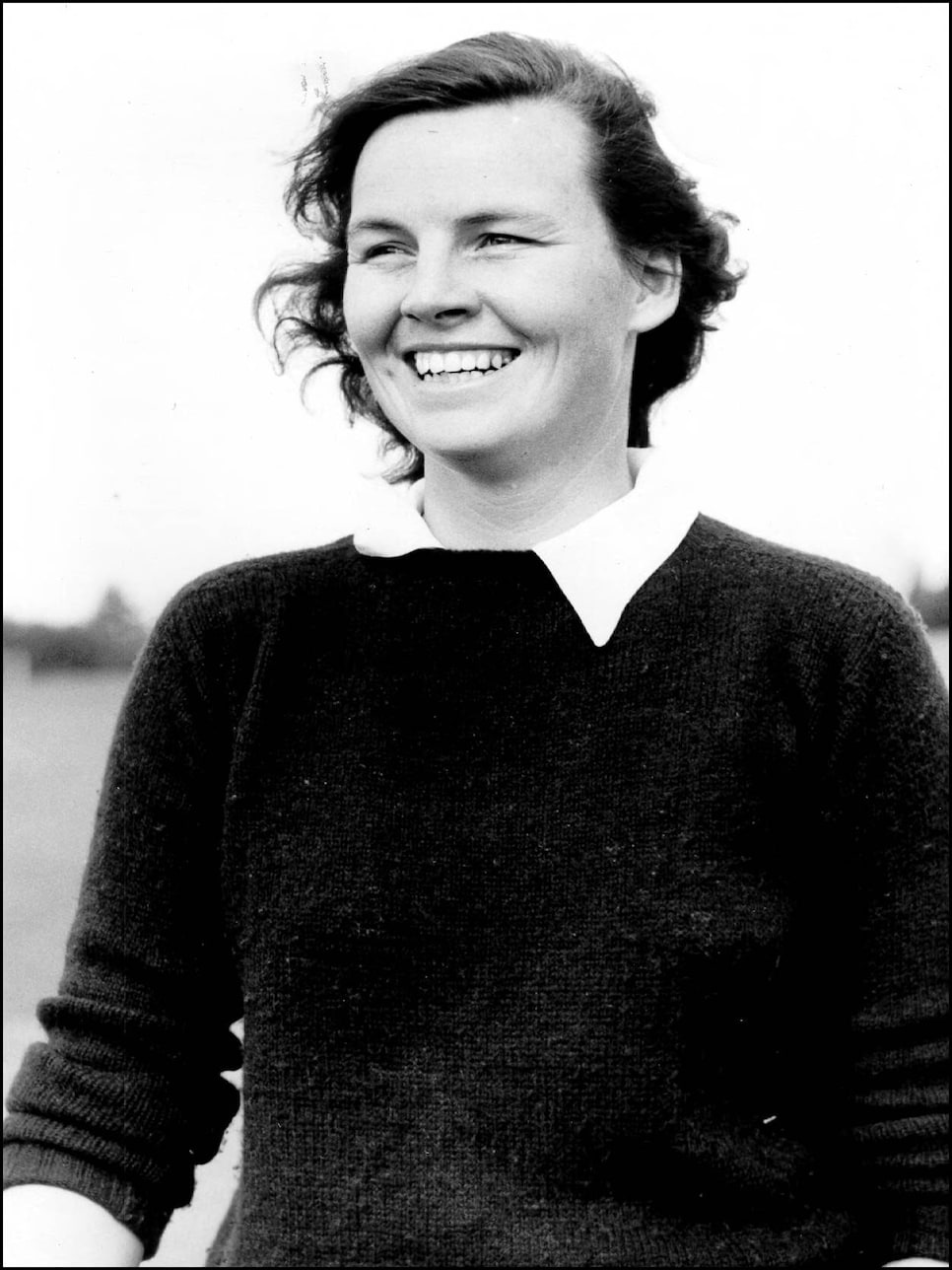 Those lucky enough to be around golf a lot also have the good fortune of knowing a lot of golf people. "Golf person" is a specific designation for me. Not all golfers are necessarily good people (though their overall batting average is high). And being a golfer doesn't automatically make someone a golf person.
In my mental shorthand, golf people, besides loving the game (or perhaps in part because they do love the game) are some blend of interesting, generous, open-minded, wise and fun. Many of them play the game well—which helps foster a poignant perspective that comes from finding value in losing—but it's not a requirement. Mainly, their close connection to playing keeps the child within more vitally alive.
Peggy Kirk Bell, who died peacefully last week at age 95 in her home next to the 18th fairway at Pine Needles Lodge & Golf Club in Southern Pines, N.C., was a quintessential golf person.
She came to the game relatively late, at 17, but with talent and verve. She won three Ohio Women's Amateurs, the 1949 Women's North and South Amateur and made the 1950 Curtis Cup team. After turning professional as a charter member of the LPGA, she won the 1951 Augusta Titleholders.
In 1953, she married Warren (Bullet) Bell, a former ball-handling guard for the Fort Wayne Pistons of the early NBA, and the couple purchased and ran Pine Needles until Bullet's death in 1984. With the help of her three children and their spouses, Peggy continued as owner and in 1994 purchased the adjoining Mid Pines Inn & Golf Club. The two Donald Ross originals (both recently updated by Kyle Franz) and their warm, unaffected lodgings and gracious staffs have become as authentic a center of the best things in golf as there is in America.
Like her friend and neighbor, the broadcaster John Derr, who died last year at 97, Bell possessed a "Zelig" quality. She quickly became close friends with Babe Didrikson Zaharias, with whom she teamed to win the 1947 International Four-Ball Championship. Rather than being put off by the Babe's bombast and physical gifts like many other competitors, Bell was drawn to the kind, softer person within. She named Zaharias the godmother of her first born, and joined the Babe for her last round of golf, nine holes at Tampa Country Club in early 1956, eight months before Zaharias succumbed to cancer. Of that round, Bell liked to tell the story of the Babe, her illness having robbed her of dozens of yards off the tee, drolly zinging her by saying, "Peggy, you sure are a great golfer. How can you break 80 hitting it so short?"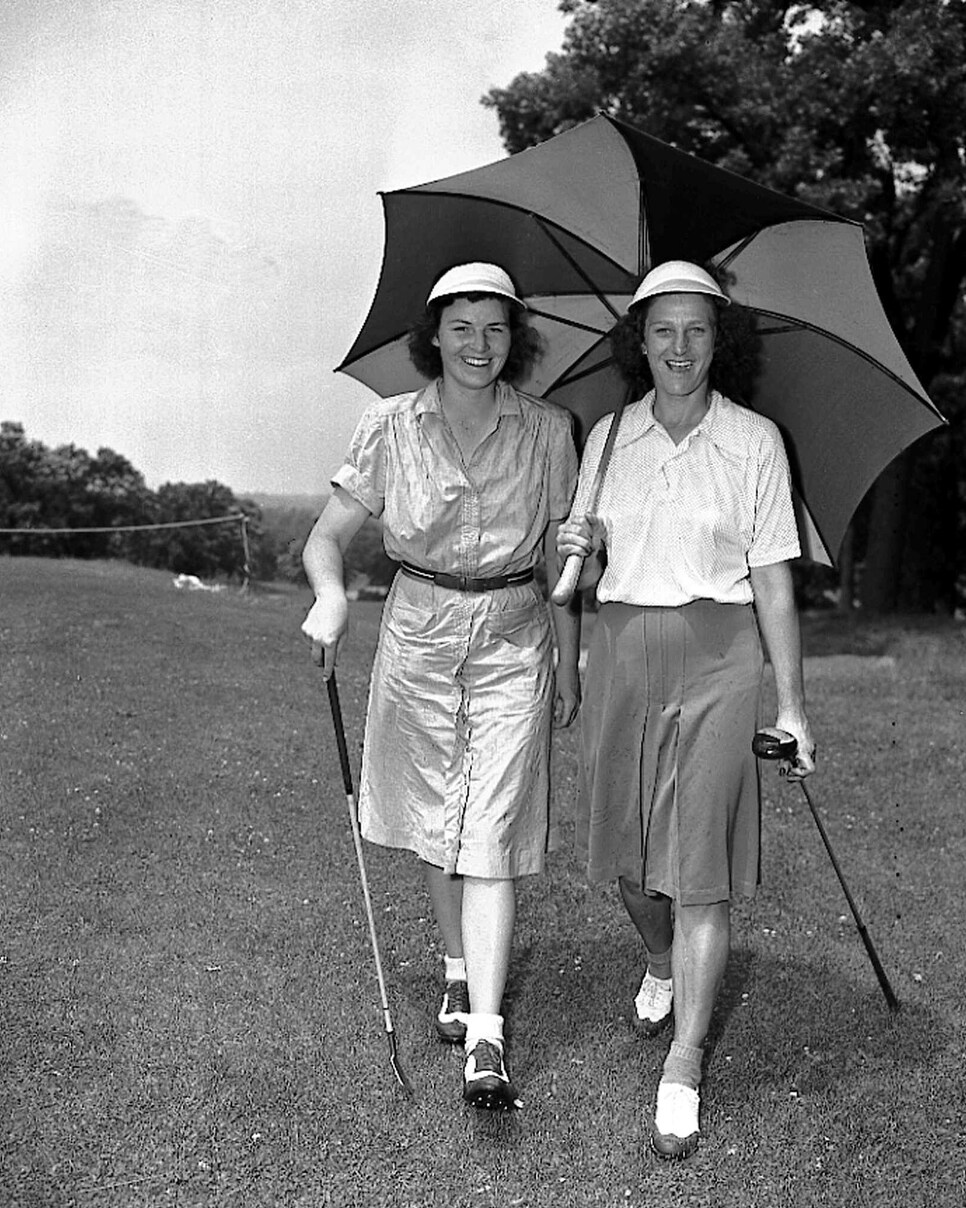 Bell was the first woman who flew her own plane to tournaments, getting her pilot's license and buying a Cessna 170 for $8,000 in 1952. Being a pilot and liking people were two things she shared with her friend, Arnold Palmer. The Palmers often stayed at Pine Needles, with Winnie Palmer channeling its rustic charm in shaping the atmosphere at Bay Hill.
Bell was also friends with Ben Hogan, who in 1947 helped her with her grip and confided that he was in the process of perfecting a fade, Byron Nelson and Jack Nicklaus, who made her a member of his Captain's Club at Muirfield Village. Among women players, Bell was tight with Patty Berg, Nancy Lopez, Annika Sorenstam and Cristie Kerr.
"Peggy had so many points of contact," said former LPGA commissioner Charlie Mechem. "She was a fine player, a pilot, a course owner, a great teacher. Those things impressed everyone, including the icons. Because they have not done all that she had done."
Bell was the winner of the USGA's Bob Jones Award in 1990 and an inductee into seven halls of fame, but it was as a teacher that she made her greatest contribution. After starting one of the country's first golf schools at Pine Needles, she began running five-day group lessons she called "Golfaris" for women to learn the game. More than 20,000 women have gone through the programs, many more than once.
"Peggy was a wonderful teacher because she knew how to make the instruction environment had to be stress free," says Michael Hebron, a master PGA professional who taught at many Golfaris. "She had great patience, a lot of stamina, and she understood that the spirit of the game is a social experience. People were comfortable coming back, because they knew they were going to have fun."
Having been a good player, Bell was harder on herself and driven by the mystery of the golf swing. Her son-in-law, 1978 PGA Tour rookie-of-the-year Pat McGowan, on occasion would see Ma Bell make impromptu 300-yard trips in her 1964 Lincoln convertible from her home to Pine Needles' expansive practice range, as if, well, she owned the place.
"She'd be watching NFL football, which she was passionate about," McGowan says, "but then she'd get a swing idea that she had to work out right then, and get in that huge car with the suicide doors and drive straight across the first and 18th fairways. When she got to the range, she'd brake with a big hook slide that sent pine straw flying, and hit maybe 10 balls with a 7-iron. She'd have figured something out, and she'd drive back the same way and watch the game. That was her—enthusiastic, curious, driven, always fun."
Those qualities were contagious. "We used to call her 'The Great One,' because she started getting all these awards, but she would just laugh it off," McGowan says. "Actually, everyone else was a big deal to Peggy Kirk Bell, unless they started acting like a big deal. When she was around Donald Trump at a tournament a few years ago, everyone was asking for his autograph. So he asks Peggy, 'Do you want my autograph?' She looks at him and goes, 'No.' "
One of Bell's favorite stories about Zaharias said a lot about her own life. After trying unsuccessfully to get the Babe to talk about her medal-winning performances at the 1932 Olympics, Zaharias finally turned to Bell and said, "Golf is my game. It puts me with nice people."