The Loop
Here's why Jordan Spieth wasn't penalized on the seventh hole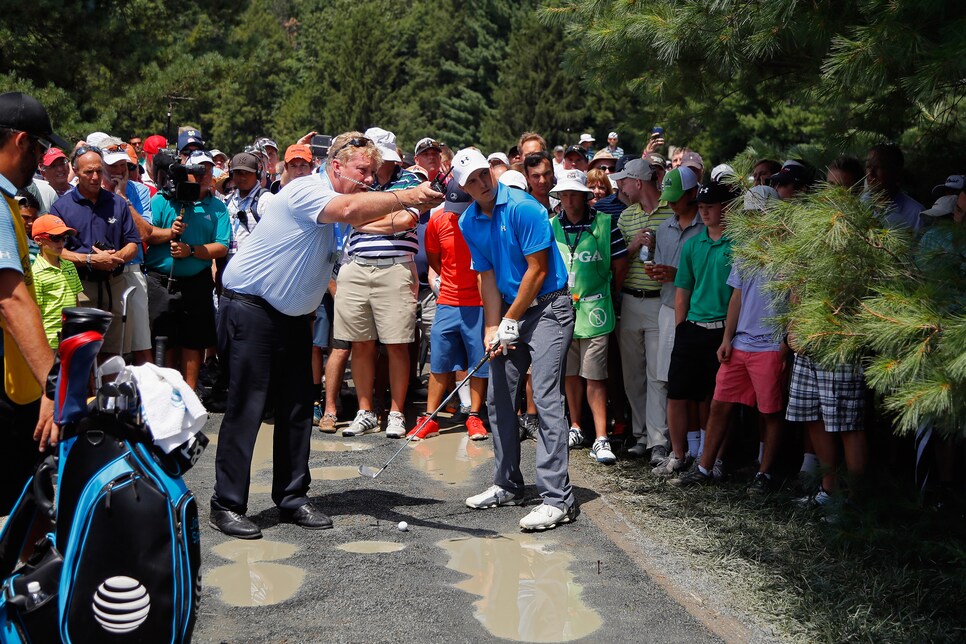 SPRINGFIELD, N.J. -- Another major, another rules controversy. If nothing else, watching professional golf these days is an education in every obscure situation in the book.
So it was Friday at Baltusrol, when Jordan Spieth's errant tee shot on the seventh hole landed in a puddle on a gravely cart path and Spieth opted to take a free drop under Rule 25: Abnormal ground conditions. Spieth spent close to 10 minutes weighing his options with rules officials, and he ultimately took a drop in which his ball rested on the cart path, but with his left foot hovering over the puddle.
On TV and on social media, the question arose over whether Spieth's drop entailed "full relief" because the same puddle he had taken relief from now seemed to be interfering with his stance.
Asked about the drop after his three-under par 67, Spieth said rules officials permitted the drop because he had altered his stance and his angle at the flagstick.
"Ultimately I still ended up playing with a toe in the water," Spieth said. "Because of the angle had changed from the angle of my stance looking at the pin, he said he was very happy with it, that it was relief and I was altering my stance to play a different shot, which is true."
According to a USGA rules official, Spieth's drop Friday at the PGA was permissible not only because of his altered stance, but because his foot was sufficiently out of the puddle.
"The margin for casual water is different than for out of bounds. If his foot is just hanging over the puddle, he has complete relief," the official said. "I didn't see any ripples."
For his part, Spieth said he didn't think much of the drop on seven until the round was over and he faced questions from reporters. He added there were no further discussions with rules officials.
"I would have never hit it if I was not told it was OK by a rules official," Spieth said. "He told me it was fine. Really don't know why we're talking about it to be honest."
UPDATE: The PGA of America released the following statement regarding Spieth's drop:
Jordan Spieth Ruling – Hole #7
Jordan Spieth's ball came to rest in casual water on an artificially surfaced path. He called for a Rules Official and Brad Gregory, former PGA of America Rules Chair, was present to provide help.
Jordan selected a club and deomstrated a swing and direction that he would have used, if there were no casual water present (Decision 24-2b/1). This stroke and direction was toward the hole. After going thru the relief procedure, the ball was in play on the artificially surfaced path and clear from his stance and swing for the direction and type of shot he originally chose to play. Once the ball wass dropped and in play, Jordan had the option to select another type of stroke or another type of club to actually play the shot and he chose to play a stroke to the right of a tree in an attempt to try to hook the ball toward the green.
In this case, Jordan elected to play in a different direction of play based on Decision 20-2c/0.8. Jordan was entitled to either play the bal as it lay, even if his stance was still in the casual water or, he could have elected to take relief again from the casual water under this different type of stroke that he then elected to play.