The Loop
Here's why Dustin Johnson wasn't penalized when his ball moved (UPDATE: Johnson DID get penalized)
UPDATE, 6:23 p.m.: Dustin Johnson was informed on the 12th tee of the final round by the USGA's Jeff Hall that he may still be penalized for his ball moving on the fifth green. Hall then appeared on Fox's telecast to explain the situation. Essentially, the USGA deemed that Johnson may have caused his ball to move -- the original ruling was that he didn't and he wasn't assessed a one-stroke penalty. Hall said Johnson will be asked to review the clip after he finishes his round before a final decision is made, but he hinted Johnson might have that penalty added to his score. The other golfers on the course have been notified of the situation. Stay tuned.
UPDATE, 8:30 p.m.: After making a closing birdie to guarantee his first major championship, Johnson reviewed a replay of what happened on the fifth hole and was assessed the one-stroke penalty. Fortunately, it didn't affect the result. Even with the dropped stroke, Johnson finished at four under, three shots clear of Shane Lowry, Scott Piercy and Jim Furyk.
Here is our original post from earlier this afternoon explaining the difference between Johnson's situation and the situation Shane Lowry faced yesterday:
Dustin Johnson is no stranger to rules controversies in final rounds of major championships, but he avoided another ill-timed infraction on Sunday at Oakmont. Barely.
After missing a birdie putt on the fifth hole, Johnson stepped in for his short par attempt. But right as he got set to hit his next putt, he backed away and announced his ball had moved. Here's Johnson about to set his putter down behind the ball: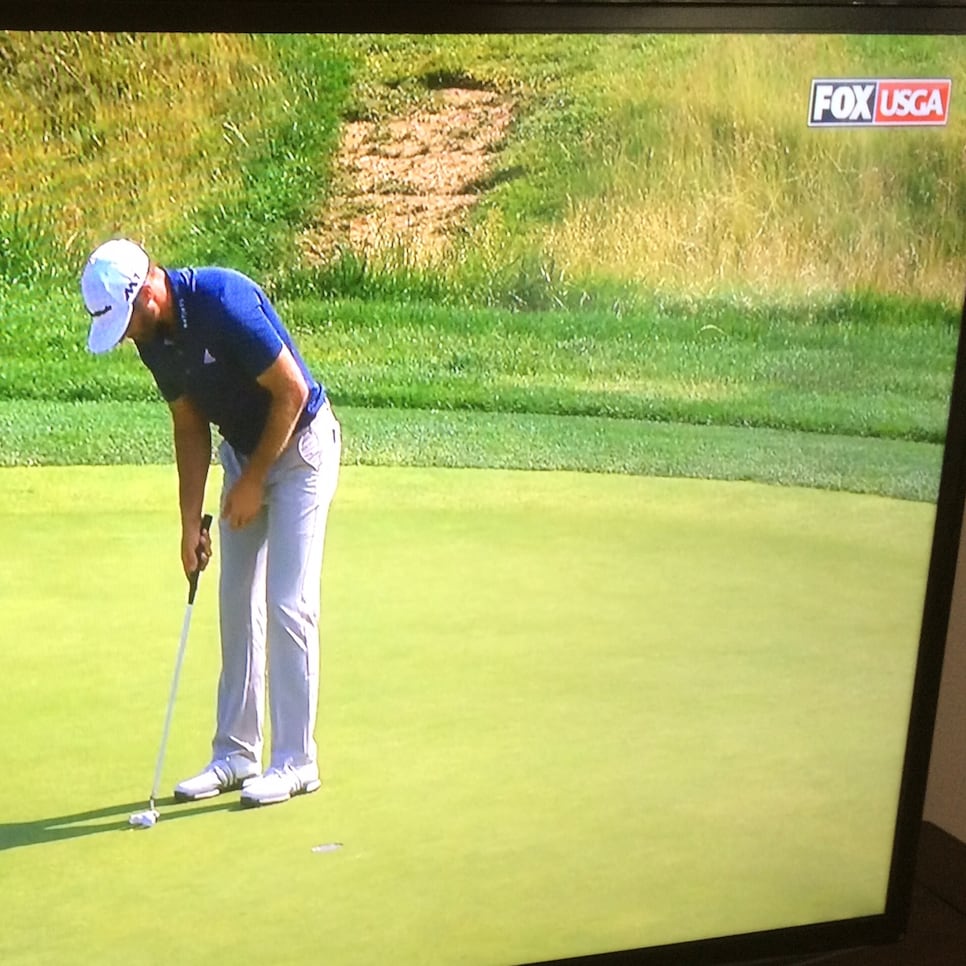 Here's him pulling it back: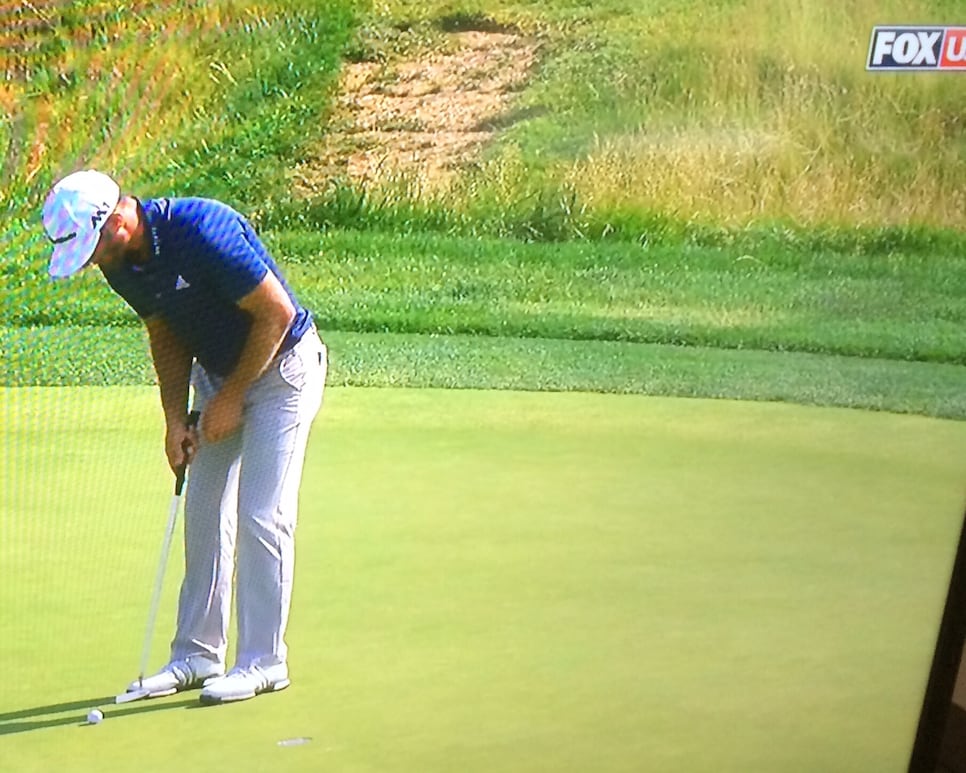 And here's him looking around for help: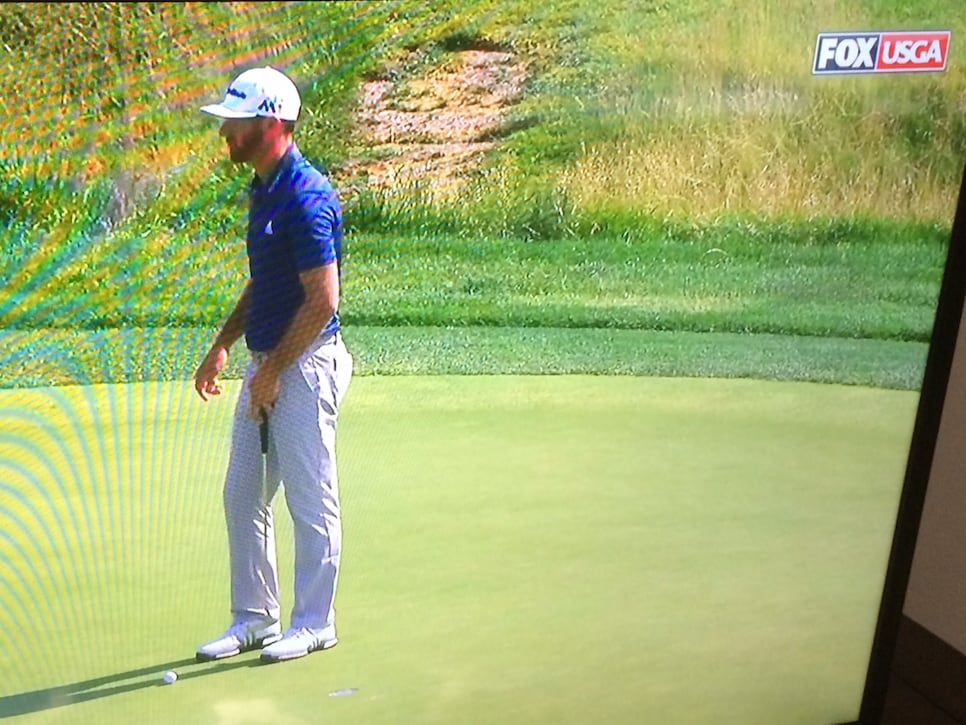 A rules official came in and after a brief discussion in which Johnson explained he hadn't grounded his club when addressing his ball (playing partner Lee Westwood backed him up and so did the slow-mo replay), it was determined that he wouldn't be assessed a penalty. The key to Rule 18-2 is not if the player grounded the club, but whether if "it is known or virtually certain that he did not cause the ball to move." Since it was determined on the spot that Johnson didn't cause the ball to move, he putted his ball from the new spot and converted the par to stay two shots behind leader Shane Lowry.
What makes the situation even more interesting is the fact that Lowry had a similar situation on the 16th hole of his second round on Saturday.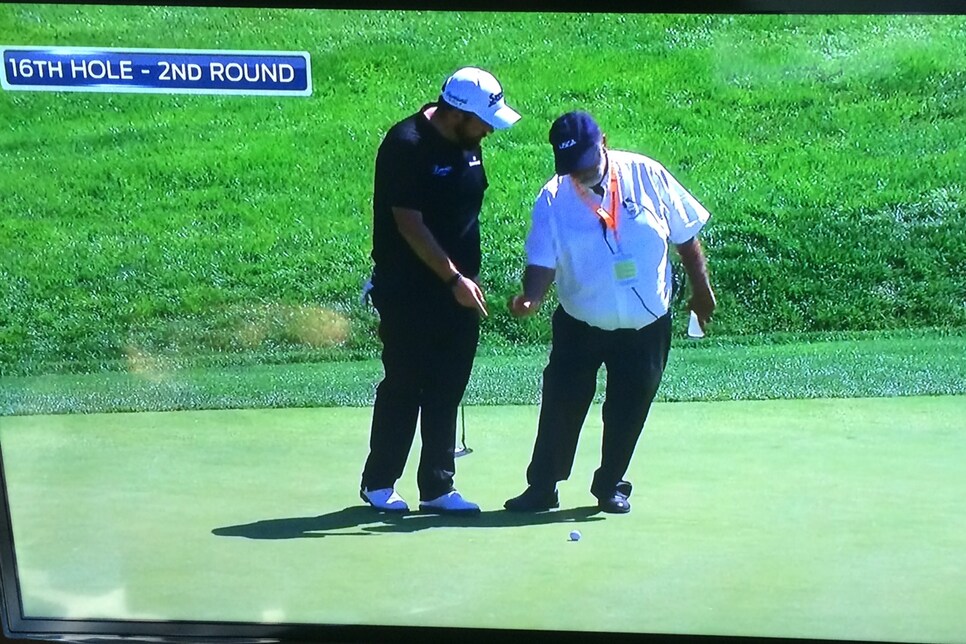 Lowry, however, told the official he had grounded his club before his birdie attempt and that he felt he had caused it to move. He was assessed a one-shot penalty and two-putted for bogey.
Rule 18-2 was revised in 2012 after Webb Simpson lost the Zurich Classic by a stroke in 2011 when wind moved his ball on the green as he addressed it. In 2016, it was changed again to simply say, "the application of a penalty under Rule 18-2 will be based solely on whether you caused your ball to move." Prior to those revisions, any movement of a ball at rest on the green -- no matter the cause -- was deemed the player's fault and an automatic one-shot penalty.