Here's the final FedEx Cup prize money payout for each golfer at the 2019 Tour Championship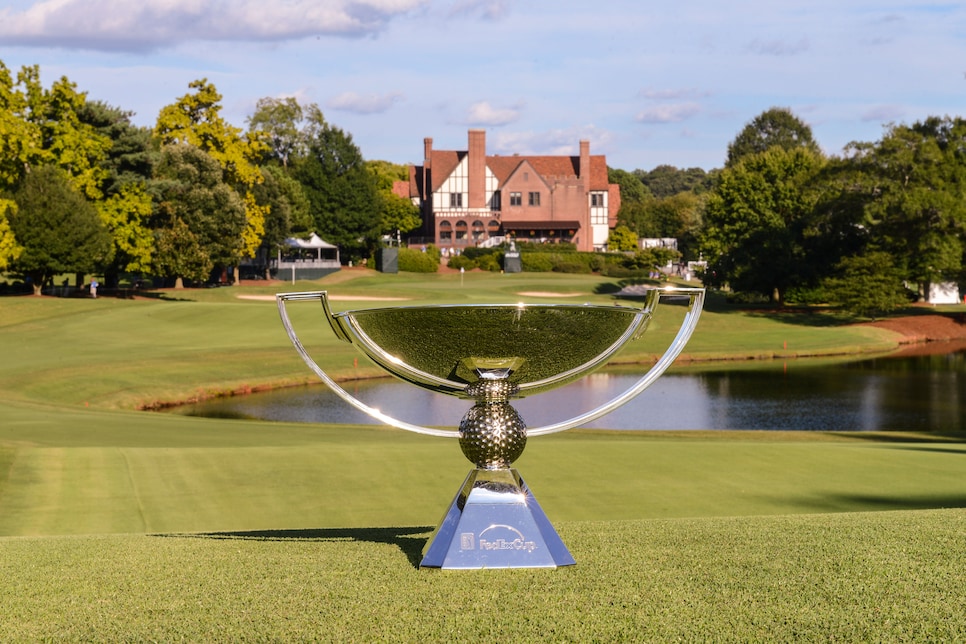 Rory McIlroy, the man who'd walk away with the $15 million first prize on Sunday, made a point during his Wednesday press conference on the eve of the Tour Championship to state that a tournament's legacy is not built on prize money alone. In theory, he's got a point; an event's prestige can't be "bought" if you will. It's more organic than that. However, when the four-time major champion asks rhetorically whether anyone knows what the winner of the Masters wins, we think he'd be surprised with how many people can say $2 million without much prompting. (OK, $2,070,000 to be really specific.)
Perhaps players might not be focused on how much money is up for grabs at golf's big events, but a good number of golf fans do, which brings us to the prize money breakdown for this week's FedEx Cup finale, the Tour Championship. As part of the revamping of the format used to determine the one true winner of the event—adding the stroke-adjustment to players' scores—the amount of money that will be up for grabs has changed, and we'll let you guess which way it went. Yep, up.
After 12 years of the FedEx Cup overall prize pool being a steady $35 million, with $10 million going to the winner, this year the numbers jumped to $60 million and $15 million. The increase comes in part thanks to the trade-off of revamping the format for the Tour Championship, where, unlike in the past, there was no prize money paid out for the tournament proper.
Here then is the prize money breakdown for each golfer in the final FedEx Cup standings after the conclusion of the Tour Championship on Sunday. As with regular PGA Tour events, money is split equally among players if there are ties for different places in this last event of the 2018-'19 PGA Tour season.
Win: Rory McIlroy, $15,000,000
2: Xander Schauffele, -14, $5,000,000
T-3: Justin Thomas, -13, $3,500,000
T-3: Brooks Koepka, -13, $3,500,000
5: Paul Casey, -9, $2,500,000
6: Adam Scott, -8, $1,900,000
7: Tony Finau, -7, $1,300,000
8: Chez Reavie, -6, $1,100,000
T-9: Patrick Reed, -5, $843,333.33
T-9: Hideki Matsuyama, -5, $843,333.33
T-9: Kevin Kisner, -5, $843,333.33
T-12: Bryson DeChambeau, -4, $682,500
T-12: Jon Rahm, -4, $682,500
14: Jason Kokrak, -3, $620,000
15: Gary Woodland, -2, $595,000
T-16: Tommy Fleetwood, -1, $551,666.67
T-16: Webb Simpson, -1, $551,666.67
T-16: Matt Kuchar, -1, $551,666.67
T-19: Singjae Im, E, $512,500
T-19: Rickie Fowler, E, $512,500
T-21: Louis Oosthuizen, +1, $478,000
T-21: Abraham Ancer, +1, $478,000
T-21: Patrick Cantlay, +1, $478,000
T-24: Marc Leishman, +2, $450,500
T-24: Brandt Snedeker, +2, $450,500
T-26: Justin Rose, +3, $430,000
T-26: Corey Conners, +3, $430,000
28: Charles Howell III, +4, $415,000
T-29: Dustin Johnson, +10, $400,000
T-29: Lucas Glover, +10, $400,000
You are using an unsupported version of Internet Explorer. Please upgrade to Internet Explorer 11 or use a different web browser.