The Loop
Here's a list of fun prop bets for Tiger Woods' return to the PGA Tour
In fact, there's a whole list of Tiger prop bets for fans to wager on, courtesy of Bovada, if Woods does tee it up at Silverado Resort and Spa. Check it out: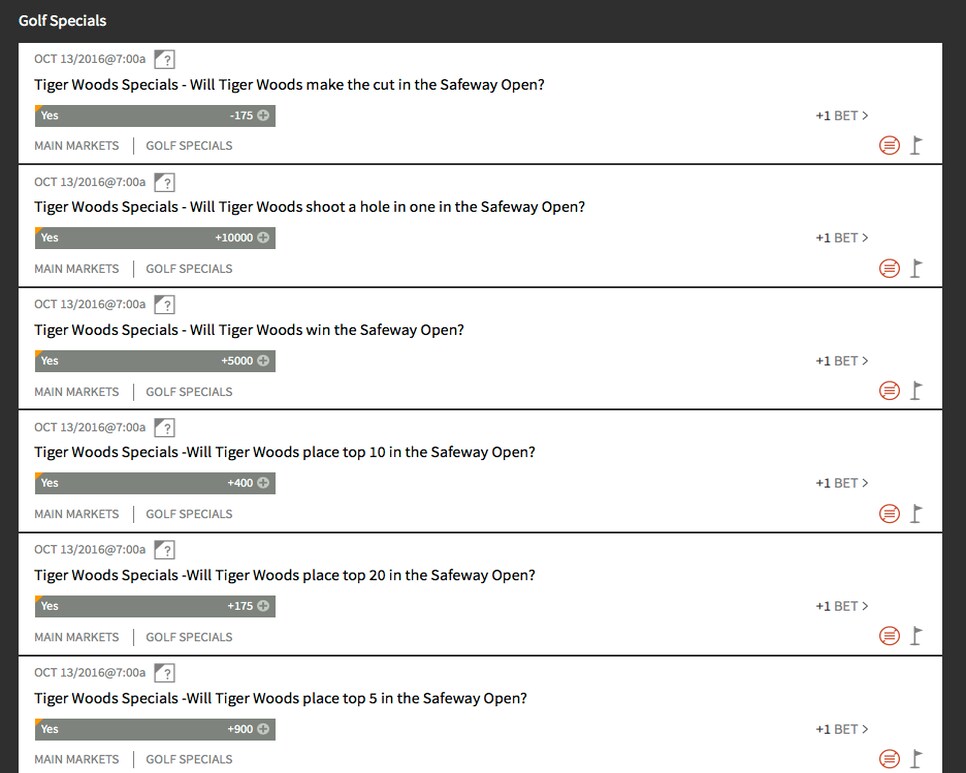 Let's start with the ridiculous. Tiger Woods, a man who hasn't played a tournament round in more than a year (Has he even played ANY round in more than a year?) and who is recovering from two off-season back surgeries, is NOT going to win the Safeway Open. Even at 50-to-1 odds (+5000 means you wager $100 to win $5,000), you are lighting your money on fire. Heck, we'd rather make the hole-in-one bet at 100/1. (Side note: All bets are void if Woods doesn't play.)
The other bets (9/1 for a top 5, 4/1 for a top 10 and 7/4 for a top 20) are more interesting, although they still seem a bit optimistic for a guy who has spent way more time on the couch than the course the past 13 months. As is the -175 (Wager $175 to win $100) on Woods making the cut. It seems like Woods making it to the weekend in Napa would be a victory in itself.
Then again, Woods has been patient with this latest recovery from injury. One would have to assume he'd only play if he's ready and he's not looking to embarrass himself. And we're talking about Tiger Woods, a 14-time major champ, playing in the Safeway Open. OK, I may have just talked myself into that last one. . .