U.S. Women's Open
Here's why some players are sporting new logos this week at the Women's U.S. Open
If you look closely you'll notice a few new logos on some of your favorite players this week at the U.S. Women's Open—here's why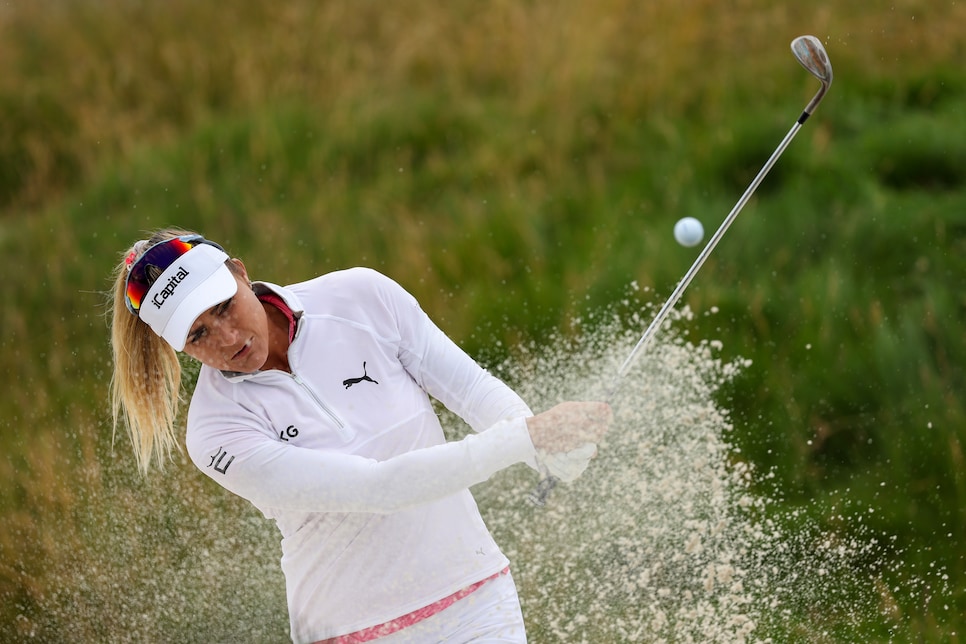 Lexi Thompson plays a shot from a bunker on the 17th hole prior to the 78th U.S. Women's Open.
Harry How
Tour pros are no strangers to sponsor logos. Most of the time the prime real estate on tour players (shirts, hats and bags) is taken up by larger companies that are able to shell out some big bucks for a little extra publicity. But this week at the Women's U.S. Open we're seeing something different.
Seven of the top LPGA players will be wearing logos this week to promote locally owned and operated businesses in the Pebble Beach area.
Lydia Ko, Lexi Thompson, Georgia Hall, Celine Boutier, Gaby Lopez, Mina Harigae and Gabi Ruffels are all teaming up with American Express to be part of their small business spotlight, an initiative that was first introduced during the 2022 Women's U.S. Open at Southern Pines.
"I'm really excited to be a part of this initiative," Boutier says, "and to help highlight and grow local businesses that are driving forces in the community."
This is Boutier's second year being part of the program, along with Ko, Lopez and Thompson.
American Express purchased the logo space and worked with players to find locally owned businesses that align with their personal interests.
"Last year was my first year and they were able to connect me with a business that was exciting to me," Boutier says.
"I really like food and I was able to partner with C. Cups Cupcakery," Boutier says, "and it was really cool to visit their store, try their cupcakes and promote their business as I was genuinely excited about their product."
This year, Boutier will be sporting Carmel Valley Roasting Company, a local small-batch organic coffee roaster. "I'm super excited to check it out myself, have a coffee and be able to genuinely appreciate these local businesses," she said.
Thompson's driver headcover will feature a logo from Diggidy Dog, a Carmel-based dog and cat boutique, and says she chose this business because of how much of an impact her Havapoo, Leo, has had on her personal life and golf game.
Ko will rep The Treadmill, a locally owned and operated athleisure apparel store, on the side of her hat and said she's also excited to stop by and check out the store.
"It's the second year that I'll be a part of this program, which is really cool," Ko said, "and their shop is really relatable to me, as I love hiking and one of my favorite things to do in my off time is work out."
As for the other players in the program, Georgia Hall will feature a logo from Lafayette Bakery and Cafe on the sleeve of her shirt, Gaby Lopez will spotlight a logo from Tancredi & Morgen on the side of her hat and Gabi Ruffels will don a Lula's Chocolates logo on her golf bag. Lula's Chocolates and Lafayette Bakery & Cafe will also be participating in a Gift with Purchase promotion as part of the program from July 6-9.
However, our favorite might just be Mina Harigae's logo, as she's wearing the logo from her parent's restaurant, Takara Sushi, located in Pacific Grove, on the sleeve of her shirt.