Payday at SentryWorld
Here's the prize money payout for each golfer at the 2023 U.S. Senior Open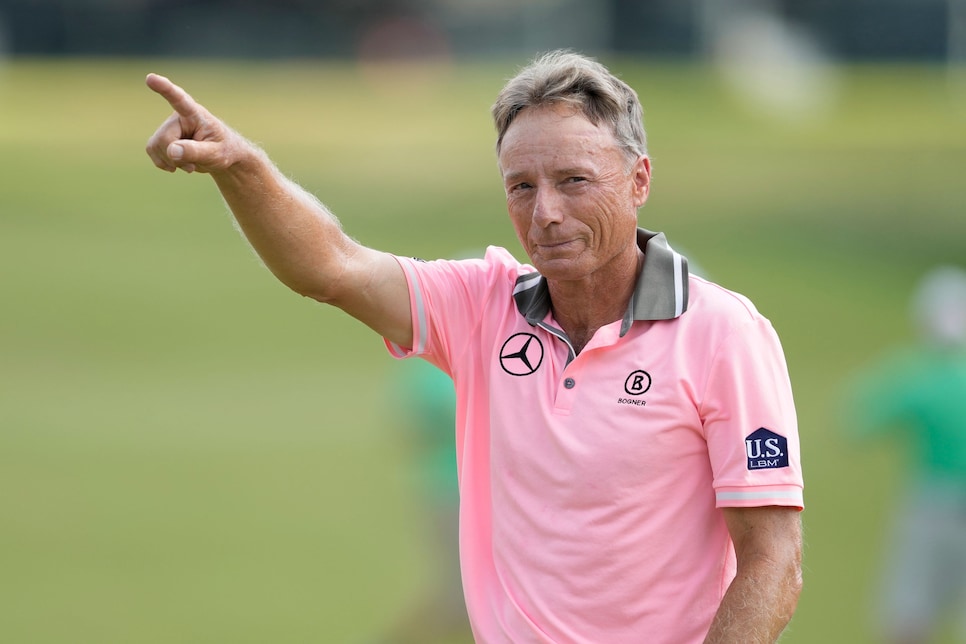 Just when you thought Bernhard Langer was done surprising people with what he could do on the golf course comes his performance at the 43rd U.S. Senior Open. The 65-year-old German, on the precipice of becoming the all-time winningest golfer in PGA Tour Champions history, cruised to a two-shot victory over Steve Stricker Sunday at SentryWorld in Wisconsin, a margin that is deceiving when he was up by seven strokes at one point early in the back nine.
With a one-under 70 on Sunday after bogeys on the final three holes, Langer posted a seven-under 277 total that gave him his 46th senior title, passing Hale Irwin, who he had shared the mark with since February. In the process, Langer won a senior major for the 12th time, and became the oldest winner of the U.S. Senior Open by eight years, passing Allen Doyle's previous mark of being just shy of his 58th birthday when he won in 2006 at NCR Country Club.
With the win, Langer also claimed the first-place prize money payout of $720,000 from an overall purse awarded by the USGA of $4 million. Here's the prize money payouts for each golfer how made the cut in Wisconsin.
Win: Bernhard Langer, 277/-7, $720,000
2: Steve Stricker, 279/-5, $432,000
3: Jerry Kelly, 280/-4, $267,672
T-4: Rob Labritz, 282/-2, $171,954
T-4: Brett Quigley, 282/-2, $171,954
T-6: Steven Alker, 283/-1, $125,127
T-6: Retief Goosen, 283/-1, $125,127
T-6: Dicky Pride, 283/-1, $125,127
T-9: Alex Cejka, 284/E, $97,136
T-9: Y.E. Yang, 284/E, $97,136
11: K.J. Choi, 285/+1, $84,880
T-12: Joe Durant, 287/+3, $75,805
T-12: Ernie Els, 287/+3, $75,805
T-14: Craig Barlow, 288/+4, $62,932
T-14: Miguel Angel Jiménez, 288/+4, $62,932
T-14: Justin Leonard, 288/+4, $62,932
17: Tom Gillis, 289/+5, $55,419
T-18: Bob Estes, 290/+6, $46,026
T-18: Padraig Harrington, 290/+6, $46,026
T-18: Vijay Singh, 290/+6, $46,026
T-18: Paul Stankowski, 290/+6, $46,026
T-18: David Toms, 290/+6, $46,026
T-23: Paul Broadhurst, 291/+7, $34,089
T-23: Tim Herron, 291/+7, $34,089
T-23: Lee Janzen, 291/+7, $34,089
T-23: Colin Montgomerie, 291/+7, $34,089
T-27: Billy Andrade, 292/+8, $27,134
T-27: Dave Cunningham, 292/+8, $27,134
T-27: Paul Goydos, 292/+8, $27,134
T-27: Richard Green, 292/+8, $27,134
T-27: Rod Pampling, 292/+8, $27,134
T-32: Darren Clarke, 293/+9, $22,337
T-32: Harrison Frazar, 293/+9, $22,337
T-32: Jeff Maggert, 293/+9, $22,337
T-35: David Branshaw, 294/+10, $19,452
T-35: James Kingston, 294/+10, $19,452
T-35: Mike Weir, 294/+10, $19,452
T-38: Phillip Archer, 295/+11, $16,582
T-38: Clark Dennis, 295/+11, $16,582
T-38: Jeff Gove, 295/+11, $16,582
T-38: Bob Sowards, 295/+11, $16,582
T-42: Alan McLean, 296/+12, $13,362
T-42: Michael Muehr, 296/+12, $13,362
T-42: Phillip Price, 296/+12, $13,362
T-42: Ken Tanigawa, 296/+12, $13,362
T-42: Mark Strickland, 296/+12, Amateur
T-47: Hiroyuki Fujita, 297/+13, $10,719
T-47: Mark Hensby, 297/+13, $10,719
T-47: Mike Small, 297/+13, $10,719
50: Joakim Haeggman, 298/+14, $9,618
T-51: Stephen Ames, 300/+16, $8,822
T-51: Adilson da Silva, 300/+16, $8,822
T-51: John Huston, 300/+16, $8,822
T-51: Mark O'Meara, 300/+16, $8,822
T-51: Tom Pernice Jr., 300/+16, $8,822
56: Brad Adamonis, 301/+17, $8,451
T-57: Woody Austin, 302/+18, $8,290
T-57: Marco Dawson, 302/+18, $8,290
T-57: Keiichiro Fukabori, 302/+18, $8,290
T-60: Jesús Amaya, 304/+20, $8,009
T-60: Tom Lehman, 304/+20, $8,009
T-60: Kenny Perry, 304/+20, $8,009
T-60: Kirk Triplett, 304/+20, $8,009
T-60: Christian Raynor, 304/+20, Amateur
65: Takashi Kanemoto, 305/+21, $7,807
66: Harry Rudolph, 308/+24, $7,714