Payday at Wilshire
Here's the prize money payout for each golfer at the 2023 JM Eagle L.A. Championship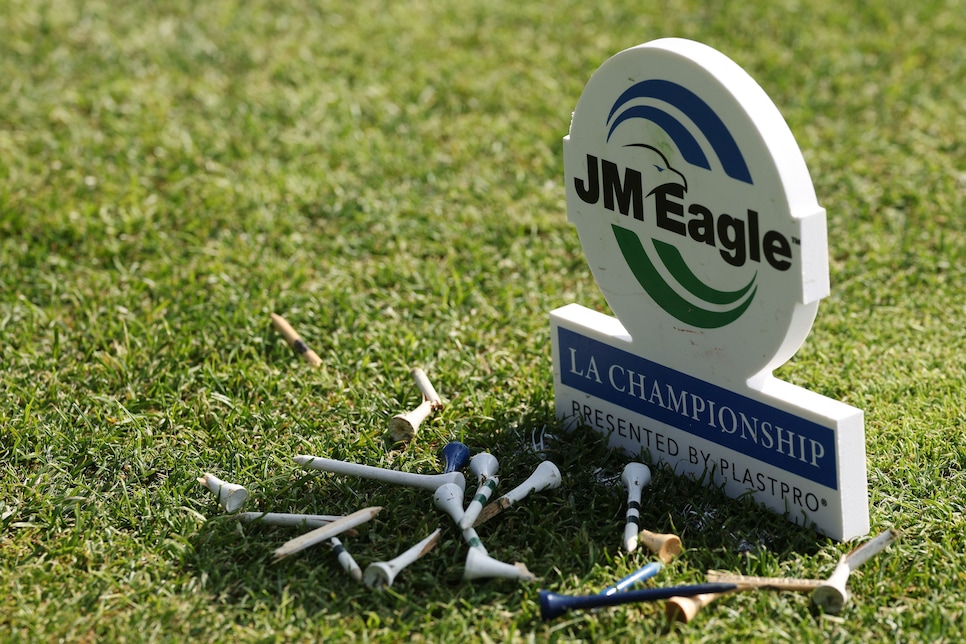 A birdie on the par-3 18th hole at Wilshire Country Club allowed Australia's Hannah Green to claim her spot in a three-woman playoff at the LPGA's JM Eagle L.A. Championship along with India's Aditi Ashok and China's Xiyu Lin.
And a birdie on the par-3 18th allowed Green to advance to a second hole, along with Lin
And while a birdie on the par-3 18th would have clinched the title for the 26-year-old Australian, a par did the trick as Green claimed her third career LPGA victory but her first since 2019.
"It's been a long few years," said an emotional Green after the win. "I played really well last year, but getting across the line has been difficult."
Green stayed patient on Sunday as birdie putts were hard to come by early. After 14 straight pars to open the round, she finally made a birdie on the par-5 15th hole. Then on the 18th, she rolled in a 25-footer to close out a two-under 69 for a nine-under 275 total.
Both Ashok and Lin also birdied the 72nd hole, to send the event into a playoff. Ashok missed a 12-foot birdie try on the first extra hole as she was attempting to become the first woman from India to win an LPGA event. Lin, meanwhile, rolled in a six-footer while Green made a four-footer to get to playoff hole No. 2.
Lin's tee shot this time came up short in a greenside bunker, and she just got her ball on to the green with her second shot. Green cozied her birdie effort to 18 inches and when Lin couldn't hole her par saving putt from 25 feet, Green had the title wrapped up.
With the victory, Green grabbed the first-place check of $450,000 from the overall purse of $3 million. Here's the prize money payouts for everybody who made the cut this week in L.A. Come back shortly after the tournament and we'll update the names and the individual paydays.
Win: Hannah Green, -9, $450,000
P-2: Xiyu Lin, -9 $242,747
P-2: Aditi Ashok, -9 $242,747
T-4: Ayaka Furue, -8, $142,497
T-4: Ruoning Yin, -8, $142,497
T-6: Nelly Korda, -7, $89,094
T-6: Hae Ran Ryu, -7, $89,094
T-6: Cheyenne Knight, -7, $89,094
T-9: Jaravee Boonchant, -6, $65,472
T-9: Alison Lee, -6, $65,472
T-11: Chella Choi, -5, $55,842
T-11: Nasa Hataoka, -5, $55,842
T-13: Stacy Lewis, -4, $46,215
T-13: Narin An, -4, $46,215
T-13: Sarah Kemp, -4, $46,215
T-13: Gemma Dryburgh, -4, $46,215
T-17: Madeline Sagstrom, -3, $35,608
T-17: Hye-Jin Choi, -3, $35,608
T-17: Gina Kim, -3, $35,608
T-17: Yuna Nishimura, -3, $35,608
T-17: Hyo Joo Kim, -3, $35,608.29
T-17: Charley Hull, -3, $35,608.29
T-17: Perrine Delacour, -3, $35,608.29
T-24: Natthakritta Vongtaveelap, -2, $29,424
T-24: Lindsey Weaver-Wright, -2, $29,424
T-24: Ally Ewing, -2, $29,424
T-27: Pavarisa Yoktuan, -1, $24,725
T-27: Yu-Sang Hou, -1, $24,725
T-27: Emma Talley, -1, $24,725
T-27: Caroline Inglis, -1, $24,725
T-27: Ryann O'Toole, -1, $24,725
T-27: Lauren Coughlin, -1, $24,725
T-33: Lucy Li, E, $17,562
T-33: Ashleigh Buhai, E, $17,562
T-33: Amy Yang, E, $17,562
T-33: Jennifer Chang, E, $17,562
T-33: In Kyung Kim, E, $17,562
T-33: Wichanee Meechai, E, $17,562
T-33: Min Lee, E, $17,562
T-33: Hinako Shibuno, E, $17,562
T-33: Atthaya Thitikul, E, $17,562
T-33: Ines Laklalech, E, $17,562
T-44: Jin Young Ko, +1, $11,759
T-44: Angel Yin, +1, $11,759
T-44: Georgia Hall, +1, $11,759
T-44: Lizette Salas, +1, $11,759
T-44: Azahara Munoz, +1, $11,759
T-44: Eun-Hee Ji, +1, $11,759
T-44: Minjee Lee, +1, $11,759
T-44: Brittany Lincicome, +1, $11,759
T-44: Linnea Strom, +1, $11,759
T-53: Minami Katsu, +2, $9,397
T-53: Maja Stark, +2, $9,397
T-53: Stephanie Kyriacou, +2, $9,397
T-53: Pernilla Lindberg, +2, $9,397
T-57: Pornanong Phatlum, +3, $8,165
T-57: Lauren Hartlage, +3, $8,165
T-57: Marina Alex, +3, $8,165
T-57: Danielle Kang, +3, $8,165
T-61: Linnea Johannson, +4, $7,395
T-61: Hyo Joon Jang, +4, $7,395
T-61: Daniela Darquea, +4, $7,395
64: Patty Tavatanakit, +5, $7,087
65: Maude-Aimee Leblanc, +7, $6,931
T-66: Alison Emrey, +9, $6,702
T-66: Celine Borge, +9, $6,702