Payday at Superstition Mountain
Here's the prize money payout at the 2023 LPGA Drive On Championship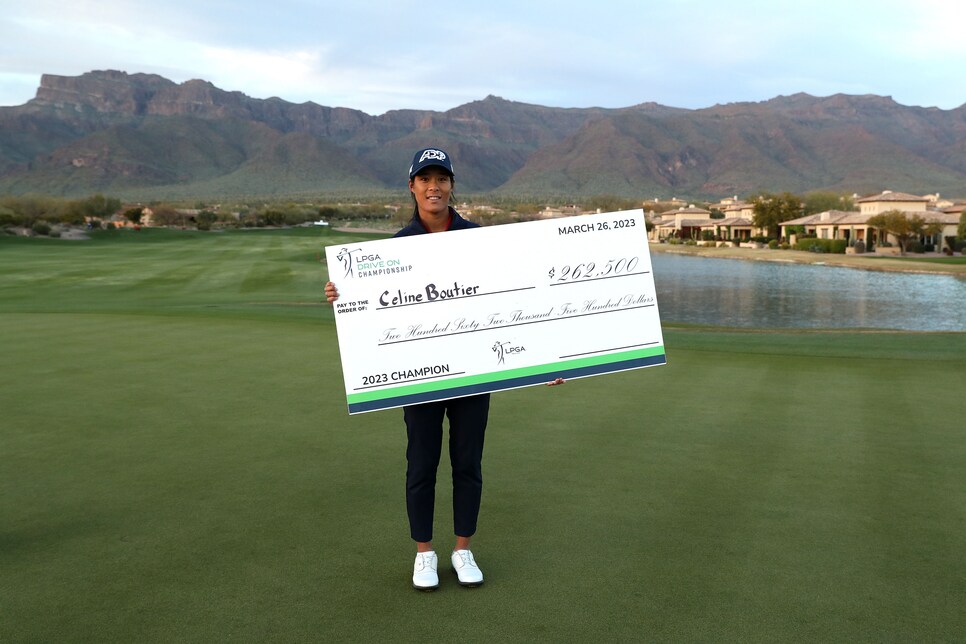 Celine Boutier made back-to-back birdies on the 18th hole at Superstition Mountain—the first to force a playoff with Georgia Hall, the second to beat her European Solheim Cup teammate—en route to victory at the LPGA Drive On Championship Sunday outside Phoenix. The 29-year-old Frenchwoman, who capped a 20-under 268 performance with a closing 68.
"It was not easy by any means. I feel like this course is very scoreable, so you know you have to make a lot of birdies," said Boutier.
It was Boutier's third career LPGA victory in her seventh season on tour, allowing her to pass Patricia Meunier-Lebouc and Anne-Marie Palli and become the all-time leading LPGA winner from France.
"It's very special," Boutier said of the milestone. "I was trying not to think about it because it was so crazy to think about making history in any way."
With the victory, Boutier claimed a first-place prize money payout of $262,500, allowing her to surpass the $4 million mark in career earnings.
The overall purse at Superstition Mountain was $1.75 million. Here's the prize money payouts from each golfer who made the cut this week in Arizona.
Win: Celine Boutier, -20, $262,500
P-2: Georgia Hall, -20, $160,458
3: Ayaka Furue, -19, $116,401
4: Narin An, -18, $90,045
T-5: Ally Ewing, -17, $65,888
T-5: Jin Young Ko, -17, $65,888
T-7: Stacy Lewis, -16, $37,185
T-7: Hinako Shibuno, -16, $37,185
T-7: Charley Hull, -16, $37,185
T-7: Lilia Vu, -16, $37,185
T-7: Maddie Szeryk, -16, $37,185
T-7: Hae Ran Ryu, -16, $37,185
T-7: Moriya Jutanugarn, -16, $37,185
T-14: Cheyenne Knight, -15, $26,267
T-14: Celine Borge, -15, $26,267
T-16: Daniela Darquea, -14, $21,159
T-16: Emily Kristine Pedersen, -14, $21,159
T-16: Ruoning Yin, -14, $21,159
T-16: Atthaya Thitikul, -14, $21,159
T-16: Amy Yang, -14, $21,159
T-16: Annie Park, -14, $21,159
T-16: Ariya Jutanugarn, -14, $21,159
T-23: Lauren Coughlin, -13, $15,022
T-23: Pernilla Lindberg, -13, $15,022
T-23: Chella Choi, -13, $15,022
T-23: Allisen Corpuz, -13, $15,022
T-23: Stephanie Meadow, -13, $15,022
T-23: Leona Maguire, -13, $15,022
T-23: Pavarisa Yoktuan, -13, $15,022
T-23: Yuka Saso, -13, $15,022
T-23: Ryann O'Toole, -13, $15,022
T-23: Sei Young Kim, -13, $15,022
T-23: Jenny Shin, -13, $15,022
T-34: Jennifer Song, -12, $10,806
T-34: Mina Harigae, -12, $10,806
T-34: Jodi Ewart Shadoff, -12, $10,806
T-34: Jennifer Kupcho, -12, $10,806
T-34: Alison Lee, -12, $10,806
T-39: Frida Kinhult, -11, $8,141
T-39: Marina Alex, -11, $8,141
T-39: Azahara Munoz, -11, $8,141
T-39: Patty Tavatanakit, -11, $8,141
T-39: Megan Khang, -11, $8,141
T-39: Xiaowen Yin, -11, $8,141
T-39: Mel Reid, -11, $8,141
T-39: Eun-Hee Ji, -11, $8,141
T-39: Gaby Lopez, -11, $8,141
T-48: Maude-Aimee Leblanc, -10, $5,827
T-48: A Lim Kim, -10, $5,827
T-48: Hannah Green, -10, $5,827
T-48: Perrine Delacour, -10, $5,827
T-48: Yaeeun Hong, -10, $5,827
T-48: Matilda Castren, -10, $5,827
T-48: In Gee Chun, -10, $5,827
T-48: Nanna Koerstz Madsen, -10, $5,827
T-48: Wei-Ling Hsu, -10, $5,827
T-57: Lizette Salas, -9, $4,586
T-57: Alexa Pano, -9, $4,586
T-57: Chanettee Wannasaen, -9, $4,586
T-57: Dana Fall, -9, $4,586
T-57: Nelly Korda, -9, $4,586
T-62: Wichanee Meechai, -8, $4,085
T-62: Yealimi Noh, -8, $4,085
T-62: Carlota Ciganda, -8, $4,085
T-62: Caroline Inglis, -8, $4,085
T-66: Gina Kim, -6, $3,822
T-66: Madelene Sagstrom, -6, $3,822
T-68: Paula Reto, -5, $3,540
T-68: Hye-Jin Choi, -5, $3,540
T-68: Brittany Lincicome, -5, $3,540
T-68: Pajaree Anannarukarn, -5, $3,540
T-68: Albane Valenzuela, -5, $3,540
73: Bronte Law, -4, $3,382
74: Minami Katsu, -3, $3,338
75: Elizabeth Szokol, -2, $3,298
76: Angel Yin, -1, $3,256