Payday at Palos Verdes
Here's the prize money payout for each golfer at the 2023 DIO Implant L.A. Open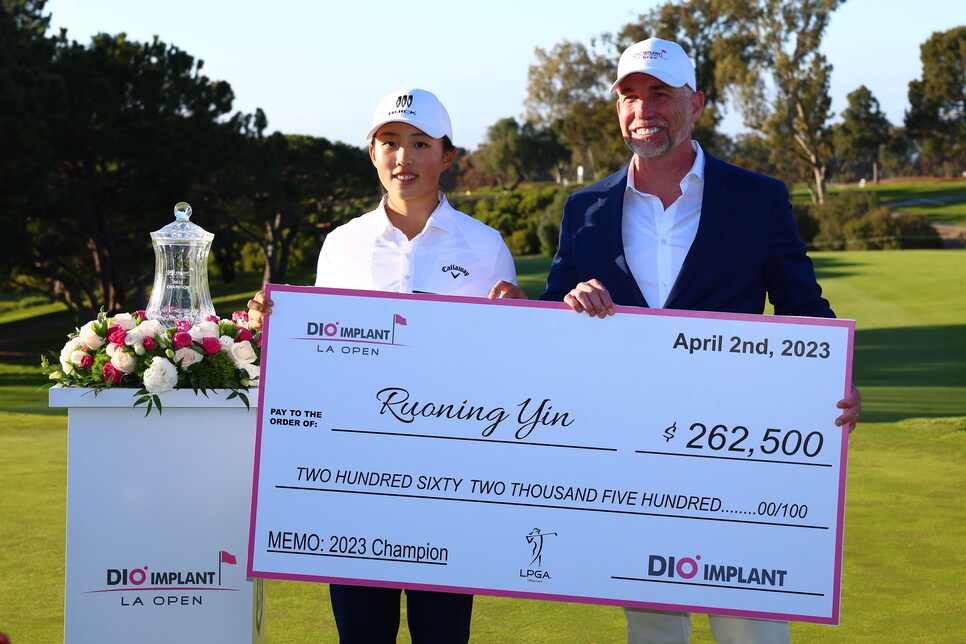 Ruoning Yin struggled during her rookie season on the LPGA Tour in 2022. In 16 starts she made just seven cuts, with just one finish inside the top 14 (T-4, Dana Open). But the 20-year-old turned all that into a distant memory on Sunday at Palos Verdes Golf Club. With a closing one-under 70, the native of China held off Georgia Hall to win the DIO Implant L.A. Open by a shot with a 72-hole score of 15-under 269 total.
Yin's maiden LPGA victory makes her the second Chinese golfer in tour history to pull out a victory, joining the now retired Shanshan Feng. Yin is also the second first-time tour winner in 2023, joining Lilia Vu.
While her LPGA résumé might have been sparse, Yin has had plenty of success in her native China, winning her first three starts on the CLPGA after turning pro in 2020.
With the victory, Yin claimed the first-place prize money payout of $262,500 from an overall purse of $1.75 million. That more than doubled Yin's career earnings on tour.
Here's the prize money payout for each golfer who made the cut this week at the L.A. Open.
Win: Ruoning Yin, -15, $262,500
2: Georgia Hall, -14, $159,720
T-3: Patty Tavatanakit, -12, $102,749
T-3: Hyo Joo Kim, -12, $102,749
T-5: Carlota Ciganda, -11, $65,585
T-5: Nelly Korda, -11, $65,585
T-7: Minami Katsu, -10, $43,869
T-7: Danielle Kang, -10, $43,869
T-7: Nasa Hataoka, -10, $43,869
10: Atthaya Thitikul, -9, $35,416
T-11: Lilia Vu, -8, $31,698
T-11: Perrine Delacour, -8, $31,698
T-13: Lizette Salas, -7, $26,233
T-13: Maja Stark, -7, $26,233
T-13: Megan Khang, -7, $26,233
T-13: Maude-Aimee Leblanc, -7, $26,233
17: Hinako Shibuno, -6, $22,736
T-18: Hye-Jin Choi, -5, $19,438
T-18: Wichanee Meechai, -5, $19,438
T-18: Pajaree Anannarukarn, -5, $19,438
T-18: Hae Ran Ryu, -5, $19,438
T-18: Charley Hull, -5, $19,438
T-18: Jessica Korda, -5, $19,438
T-18: Lucy Li, -5, $19,438
T-25: Jennifer Kupcho, -4, $14,351
T-25: Chella Choi, -4, $14,351
T-25: Moriya Jutanugarn, -4, $14,351
T-25: Mina Harigae, -4, $14,351
T-25: Matilda Castren, -4, $14,351
T-25: Hannah Green, -4, $14,351
T-25: Sarah Schmelzel, -4, $14,351
T-25: Jin Young Ko, -4, $14,351
T-25: Jodi Ewart Shadoff, -4, $14,351
T-34: Lydia Ko, -3, $10,975
T-34: Xiyu Janet Lin, -3, $10,975
T-34: Gemma Dryburgh, -3, $10,975
T-34: Frida Kinhult, -3, $10,975
T-38: Esther Henseleit, -2, $9,112
T-38: Jasmine Suwannapura, -2, $9,112
T-38: Mi Hyang Lee #, -2, $9,112
T-38: Caroline Inglis, -2, $9,112
T-38: Marina Alex, -2, $9,112
T-43: Stacy Lewis, -1, $7,586
T-43: Yuna Nishimura, -1, $7,586
T-43: Lauren Hartlage, -1, $7,586
T-43: Gina Kim, -1, $7,586
T-47: Sung Hyun Park, E, $6,196
T-47: Amy Yang, E, $6,196
T-47: Pernilla Lindberg, E, $6,196
T-47: Lauren Coughlin, E, $6,196
T-47: Cheyenne Knight, E, $6,196
T-47: Yealimi Noh, E, $6,196
T-47: Sarah Kemp, E, $6,196
T-54: A Lim Kim, +1, $5,072
T-54: Jenny Shin, +1, $5,072
T-54: Brittany Altomare, +1, $5,072
T-54: Pauline Roussin, +1, $5,072
T-54: Paula Creamer, +1, $5,072
T-59: Grace Kim, +2, $4,460
T-59: Amanda Doherty, +2, $4,460
T-61: Allisen Corpuz, +3, $4,154
T-61: Leona Maguire, +3, $4,154
T-61: Wei-Ling Hsu, +3, $4,154
T-65: Ryann O'Toole, +4, $3,716
T-65: Jennifer Song, +4, $3,716
T-65: Paula Reto, +4, $3,716
T-65: Lauren Stephenson, +4, $3,716
T-65: Alison Lee, +4, $3,716
T-65: Linnea Strom, +4, $3,716
T-71: Stephanie Kyriacou, +5, $3,410
T-71: Jaravee Boonchant, +5, $3,410
T-71: Mel Reid, +5, $3,410
T-74: Haeji Kang, +7, $3,303
T-74: Ruixin Liu, +7, $3,303
76: Polly Mack, +8, $3,241
77: Mariajo Uribe, +9, $3,200
78: Cristie Kerr, +10, $3,159