Payday in New Jersey
Here's the prize money payout for each golfer at the 2022 ShopRite LPGA Classic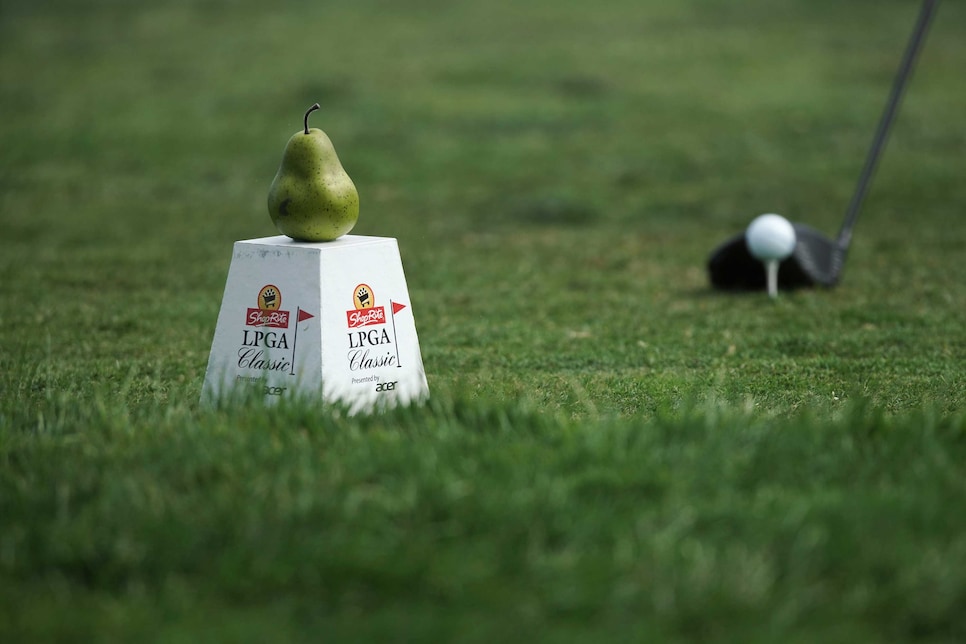 A bogey-free closing 64 propelled Canada's Brooke Henderson into a playoff at the ShopRite LPGA Classic. But the low scoring wasn't over. The 24-year-old then made an eagle on the first extra hole to knock off Lindsey Weaver-Wright and claim her 11th career LPGA title.
With the victory after shooting a 12-under 201 total at Seaview Bay Course in Galloway, N.J., Henderson has won a LPGA title in seven of her last eight seasons, with 2020 being the only year she failed to do so. And the first-place prize money payout of $262,500 pushed her past the $9 million mark in career earnings, making her the 29th player in tour history to join that group.
Here's the prize money payout for each golfer who made the cut at the ShopRite.
Win: Brooke M. Henderson, -12, $262,500
P-2: Lindsey Weaver-Wright, -12, $161,223
3: Jodi Ewart Shadoff, -11, $116,956
T4: Lydia Ko, -10, $81,648
T4: Albane Valenzuela, -10, $81,648
T6: Brittany Lincicome, -9, $51,049
T6: Marina Alex, -9, $51,049
T6: Nasa Hataoka, -9, $51,049
T9: Celine Boutier, -8, $36,043
T9: Jenny Shin, -8, $36,043
T9: Brittany Lang, -8, $36,043
T12: Jennifer Song, -7, $29,010
T12: Morgane Metraux, -7, $29,010
T12: Lauren Coughlin, -7, $29,010
T15: Inbee Park, -6, $24,891
T15: Sung Hyun Park, -6, $24,891
T17: Kelly Tan, -5, $20,037
T17: Hinako Shibuno, -5, $20,037
T17: Chella Choi, -5, $20,037
T17: Wichanee Meechai, -5, $20,037
T17: Hye-Jin Choi, -5, $20,037
T17: Jeongeun Lee6, -5, $20,037
T17: Jin Young Ko, -5, $20,037
T17: Frida Kinhult, -5, $20,037
T25: Jasmine Suwannapura, -4, $15,932
T25: Caroline Masson, -4, $15,932
T25: Stephanie Kyriacou, -4, $15,932
T29: Emma Talley, -3, $11,420
T29: Pornanong Phatlum, -3, $11,420
T29: Jennifer Chang, -3, $11,420
T29: Gina Kim, -3, $11,420
T29: Nuria Iturrioz, -3, $11,420
T29: Peiyun Chien, -3, $11,420
T29: Stacy Lewis, -3, $11,420
T29: Jenny Coleman, -3, $11,420
T29: Robynn Ree, -3, $11,420
T29: Jeongeun Lee5, -3, $11,420
T29: Isi Gabsa, -3, $11,420
T29: Dottie Ardina, -3, $11,420
T42: Anna Nordqvist, -2, $7,021
T42: Aditi Ashok, -2, $7,021
T42: Cydney Clanton, -2, $7,021
T42: Kaitlyn Papp, -2, $7,021
T42: Bailey Elizabeth Shoemaker (a) *, -2,
T42: Karis Anne Davidson, -2, $7,021
T42: Bronte Law, -2, $7,021
T42: Perrine Delacour, -2, $7,021
T42: Ayaka Furue, -2, $7,021
T42: Lauren Stephenson, -2, $7,021
T42: Dewi Weber, -2, $7,021
T42: Ruixin Liu, -2, $7,021
T54: A Lim Kim, -1, $4,881
T54: Giulia Molinaro, -1, $4,881
T54: Sarah Kemp, -1, $4,881
T54: Paula Reto, -1, $4,881
T54: Sarah Jane Smith, -1, $4,881
T54: Klara Spilkova, -1, $4,881
T54: Maisie Ventres Filler (a) *, -1,
T54: Cristie Kerr, -1, $4,881
T54: Caroline Inglis, -1, $4,881
T54: Alana Uriell, -1, $4,881
T65: Anne van Dam, E, $4,105
T65: Haru Nomura, E, $4,105
T67: Dani Holmqvist, +1, $3,795
T67: Kristen Gillman, +1, $3,795
T67: Jessica Peng, +1, $3,795
T67: Mel Reid, +1, $3,795
T67: Ssu-Chia Cheng, +1, $3,795
T72: In Gee Chun, +2, $3,487
T72: Luna Sobron Galmes, +2, $3,487
T72: Pernilla Lindberg, +2, $3,487
75: Savannah Vilaubi, +3, $3,398
76: Dana Finkelstein, +4, $3,354