Payday in Michigan
Here is the prize money payout for each golfer at the 2022 Meijer LPGA Classic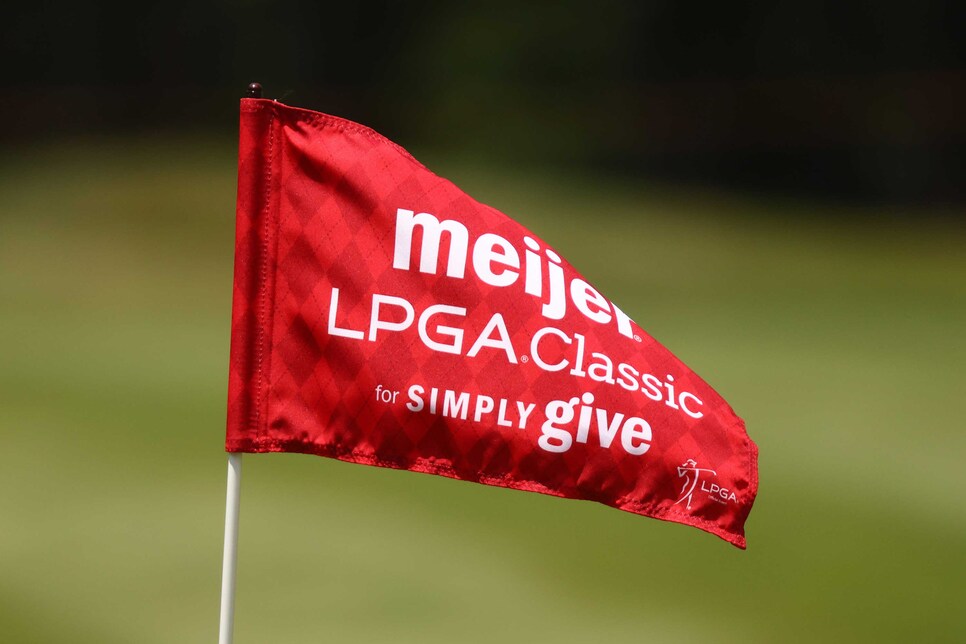 View of the flag on the 17th green during Round 2 of the Meijer LPGA Classic.
Gregory Shamus
It wasn't a major, but the Meijer LPGA Classic had just as much drama and star-power as that other tournament going on outside of Boston on Sunday afternoon.
With a closing one-under 71 at Blythewood Country Club in Belmont, Mich., to lift her to 18 under for the tournament, Jennifer Kupcho found her way into a three-player playoff with Nelly Korda and Leona Maguire. The recently minted Chevron Championship winner then proceeded to claim her second career LPGA win on the second extra hole.
"Yeah, I think this one is even better than the first, personally," Kupcho said. "I had such a big lead going into the final round at Chevron, so to come out of this one with, I mean, top-ranked players all over the place, the leaderboard was packed, within strokes, so it really was very close"
Kupcho earned a first-place prize money payout of $375,000 from an overall purse of $2.5 million. Here is the prize money payout for each golfer who made the cut this week in Michigan.
Win: Jennifer Kupcho, -18, $375,000
T-2: Leona Maguire, -18, $196,847
T-2: Nelly Korda, -18, $196,847
4: Lydia Ko, -17, $128,045
T5: Jessica Korda, -16, $79,951
T5: Carlota Ciganda, -16, $79,951
T5: Atthaya Thitikul, -16, $79,951
T5: Lexi Thompson, -16, $79,951
T9: Wei-Ling Hsu, -15, $53,092
T9: Brooke M. Henderson, -15, $53,092
11: Allisen Corpuz, -14, $46,845
T12: Lilia Vu, -13, $39,849
T12: Cristie Kerr, -13, $39,849
T12: Hannah Green, -13, $39,849
T12: Caroline Masson, -13, $39,849
T16: Sarah Schmelzel, -12, $33,354
T16: Gerina Mendoza, -12, $33,354
T18: Dana Finkelstein, -11, $28,274
T18: Na Yeon Choi, -11, $28,274
T18: Gina Kim, -11, $28,274
T18: Chella Choi, -11, $28,274
T18: Anna Nordqvist, -11, $28,274
T18: Minjee Lee, -11, $28,274
T-24: Ayaka Furue, -10, $21,721
T-24: Na Rin An, -10, $21,721
T-24: Megan Khang, -10, $21,721
T-24: Amy Olson, -10, $21,721
T-24: Brittany Lincicome, -10, $21,721
T-24: Haru Nomura, -10, $21,721
T-24: Xiyu Janet Lin, -10, $21,721
T-24: Madelene Sagstrom, -10, $21,721
T-32: Jasmine Suwannapura, -9, $15,724
T-32: Pornanong Phatlum, -9, $15,724
T-32: Ryann O'Toole, -9, $15,724
T-32: Stacy Lewis, -9, $15,724
T-32: Alison Lee, -9, $15,724
T-32: Paula Reto, -9, $15,724
T-32: Peiyun Chien, -9, $15,724
T-40: Albane Valenzuela, -8, $11,132
T-40: Hyo Joo Kim, -8, $11,132
T-40: Isi Gabsa, -8, $11,132
T-40: Brittany Altomare, -8, $11,132
T-40: Lindsey Weaver-Wright, -8, $11,132
T-40: Maude-Aimee Leblanc, -8, $11,132
T-40: Wichanee Meechai, -8, $11,132
T-40: Hye-Jin Choi, -8, $11,132
T-40: Celine Boutier, -8, $11,132
T-49: Jodi Ewart Shadoff, -7, $8,263
T-49: Eun-Hee Ji, -7, $8,263
T-49: Kaitlyn Papp, -7, $8,263
T-49: Bianca Pagdanganan, -7, $8,263
T-49: Nasa Hataoka, -7, $8,263
T-49: Robynn Ree, -7, $8,263
T-56: Pajaree Anannarukarn, -6, $6,550
T-56: Angel Yin, -6, $6,550
T-56: Andrea Lee, -6, $6,550
T-56: Alena Sharp #, -6, $6,550
T-56: Frida Kinhult, -6, $6,550
T-56: Ruixin Liu, -6, $6,550
T-56: Yealimi Noh, -6, $6,550
63: Jaye Marie Green, -5, $5,871
T-64: Pernilla Lindberg, -4, $5,622
T-64: Katherine Kirk, -4, $5,622
T-64: So Yeon Ryu, -4, $5,622
T-67: Brittany Lang, -3, $5,135
T-67: A Lim Kim, -3, $5,135
T-67: In Gee Chun, -3, $5,135
T-67: Tiffany Chan #, -3, $5,135
T-67: Mirim Lee, -3, $5,135
T-72: Morgane Metraux, -2, $4,779
T-72: Cydney Clanton, -2, $4,779
T-72: Jeongeun Lee5, -2, $4,779
T-72: Gemma Dryburgh, -2, $4,779
76: Sophia Schubert, -1, $4,630
77: Charlotte Thomas, +1, $4,571
78: Allison Emrey, +4, $4,513