Payday in Cincinnati
Here's the prize money payout for each golfer at the 2022 Kroger Queen City Championship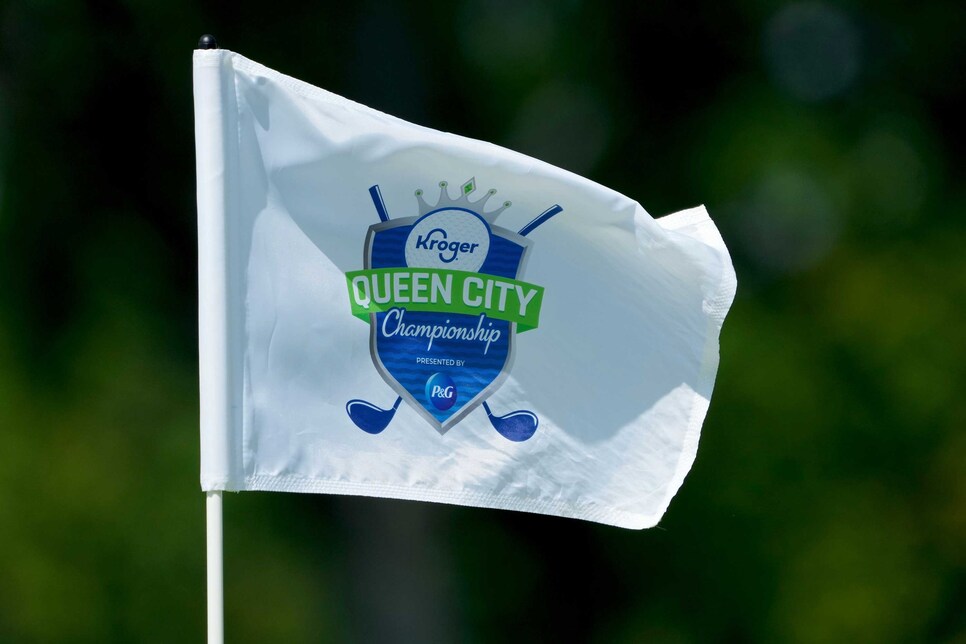 The inaugural Kroger Queen City Championship marks the first time the LPGA has held a tournament in the Cincinnati area since 1989. The overall purse for the 24th event on the LPGA's 2022 schedule is $1.75 million with the winner earning of $262,500.
Heading into the final round, Ally Ewing (16 under) held a one-shot lead over Maria Fassi and a two-shot edge over Xiyu Lin. Ewing was hoping to claim her third career title and become the fifth American win on tour in 2022, joining Danielle Kang, Jennifer Kupcho, Marina Alex and Lizette Salas. And with a stretch of five straight birdies on the back nine, she did just that, holding off Lin by one stroke and Fassi by six by posting a final-round 66.
Here is the prize money payout for each golfer who made the cut at Kenwood Country Club.
1: Ally Ewing, -22, $262,500
2: Xiyu Janet Lin, -21, $160,837
3: Maria Fassi, -16, $116,676
4: Jeongeun Lee6, -14, $90,258
T-5: Marina Alex, -13, $60,613
T-5: Andrea Lee, -13, $60,613
T-5: A Lim Kim, -13, $60,613
8: Sarah Kemp, -12, $43,589
9: Atthaya Thitikul, -11, $39,186
T-10: Jessica Korda, -10, $32,096
T-10: Morgane Metraux, -10, $32,096
T-10: Megan Khang, -10, $32,096
T-10: Ariya Jutanugarn, -10, $32,096
T-14: Yealimi Noh, -9, $24,920
T-14: Caroline Inglis, -9, $24,920
T-14: Wei-Ling Hsu, -9, $24,920
T-14: Hye-Jin Choi, -9, $24,920
T-18: Jodi Ewart Shadoff, -8, $21,398
T-18: Brooke M. Henderson, -8, $21,398
T-20: Nasa Hataoka, -7, $19,197
T-20: Elizabeth Szokol, -7, $19,197
T-20: Narin An, -7, $19,197
T-20: Anna Nordqvist, -7, $19,197
T-24: Moriya Jutanugarn, -6, $15,028
T-24: Yu Liu, -6, $15,028
T-24: Hannah Green, -6, $15,028
T-24: Maude-Aimee Leblanc, -6, $15,028
T-24: Alena Sharp, -6, $15,028
T-24: Haeji Kang, -6, $15,028
T-24: Gaby Lopez, -6, $15,028
T-24: Leona Maguire, -6, $15,028
T-24: Angel Yin, -6, $15,028
T-33: Yuka Saso, -5, $11,741
T-33: Sei Young Kim, -5, $11,741
T-33: Lauren Stephenson, -5, $11,741
T-36: Sarah Schmelzel, -4, $9,774
T-36: Ruixin Liu, -4, $9,774
T-36: Alison Lee, -4, $9,774
T-36: Mi Hyang Lee, -4, $9,774
T-36: Pernilla Lindberg, -4, $9,774
T-36: Emma Talley, -4, $9,774
T-42: Katherine Perry-Hamski, -3, $7,802
T-42: Ayako Uehara, -3, $7,802
T-42: Dottie Ardina, -3, $7,802
T-42: Casey Danielson, -3, $7,802
T-42: Paula Reto, -3, $7,802
T-47: Azahara Munoz, -2, $6,560
T-47: Dana Finkelstein, -2, $6,560
T-47: Jasmine Suwannapura, -2, $6,560
T-47: Sung Hyun Park, -2, $6,560
T-51: Brooke Matthews, -1, $5,460
T-51: Jennifer Chang, -1, $5,460
T-51: Rachel Rohanna, -1, $5,460
T-51: Lizette Salas, -1, $5,460
T-51: Jenny Shin, -1, $5,460
T-51: Mina Harigae, -1, $5,460
T-51: Chella Choi, -1, $5,460
T-58: Wichanee Meechai, E, $4,456
T-58: Gemma Dryburgh, E, $4,456
T-58: Aditi Ashok, E, $4,456
T-58: Ayaka Furue, E, $4,456
T-63: Pornanong Phatlum, +1, $3,963
T-63: Gina Kim, +1, $3,963
T-63: Sophia Schubert, +1, $3,963
T-63: Charlotte Thomas, +1, $3,963
T-63: Stephanie Meadow, +1, $3,963
T-68: Alana Uriell, +2, $3,577
T-68: Maddie Szeryk, +2, $3,577
T-68: Min Lee, +2, $3,577
T-68: Anna Davis , +2, Amateur,
T-68: Luna Sobron Galmes, +2, $3,577
73: Lauren Coughlin, +3, $3,434
74: Paula Creamer, +4, $3,390
75: Jillian Hollis, +5, $3,346
WD: Isi Gabsa, WD, $3,306