Payday at Mission Hills
Here's the prize money payout for each golfer at the 2022 Chevron Championship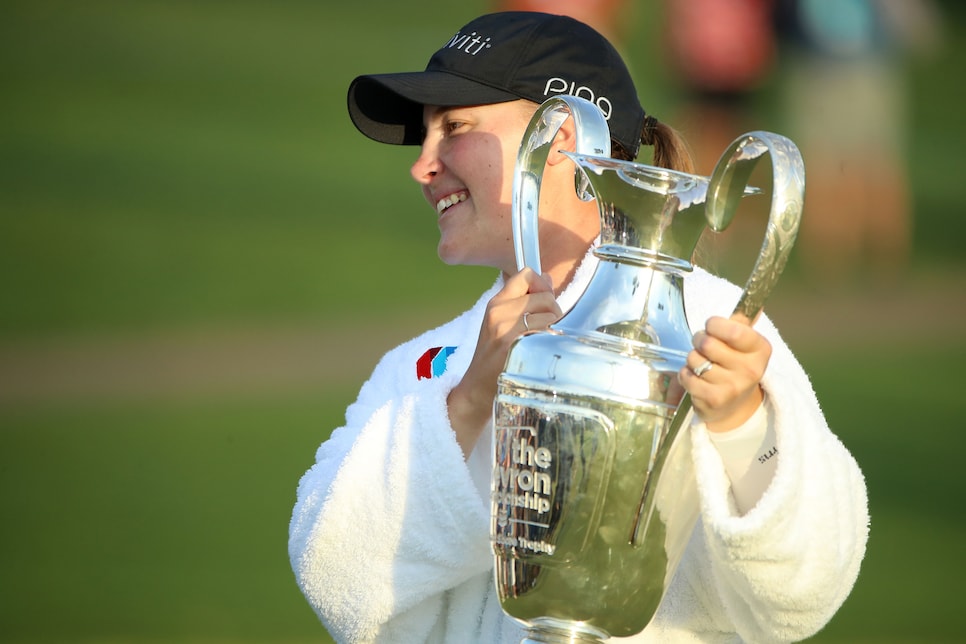 Jennifer Kupcho celebrates with the Dinah Shore Trophy after winning the Chevron Championship on Sunday at Mission Hills.
Katelyn Mulcahy
Jennifer Kupcho earned the last splash in Poppie's Pond, winning the Chevron Championship in the tournament's final start in the California desert.
The 24-year-old American began the day with a six-stroke lead on the Dinah Shore Tournament Course at Mission Hills. She then held on with a closing two-over 74 to beat Jessica Korda by two shots and make the major championship her first LPGA victory.
Kupcho went out in one-under 35 on the front nine but posted five bogeys on her back nine, including on the final two holes. Still, she'd built enough of a cushion that it didn't make a difference.
Last fall, the LPGA announced that it was bringing on Chevron as the title sponsor and increasing the purse for the event from $3 million to $5 million. However, the decision was also made to move the major to the Houston area after 51 years in Rancho Mirage, Calif.
With the victory, Kupcho claimed the $750,000 first-place prize money payout. Here's the how much every player who made the cut this week earned for their efforts.
Win: Jennifer Kupcho, -14, $750,000
2: Jessica Korda, -12, $461,757
3: Pia Babnik, -11, $334,972
T-4: Hinako Shibuno, -10, $195,295
T-4: Celine Boutier, -10, $195,295
T-4: Lexi Thompson, -10, $195,295
T-4: Patty Tavatanakit, -10, $195,295
T-8: Alison Lee, -8, $108,708
T-8: Hannah Green, -8, $108,708
T-8: Nanna Koerstz Madsen, -8, $108,708
T-8: Hyo Joo Kim, -8, $108,708
12: Minjee Lee, -7, $88,481
T-13: Georgia Hall, -6, $75,841
T-13: Ryann O'Toole, -6, $75,841
T-13: Madelene Sagstrom, -6, $75,841
T-13: Brooke M. Henderson, -6, $75,841
T-17: Nasa Hataoka, -5, $57,388
T-17: Danielle Kang, -5, $57,388
T-17: Hye-Jin Choi, -5, $57,388
T-17: Xiyu Janet Lin, -5, $57,388
T-17: Caroline Masson, -5, $57,388
T-17: Yuka Saso, -5, $57,388
T-17: Atthaya Thitikul, -5, $57,388
T-17: Sei Young Kim, -5, $57,388
T-25: In Gee Chun, -4, $40,702
T-25: Matilda Castren, -4, $40,702
T-25: Wichanee Meechai, -4, $40,702
T-25: Paula Reto, -4, $40,702
T-25: Wei-Ling Hsu, -4, $40,702
T-25: Charley Hull, -4, $40,702
T-25: Lydia Ko, -4, $40,702
T-25: Sarah Schmelzel, -4, $40,702
T-25: Gabriela Ruffels, -4, $40,702
T-25: Annie Park, -4, $40,702
T-35: Marina Alex, -3, $30,464
T-35: Inbee Park, -3, $30,464
T-35: Pauline Roussin-Bouchard, -3, $30,464
T-35: Stephanie Meadow, -3, $30,464
T-39: Lizette Salas, -2, $25,281
T-39: Leona Maguire, -2, $25,281
T-39: Eun-Hee Ji, -2, $25,281
T-39: Amy Yang, -2, $25,281
T-39: Brittany Altomare, -2, $25,281
T-44: Lauren Stephenson, -1, $19,297
T-44: Sophia Popov, -1, $19,297
T-44: Na Rin An, -1, $19,297
T-44: Giulia Molinaro, -1, $19,297
T-44: Mel Reid, -1, $19,297
T-44: Pornanong Phatlum, -1, $19,297
T-44: Moriya Jutanugarn, -1, $19,297
T-44: Ayaka Furue, -1, $19,297
T-44: Ally Ewing, -1, $19,297
T-53: Austin Ernst, E, $13,980
T-53: Chella Choi, E, $13,980
T-53: Pernilla Lindberg, E, $13,980
T-53: Jin Young Ko, E, $13,980
T-53: Albane Valenzuela, E, $13,980
T-53: Jasmine Suwannapura, E, $13,980
T-53: Lindsey Weaver-Wright, E, $13,980
T-53: Ariya Jutanugarn, E, $13,980
T-53: Brittany Lincicome, E, $13,980
T-53: Pajaree Anannarukarn, E, $13,980
T-63: Charlotte Thomas, +1, $11,757
T-63: Perrine Delacour, +1, $11,757
T-65: Cheyenne Knight, +2, $10,997
T-65: Alana Uriell, +2, $10,997
T-65: Brooke Seay, +2, Amateur
T-65: Jaye Marie Green, +2, $10,997
T-65: Anna Nordqvist, +2, $10,997
70: Jodi Ewart Shadoff, +3, $10,365
T-71: So Yeon Ryu, +4, $9,986
T-71: Aditi Ashok, +4, $9,986
T-71: Bronte Law, +4, $9,986
74: Mi Hyang Lee, +5, $9,732