Payday in Puerto Rico
Here's the prize money payout for each golfer at the 2021 Puerto Rico Open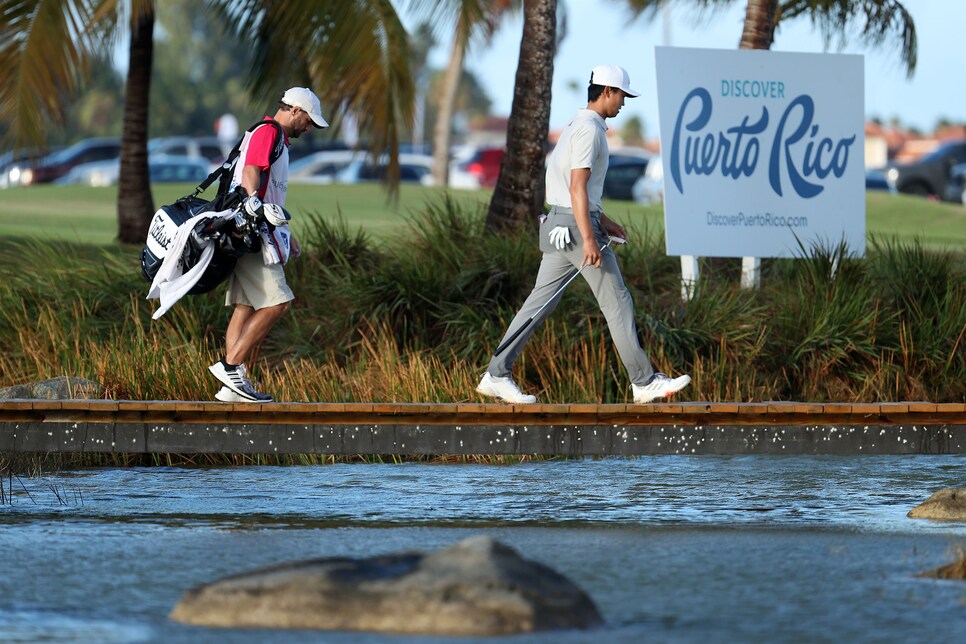 Brandon Wu is two shots back of the leaders entering Sunday at the Puerto Rico Open, which might not be a bad thing given the fate of those who've been ahead entering the final round in recent history.
Andy Lyons
Grayson Murray and Rafael Campos shared the lead entering the final round of the Puerto Rico Open. But if recent history was any indicator, that wasn't actually a good thing if either hoped to be the winner at the end of Sunday at Grand Reserve Country Club in Rio Grande.
Since 2014, just one golfer who was out front after 54 holes in this PGA Tour event had managed to close things out and win the tournament. That was Viktor Hovland when he won a year ago.
Sure enough, the 2021 champion was a comeback winner as well. Branden Grace, one-shot back to start the round, closed with a six-under 66 to hold off Jhonattan Vegas by a stroke.
The 32-year-old South African's second career win on the PGA Tour came thanks to a spectacular hole-out eagle from a greenside bunker on the 71st hole.
It was an emotional win as well, coming a month after his father, Peter, had died due to complications from COVID-19.
This year's overall prize money payout is $3 million with Grace earning $540,000. Here's the prize money payout for each golfer that made the cut this week.
Win: Branden Grace, 269/-19, $540,000
2: Jhonattan Vegas, 270/-18, $327,000
T-3: Rafael Campos, 272/-16, $177,000
T-3: Grayson Murray, 272/-16, $177,000
T-5: Brice Garnett, 273/-15, $115,875
T-5: Andrew Putnam, 273/-15, $115,875
T-7: Rob Oppenheim, 274/-14, $91,125
T-7: Cameron Percy, 274/-14, $91,125
T-7: Ted Potter, Jr., 274/-14, $91,125
T-7: Brandon Wu, 274/-14, $91,125
T-11: Ryan Brehm, 275/-13, $72,750
T-11: Emiliano Grillo, 275/-13, $72,750
T-13: Lee Hodges, 276/-12, $60,750
T-13: Wes Roach, 276/-12, $60,750
T-15: Fabián Gómez, 277/-11, $45,750
T-15: Joohyung Kim, 277/-11, $45,750
T-15: Nelson Ledesma, 277/-11, $45,750
T-15: Thomas Pieters, 277/-11, $45,750
T-15: Chase Seiffert, 277/-11, $45,750
T-15: Bo Van Pelt, 277/-11, $45,750
T-15: Vincent Whaley, 277/-11, $45,750
T-22: Greg Chalmers, 278/-10, $28,950
T-22: Seamus Power, 278/-10, $28,950
T-22: Roger Sloan, 278/-10, $28,950
T-22: Josh Teater, 278/-10, $28,950
T-22: D.J. Trahan, 278/-10, $28,950
T-27: Will Gordon, 279/-9, $22,350
T-27: Adam Schenk, 279/-9, $22,350
T-27: Tim Wilkinson, 279/-9, $22,350
T-30: Aaron Baddeley, 280/-8, $18,780
T-30: Bill Haas, 280/-8, $18,780
T-30: Patrick Rodgers, 280/-8, $18,780
T-30: Andres Romero, 280/-8, $18,780
T-30: Xinjun Zhang, 280/-8, $18,780
T-35: Byeong Hun An, 281/-7, $15,262.50
T-35: Charlie Beljan, 281/-7, $15,262.50
T-35: Ian Poulter, 281/-7, $15,262.50
T-35: Justin Suh, 281/-7, $15,262.50
T-39: Bronson Burgoon, 282/-6, $10,962
T-39: Jonathan Byrd, 282/-6, $10,962
T-39: Roberto Castro, 282/-6, $10,962
T-39: Lucas Glover, 282/-6, $10,962
T-39: Anirban Lahiri, 282/-6, $10,962
T-39: Bryson Nimmer, 282/-6, $10,962
T-39: Davis Riley, 282/-6, $10,962
T-39: Sam Ryder, 282/-6, $10,962
T-39: Vaughn Taylor, 282/-6, $10,962
T-39: Peter Uihlein, 282/-6, $10,962
T-49: Jason Bohn, 283/-5, $7,635
T-49: Joseph Bramlett, 283/-5, $7,635
T-49: Satoshi Kodaira, 283/-5, $7,635
T-49: Kristoffer Ventura, 283/-5, $7,635
T-53: Ryan Blaum, 284/-4, $7,062
T-53: Scott Brown, 284/-4, $7,062
T-53: David Lingmerth, 284/-4, $7,062
T-53: Taylor Pendrith, 284/-4, $7,062
T-53: Dalton Ward, 284/-4, $7,062
T-58: Paul Barjon, 285/-3, $6,750
T-58: Edward Figueroa, 285/-3, $6,750
T-58: Michael Gellerman, 285/-3, $6,750
T-58: Padraig Harrington, 285/-3, $6,750
T-58: Stephan Jaeger, 285/-3, $6,750
T-63: Mark Anderson, 286/-2, $6,510
T-63: Michael Gligic, 286/-2, $6,510
T-63: Dylan Meyer, 286/-2, $6,510
T-66: Will Cannon, 287/-1, $6,360
T-66: Zack Sucher, 287/-1, $6,360
T-68: Tommy Gainey, 288/E, $6,150
T-68: Richard S. Johnson, 288/E, $6,150
T-68: George McNeill, 288/E, $6,150
T-68: Marcelo Rozo, 288/E, $6,150
T-68: J.J. Spaun, 288/E, $6,150
73: Ben Martin, 289/+1, $5,970
74: Michael Kim, 290/+2, $5,910
75: John Senden, 291/+3, $5,850