News
Here's why PGA Tour pros are wearing yellow ribbons on Sunday at the Memorial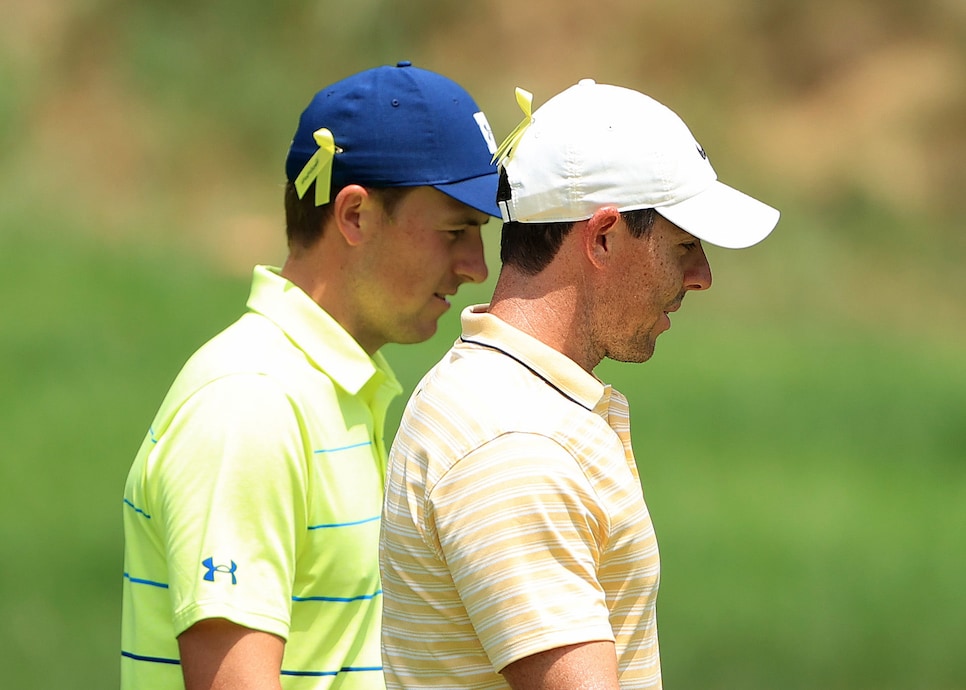 Jordan Spieth and Rory McIlroy were wearing yellow shirts and sporting yellow ribbons to support Jack Nicklaus and his "Play Yellow" initative during the final round of the 2020 Memorial.
Sam Greenwood
Jack Nicklaus' influence at the Memorial Tournament is unmistakable. From the golf course (which he designed), to its tournament set-up, to the manual leader boards operated around the course during tournament week (even with no fans on the grounds), to the white caddie shirts to the milkshakes in the clubhouse, there's hardly an aspect of the event that Nicklaus hasn't impacted.
In turn, those competing in the event appreciate everything that Nicklaus has done for the game. And as a sign of their respect, those playing on Sunday wore a yellow ribbon in a salute to Nicklaus and one of his biggest off-the-course pursuit.
In 2019, Nicklaus and his wife, Barbara, helped launch the "Play Yellow" campaign in conjunction with the PGA Tour and Children's Miracle Network Hospitals to raise funds pediatric care that insurance programs don't cover. Their initial goal was to bring in $100 million over five years.
During the 2020 Memorial, Jack and Barbara asked players to sport the ribbons and wear yellow to support the cause.
The color yellow became sentimental to Nicklaus more than 50 years ago when he met Craig Smith, the 10-year-old son of Barbara's minister and a passionate fan of Jack's from Columbus, Ohio. Smith was diagnosed in 1968 with a rare bone cancer, which would eventually take his life three years late. Jack frequently talked to Smith to offer support. After a Nicklaus' victory, Smith told him that he knew he would win because he was wearing his "lucky" yellow shirt. From there, it became a signature look for Nicklaus.
Those watching the tournament can purchase "Play Yellow" gear to support the cause at playyellow.com or can click here to make donations to their local children's hospitals.