PAYDAY AT WALTON HEATH
Here is the prize money payout for each golfer at the 2023 AIG Women's Open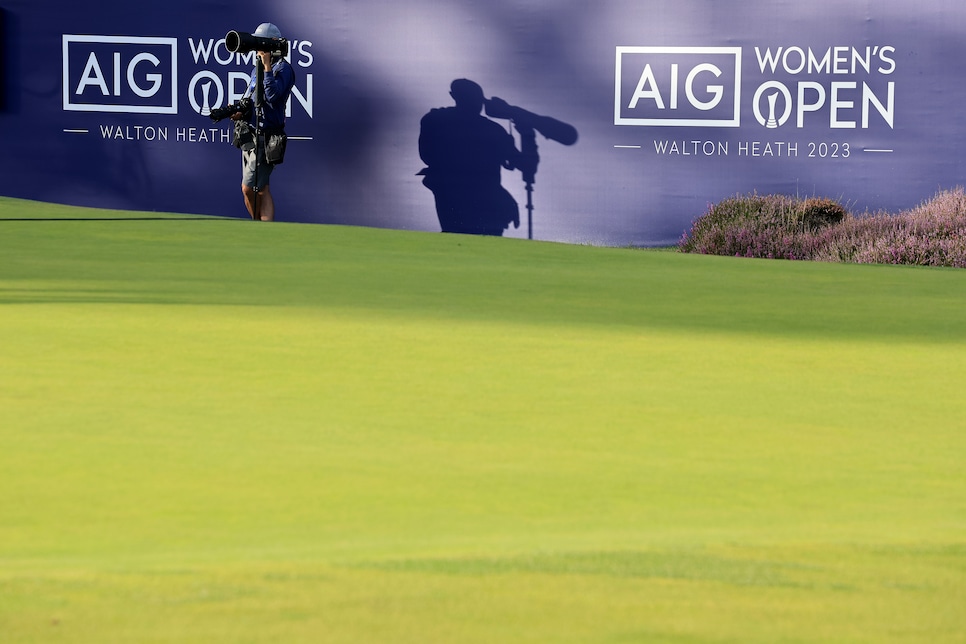 Lilia Vu won the AIG Women's Open Sunday to collect her third LPGA title this year and her second major championship after winning the Chevron Championship in a playoff earlier this year. Still, she was surprised and called the six-shot victory at Walton Heath "surreal."
The 25-year-old American described it as such because, well, she'd be struggling over the past few months. Since the Chevron win in April, she'd missed four cuts and hadn't finished better than a tie for 35th place.
Vu walked away with the first-place check of $1.35 million out of a $9 million purse, which was up 23 percent over the Women's Open from last year at Muirfield. Celine Boutier took home $1,000,000 for her victory at the Amundi Evian Championship two weeks ago. Allisen Corpuz won $2,000,000 for winning the U.S. Women's Open at Pebble Beach. Vu collected $765,000 for winning the Chevron Championship.
Here are the prize money payouts for each golfer who made the cut at the Women's Open.
Win: Lilia Vu, -14/274, $1,350,000
2: Charley Hull, -8/280, $828,414
3: Jiyai Shin, -7/281, $600,106
T-4: Amy Yang, -6/282, $418,007
T-4: Hyo Joo Kim, -6/282, $418,007
T-6: Allisen Corpuz, -4/284, $260,191
T-6: Ally Ewing, -4/284, $260,191
T-6: Angel Yin, -4/284, $260,191
T-9: Olivia Cowan, -3/285, $190,387
T-9: Andrea Lee, -3/285, $190,387
T-11: Akie Iwai, -2/286, $147,225
T-11: Nelly Korda, -2/286, $147,225
T-11: Nasa Hataoka, -2/286, $147,225
T-11: Alison Lee, -2/286, $147,225
T-11: Linn Grant, -2/286 $147,225
T-16: Alice Hewson, -1/287, $110,717
T-16: Celine Boutier, -1/287, $110,717
T-16: Anna Nordqvist, -1/287, $110,717
T-16: Jenny Shin, -1/287, $110,717
T-16: Jeongeun Lee6, -1/287, $110,717
T-21: Xiyu Lin, E/288, $84,162
T-21: Ryann O'Toole, E/288, $84,162
T-21: Ayaka Furue E/288, $84,162
T-21: Miya Yamashita, E/288, $84,162
T-21: Diksha Dagar, E/288, $84,162
T-21: Hae Ran Ryu, E/288, $84,162
T-21: Yuna Nishimura, E/288, $84,162
T-21: Minami Katsu, E/288, $84,162
T-21: Perrine Delacour, E/288, $84,162
T-30: Georgia Hall, +1/289, $61,626
T-30: Yuri Yoshina, +1/289, $61,626
T-30: Leona Maguire, +1/289, $61,626
T-30: Emily Kristine Pedersen, +1/289, $61,626
T-30: Megan Khang, +1/289, $61,626
T-30: Jin Young Ko, +1/289, $61,626
T-36: Mao Saigo, +2/290, $49,487
T-36: Grace Kim, +2/290, $49,487
T-36: Gemma Dryburgh, +2/290, $49,487
T-36: Atthaya Thitikul, +2/290, $49,487
T-40: In Gee Chun, +3/291, $41,521
T-40: Aditi Ashok, +3/291, $41,521
T-40: A Lim Kim, +3/291, $41,521
T-40: Gaby Lopez, +3/291, $41,521
T-44: Kylie Henry, +4/292, $33,552
T-44: Mina Harigae, +4/292, $33,552
T-44: Wei-Ling Hsu, +4/292, $33,552
T-44: Rose Zhang, +4/292, $33,552
T-44: Nicole Broch Estrup, +4/292, $33,552
T-44: Yu Lui, +4/292, $33,552
T-50: Maja Stark, +5/293, $26,497
T-50: Kokona Sakurai, +5/293, $26,497
T-50: Lindsey Weaver-Wright, +5/293, $26,497
T-50: Jaravee Boonchant, +5/293, $26,497
T-50: Johanna Gustavsson, +5/293, $26,497
T-50: Minjee Lee, +5/293, $26,497
T-56: Angela Stanford, +6/294, $21,490
T-56: Klara Davidson Spilkova, +6/294, $21,490
T-56: Lindy Duncan, +6/294, $21,490
T-56: Moriya Jutanugarn, +6/294, $21,490
T-56: Stephanie Meadow, +6/294, $21,490
T-61: Eun-Hee Ji, +7/295, $18,532
T-61: Charlotte Heath (a), +7/295, $0
T-61: Ruoning Yin, +7/295, $18,532
T-61: Cara Gainer, +7/295, $18,532
T-61: Jodi Ewart Shadoff, +7/295, $18,532
T-66: Caroline Hedwall, +8/296, $16,937
T-66: Narin An, +8/296, $16,937
T-66: Hye-Jin Choi, +8/296, $16,937
T-69: Danielle Kang, +10/298, $15,797
T-69: Morgane Metraux, +10/298, $15,797
71: Pajaree Anannarukarn, +11/299, $15,118
72: Julia Lopez Ramirez (a), +12/300, $0
73: Haruka Kawasaki, +17/305, $11,771