The Loop
Here are the tee times for the 2015 PGA Championship
Although there's not the same imaginative construction as the British Open's pairings, the tee times for the 2015 PGA Championship at Whistling Straits nevertheless feature a host of intriguing groups. Here are the some of the noteworthy tee times for Thursday and Friday:
For those that don't follow his Twitter or Instagram pages (consider yourself lucky), Rory McIlroy will be teeing it up at Whistling Straits. The No. 1 player in the world returns after a two-month absence to defend his Wanamaker title. McIlroy has three global wins this season, along with a fourth-place finish at Augusta and solid showing (ninth) at Chambers Bay.
Alas, due to missing the British Open, as well as the Grand Slam pursuits of a certain Under Armour endorser, McIlroy has somewhat fallen out of golf's spotlight in 2015. A strong performance at Whistling Straits will buck that trend.
Speaking of Spieth, some of the wind was undoubtedly taken from his sails after falling short at St. Andrews, but with a win this week, the 22-year-old can join Ben Hogan and Tiger Woods as the only players in the modern era to grab three majors in one campaign.
This Thursday/Friday pairing is Christmas in August for golf zealots, giving viewers the rare chance to see the top two competitors in the game going side-by-side.
Oh, and apparently British Open winner Zach Johnson will be tagging along as well.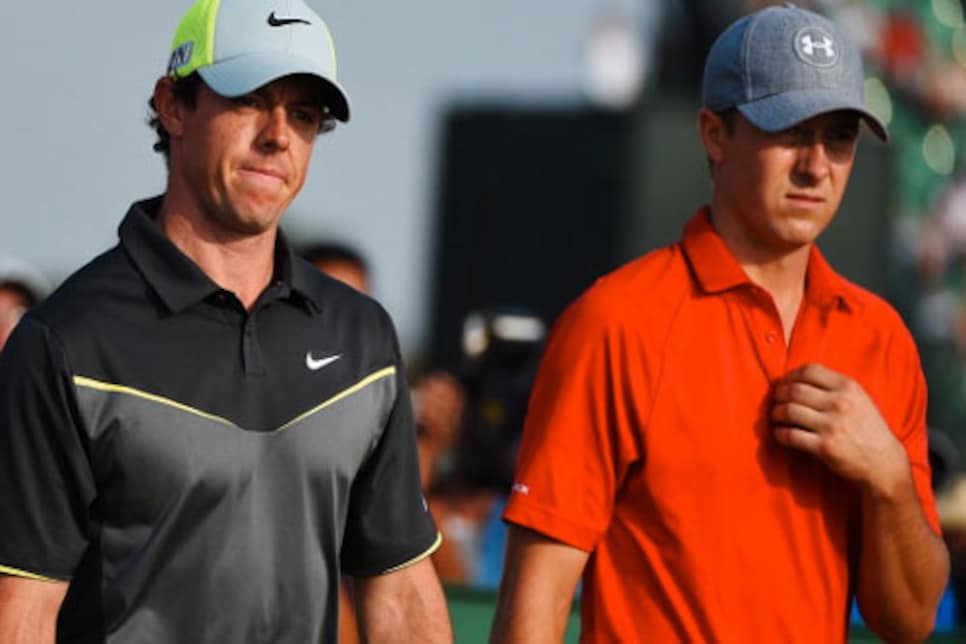 The Best Without A Major Trio
That's not some cute designation. Going by the world golf rankings, these are the highest-listed golfers without "the life changer" in their trophy case.
No disrespect to Fowler -- meaning, of course, he's about to get disrespected - all eyes will be on Day and Johnson. The latter is battling multiple on-the-course demons this week. Not only is Johnson returning to the scene of 2010's infamous bunker gaffe, but many are questioning if DJ has the mental fortitude to win a major following collapses at Chambers Bay and St. Andrews.
Day is also facing similar inquiries, although most view the Australian in a more positive fashion. Outside of Spieth, perhaps no golfer is playing better this summer than Day, who boasts two wins and eight top 10s on the year. With six top-five major finishes since 2011, will this be Day's break-through opportunity?
__The "Remember Us?" PGA Championship winners
__* Rich Beem, Shaun Micheel, Y.E. Yang (12:30 p.m./7:15 a.m.)*
Apparently Wayne Grady's exemption ran out.
__* Adam Scott, Henrik Stenson, Brooks Koepka (1:10 p.m./7:55 a.m.)*
Stenson's entering Wisconsin with little hype, a head-scratcher given he's ranked ninth in the world. Scott will be trying to bounce back from his disastrous finish at the Old Course, where he entered the final holes in contention before playing the last five in five-over, while Koepka attempts to capitalize on a sound performance (sixth) at the Bridgestone Invitational.
All three have the length and accuracy to win at Whistling Straits, and at least one should be in the mix heading into Sunday.
__* Keegan Bradley, Martin Kaymer, Tiger Woods (8:15 a.m./1:30 p.m.)*
Get ready for a multitude of "He's back!" or "He's finished!" hot takes.
More pertinent than Woods' promising display at the Quicken Loans National is his track record at Whistling Straits, and its an ominous one, failing to crack the top 20 in two previous appearances. Don't expect Tiger to break this spell.
__The "You'd Be Lucky To Have These Guys As Father-in-Laws" Threesome
__* Davis Love III, Darren Clarke, Steve Stricker (12:20 p.m./7:05 a.m.)*
DLIII famously befriended a squirrel, Clarke used to work as a bartender and Stricker is widely known as one of the nicest guys on tour. In short, if you meet someone who has a grievance against any in this triumvirate, chances are that person is a jackass.
__The "Oh Yeah, What About Phil?" Group
__* Jason Dufner, Phil Mickelson, Padraig Harrington (1:30 p.m./8:15 a.m.)*
At 45 years old, Father Time is starting to take his toll on Mickelson, evidenced in just three top 10s on the season. Luckily for Phil, Whistling Straits is conducive to his game, and he's played well in previous endeavors to the course (tied for sixth in '04, t-12 in '10).