The Loop
Here are the lessons Rickie Fowler can use from past majors to try pulling off a Sunday upset at Hoylake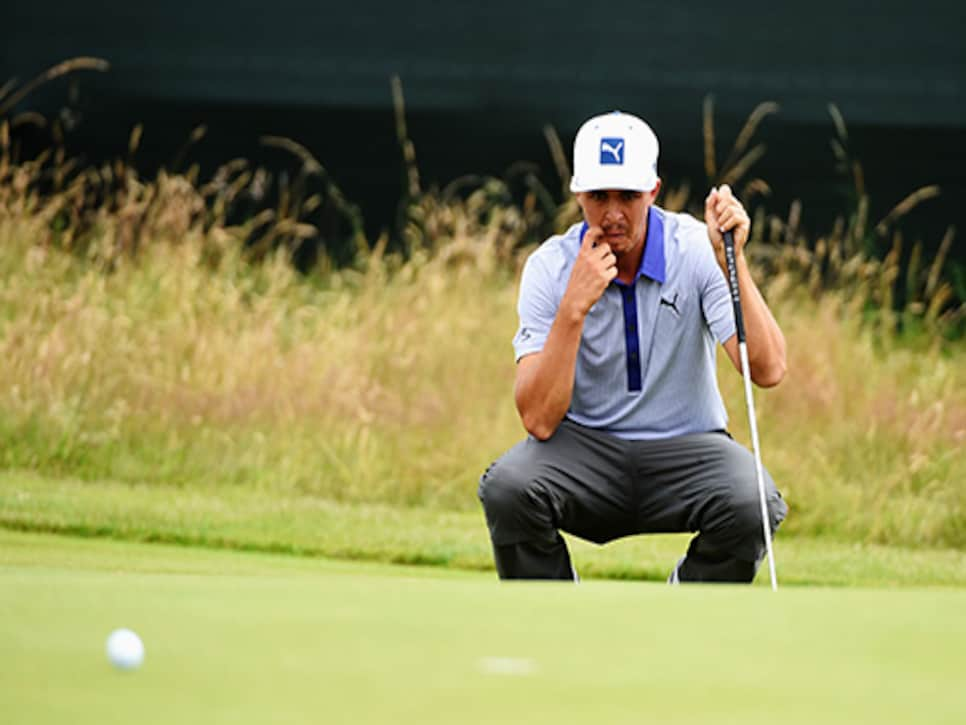 "He's definitely in control of the golf tournament right now," said Rickie Fowler.
Despite the long odds Fowler faces in trying to overtake McIlroy, there are actually legitimate reasons for the 25-year-old Californian to carry some optimism with him. Most notably, Fowler trailed McIlroy by the same six strokes entering Saturday's third round but erased that entire deficit by the time he got to the 13th hole thanks to carding seven birdies to just one bogey.
OK, OK ... I know. Fowler then stumbled home, going two over par in his last five holes while McIlroy was four under. Still, the notion that half-dozen stroke lead is insurmountable is not entirely true.
More importantly, perhaps, Fowler takes with him the experience of being in the thick of contention in the final round of three prior major championships, including two in the last four months. Each resulted in another man holding the title, but all offer secrets for Fowler on what he must do as he puts together a game plan for this Sunday.
__2011 British Open, Royal St. George's
Started Sunday:__ Fowler entered the final round T-3, three strokes back of 54-hole leader Darren Clarke.
What happened: He plodded along with 13 straight pars to start the round while, Clarke stretched his lead to five strokes after just seven holes. A bogey on the par-5 14th and another on the par-3 16th ended any of Fowler's claret-jug dreams.
Finish: Two-over 72, T-5, five behind Clarke
Lesson learned: You can't ease your way into a round if you're trying to put pressure on the leader. You've got to be aggressive early to have any real hope.
__2014 Masters, Augusta National
Started Sunday:__ Fowler entered the final round T-5, two strokes back of co-leaders Bubba Watson and Jordan Spieth
What happened: After birdieing the difficult first hole, Fowler made a momentum-crushing bogey on the par-5 second that short-circuited a final-round charge. By the time he made bogeys on the 10th and 11th holes, he already was essentially out of the hunt. His place on the leader board didn't by day's end, and it was his best ever showing at Augusta, but it was a bit hollow.
Finish: One-over 73, T-5, six behind Watson
Lesson learned: Perfect starts aren't always going to happen, but you can't let an early stumble keep you from staying aggressive.
__2014 U.S. Open, Pinehurst No. 2
Started Sunday:__ Fowler entered the final round T-2, five strokes back of leader Martin Kaymer.
What happened: For the first time in the final pairing at a major, Fowler bounced back from a double-bogey 6 on the par-4 fourth hole with a birdie on the par-5 fifth. Again though, he couldn't put down the gas and force his competitor to sweat.
Finish: Two-over 72, T-2, eight behind Kaymer.
Lesson learned: Flawless golf is difficult to pull off, but you must avoid a big number at all cost, particularly when you're facing a large deficit.