Forget the commercials, halftime show or actual game; the best part of the Super Bowl is the widespread acceptance of gambling. It's the one week in America where everyone turns a blind eye to the fact that betting is, you know, illegal, and dives into the action. And part of that action involves prop bets. We scanned the 400-plus items from the Westgate Las Vegas Resort's Race & Sports Book that are on the table for any golf-related stakes, and discovered quite a few. Here are the golf-related prop bets for Super Bowl LI, as well as our predictions for each wager.

Tiger Woods 1st Round Dubai Score (-24.5) or Matt Bosher First Punt (-110)
Bosher averaged 46.8 yards per boot this season for the Dirty Birds, seventh-best in the NFL. Adding the 24.5 spread to that punting mark, that equates to a 71.3 baseline figure for Tiger.
Whatever you took away from Woods' return at the Farmers Insurance Open, Emirates Golf Club is not Torrey Pines; the average winning score the past four years at the Dubai Desert Classic hovers at 20 under. Not to say Woods is going to win, just that this course is ripe for the taking. Despite his driver continuing to desert him, expect a number in the 69-71 range from Tiger.
Yet, even if he goes under par, we like Woods' first round to be the higher score. The New England defense surrendered the fewest points in the league, although its secondary ranks in the middle of the road in passing yards allowed. As the Falcons rank second in passing, it stands to reason Atlanta could move the ball, but fail to score. Meaning a short punt from Bosher hoping to pin the Patriots offense deep, equating to Tiger's score as the bigger number.
Tiger Woods 4th Round Birdies or Patriots and Falcons Field Goals Made (PK, -110)
The sentiments above regarding Emirates Golf Club ring especially true here, as Woods should have plenty of opportunities to rack up birds. Conversely, out of the 50 previous Super Bowls, only three times have the two teams combined for five field goals; in nine instances, four made three-point attempts. Woods did lead the field in birdies at the Hero World Challenge, showing he still has the capacity to go low. Woods again is the pick.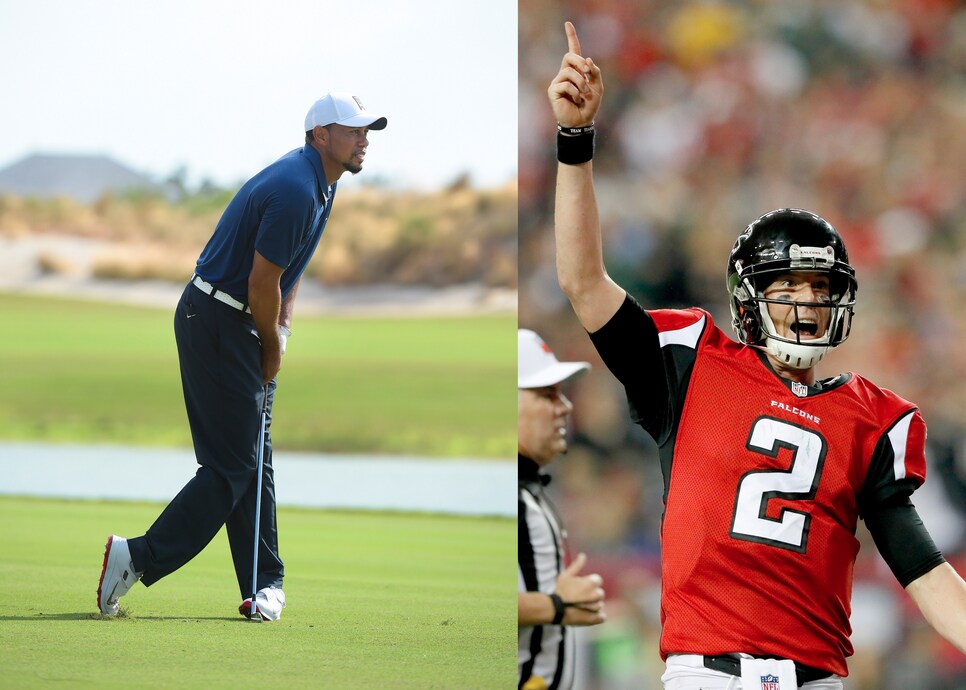 Tiger Woods 4th Round Bogeys (-0.5) or Matt Ryan Touchdown Passes (-110)
Our nonpartisan view: Tiger has a better chance of winning the Grand Slam this year than the Falcons raising the Lombardi Trophy. Ryan might be the league MVP, but he's going against a defense that allowed a league-low 15.6 points per ballgame. Oh, and the greatest coach of the last 40 years in any sport has two weeks to prepare to shut him down.
Though Emirates GC will see plenty of red on the scoreboard, Woods' aforementioned accuracy woes off the tee will correlate to at least two bogeys. That will be plenty enough to best Ryan's aerial scores. If you're scoring at home, you may be noticing a trend.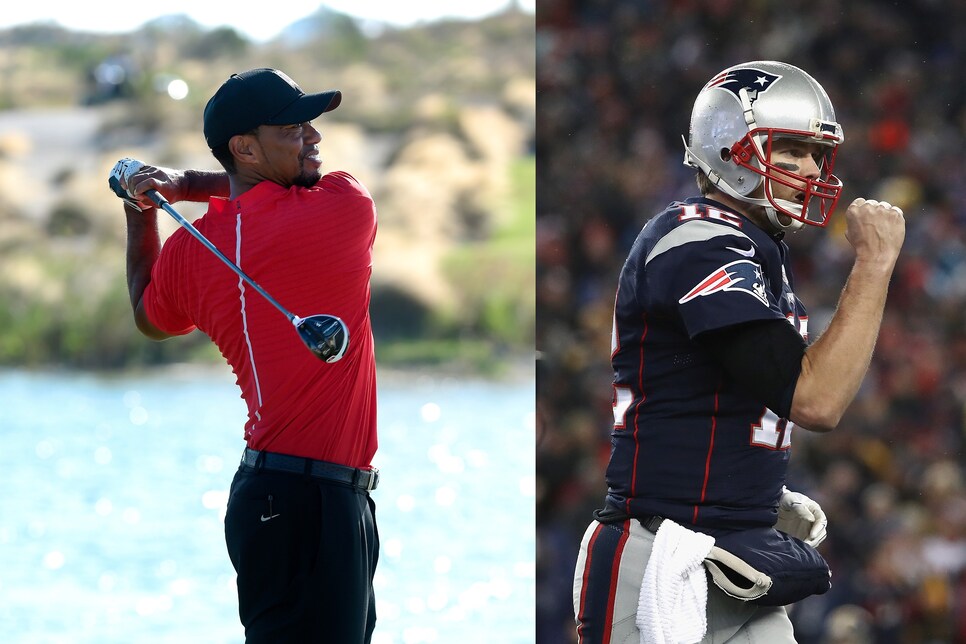 Tiger Woods 72-Hole Score or Tom Brady Gross Passing Yards (-18.5, -110)
The two-time MVP averaged 296.2 yards per contest, a number that should be easily attained against an Atlanta defense ranked 28th out of 32 teams in passing. He's spotting Woods 18.5, but no matter. Tiger could finish even for the tournament (288) and we still think Brady's passing yards blow by Woods' total score.

Henrik Stenson 4th Round Dubai Score (-14.5) or Devonta Freeman Rushing Yards (-110)
In seven of his last nine games, Freeman has rushed for 60 yards or less. Envision that to become eight out of 10 versus a New England front seven that's conceded the third-fewest rushing yards in football. It's at this point in the article that we've probably lost every Atlanta reader.
Stenson has been one of the best three-four players in the world over the past seven months, a sentiment that could throw a wrench into this calculation. Nevertheless, the Open champ could fire a 62 and we'd still be confident that he'd have the higher number, earning our nod for this wager.

Hideki Matsuyama 4th Round Phoenix Score (-19.5) or NE/ATL Longest Touchdown of the Game (-110)
Admittedly, we are a little disappointed with the creativity -- or rather, lack thereof -- regarding the Waste Management Open picks. There are zero bets around the amount of beer showers on TPC Scottsdale's 16th green, or clocked time that a streaker runs free on the hole. Opportunity missed, boys.
One of the Vegas tenets is to never bet with your heart. A credo that, at least for this prop, that we are throwing out the window. For it's a safer bet that Matsuyama's score, undeterred by the 19.5 spread, would be the larger number. But these wagers are supposed to be fun, and laying a few bucks down on a 70-plus yard journey to pay dirt fits that bill. Statistics be damned, the longest touchdown gets our stamp of approval.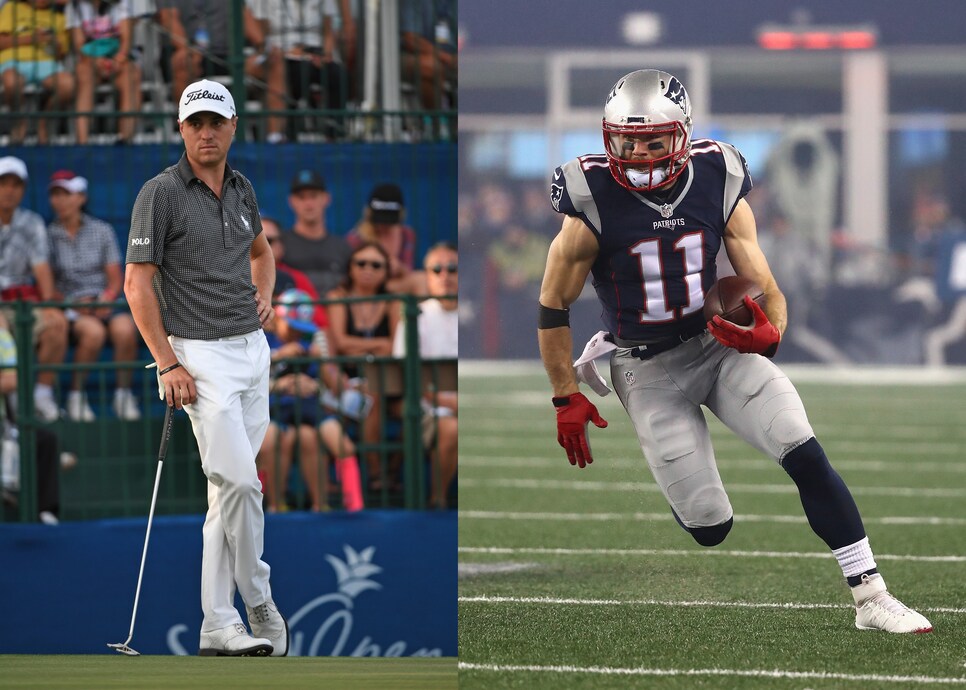 Justin Thomas 4th Round Phoenix Score or Julian Edelman Receiving Yards (-29.5, -110)
We had to double-check this wager to make sure the figures we're right, and a bout of recency bias is definitely at play. The Patriots wide receiver has enjoyed a prosperous run, averaging over 135 yards in his last three appearances. Conversely, analyzing the entire 2016 campaign reveals a different tale, as Edelman posted a more modest 69.1 yards per game.

Phil Mickelson 4th Round Phoenix Score or New England Rushing Yards (-44.5, -110)
The best part about this wager? There's a reasonable chance Phil's in on the action.
The Pats averaged 117 yards per game on the ground this season, with the Falcons ranking right in the middle of the pack against the run. In those terms, it seems to be a coin flip. However, while Brady and the Patriots are testifying that Deflategate has no bearing on this game, you know damn that's bologna. They are going to burn the scoreboard down, with most of that damage coming from the skies. Mickelson's score might be larger than New England's rushing yards, straight up. Combine the 44.5 spread, Mickelson is our choice.